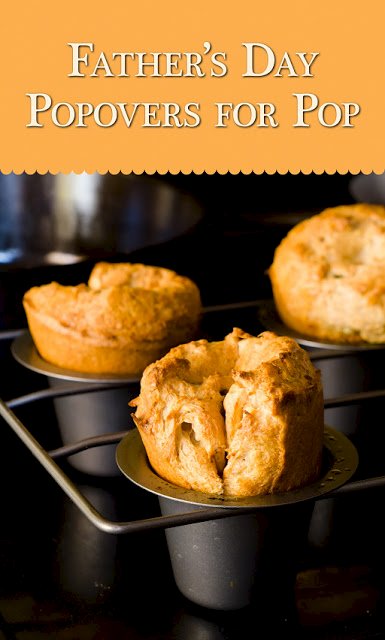 If I had to give cupcakes a gender, they would definitely be female.  They dress up in cute liners, add frosting to give themselves some color, and accessorize with sprinkles.  While popovers are also baked in pans with cups, popovers are more like guys – they are who they are, take 'em or leave 'em.
To celebrate some of the most important men in your life, why not make popovers for Pop this Father's Day?  Of course, I wouldn't tell you to make just any popovers.  I created a banana nut popover recipe for Paula Deen that the dad in your life is "pops"itively going to love.  The popovers taste like banana bread crossed with croissants!
If you've tried this recipe, please RATE THE RECIPE and leave a comment below!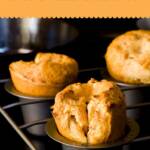 Father's Day Banana Nut Popovers for Pop
Ingredients
¾

cup

flour

Pinch

salt

3

large eggs

room temperature

¾

cup

whole milk

1

tablespoon

unsalted butter

melted

2

tablespoons

mashed ripe bananas

2

tablespoons

finely chopped walnuts

½

teaspoon

cinnamon

1

teaspoon

vanilla

2

tablespoons

unsalted butter

cold
Instructions
Preheat oven to 425 F.

In a medium-sized mixing bowl, mix all ingredients except the cold butter until fully combined.

Cut the cold butter into six equal parts and drop them in the bottom of each popover cup in a six cup popover pan.

Heat the popover pan in the oven for about three minutes, or until the butter bubbles.

Remove the pan from oven and, using a pastry brush, carefully spread some of the butter up the sides of each cup. Note: There will still be a pool of butter at the bottom of each cup.

Ladle the batter into each cup (the cups should be filled about halfway full).

Bake for 20 minutes.

Reduce heat to 325 and bake for another 15 minutes. Important: Do NOT open the oven at any point during the baking. This will let the steam out and hurt your end result.

Immediately remove hot popovers from the tins.

Allow them to cool for a few minutes and eat while still hot. If not eating immediately, wait for the popovers to cool completely, then store in an airtight container.