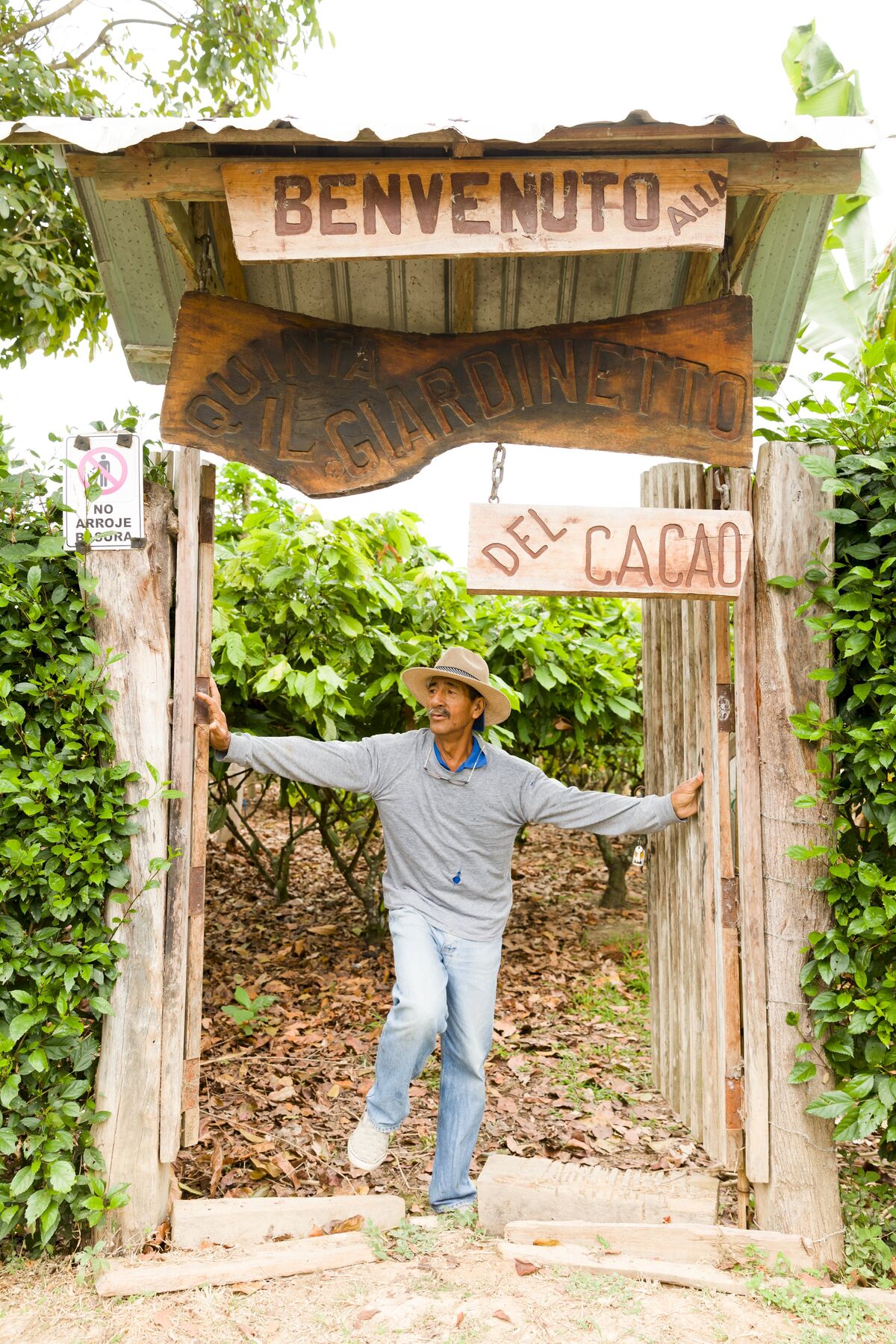 Two years ago, I entered my baked apple cider donuts into a contest with Fair Trade USA to win a trip to tour Fair Trade farms. I asked (OK, I begged) you guys to vote for me and you came through! I won the trip!
I am forever grateful for those who took the time to vote.
The trip happened last month and it was an incredible experience – eye opening in a big way!!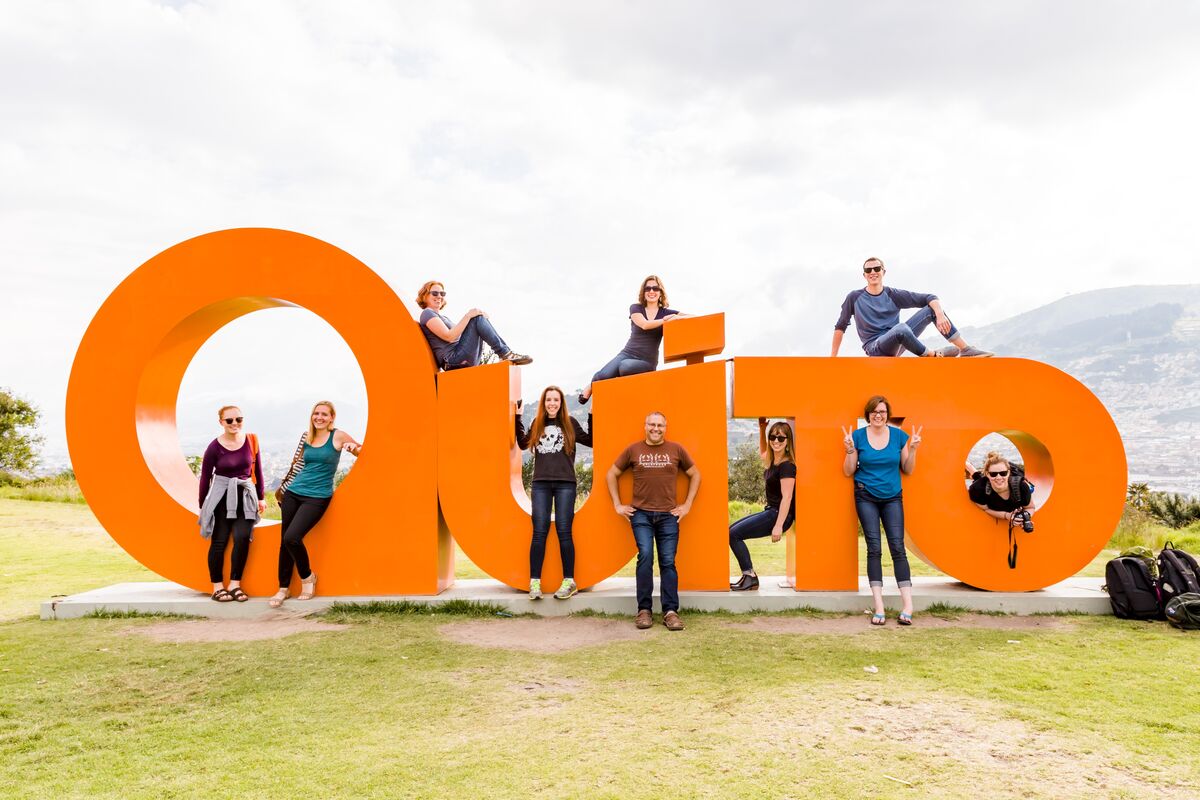 Our tour group (which consisted of Jonathan and me, other contest winners, and Fair Trade staffers) visited three different Fair Trade locations in Ecuador: Agrocoex (which grows Fair Trade roses), RUNA tea, and Fortaleza del Valle (a collective of Fair Trade cacao growers).
I've talked about Fair Trade so many times on this blog. But, supporting Fair Trade has never meant more to me than it does now after meeting Fair Trade farmers and their families, breaking bread with them (well, mostly plantains and assorted tropical fruits), and seeing firsthand the impact that Fair Trade has on their lives. I'll talk more about roses and tea some other time, but since I have a fun chocolate recipe that I learned in Quito, Ecuador's capital city, coming up soon, let's talk Fair Trade chocolate.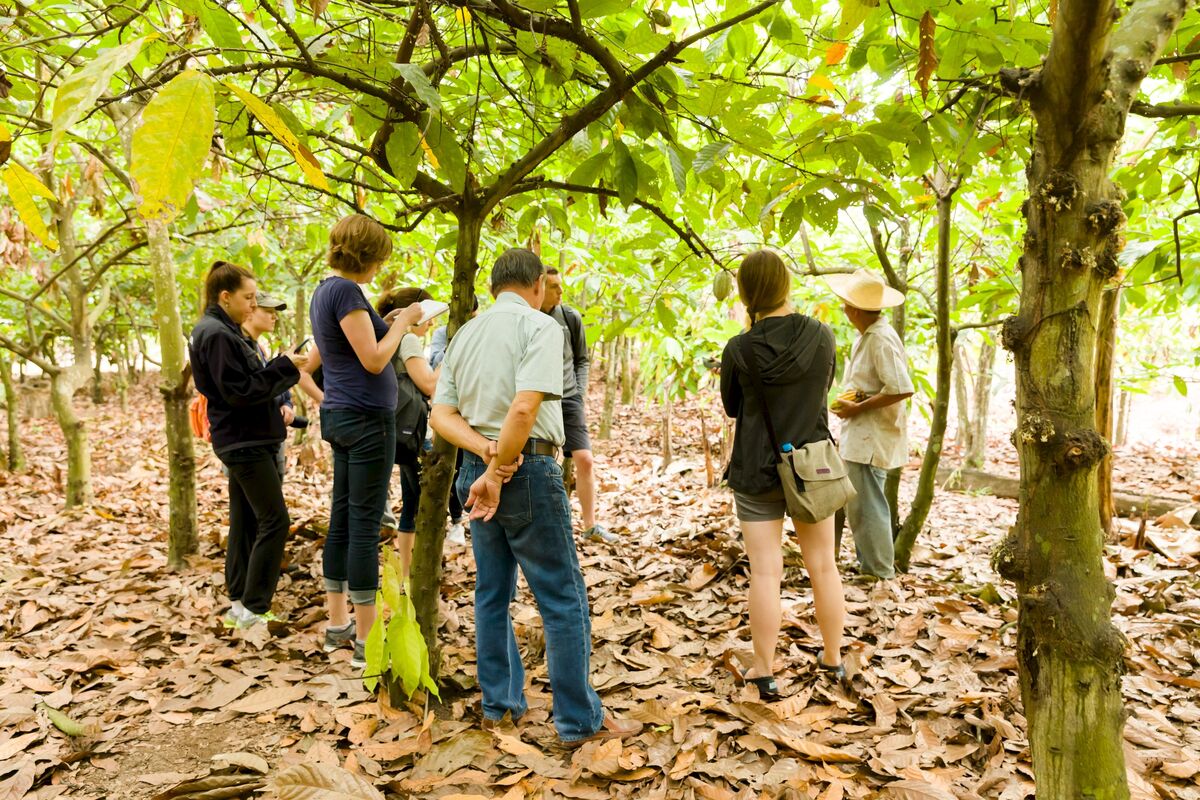 Chocolate, as you may know, starts with a pod that grows cacao trees (shown above).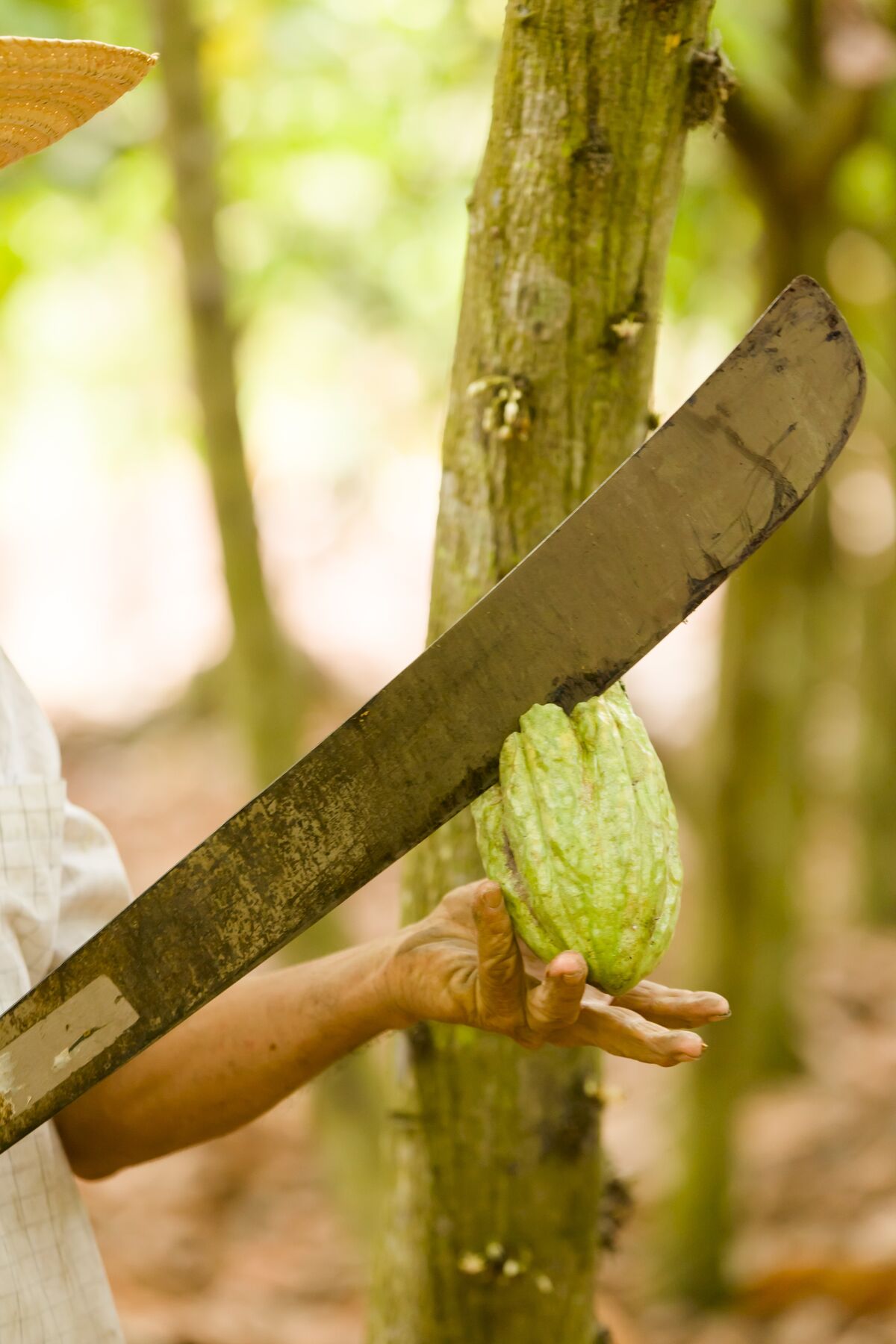 Growers chop the pods off with machetes when the pods mature or if they need to be pruned because of disease.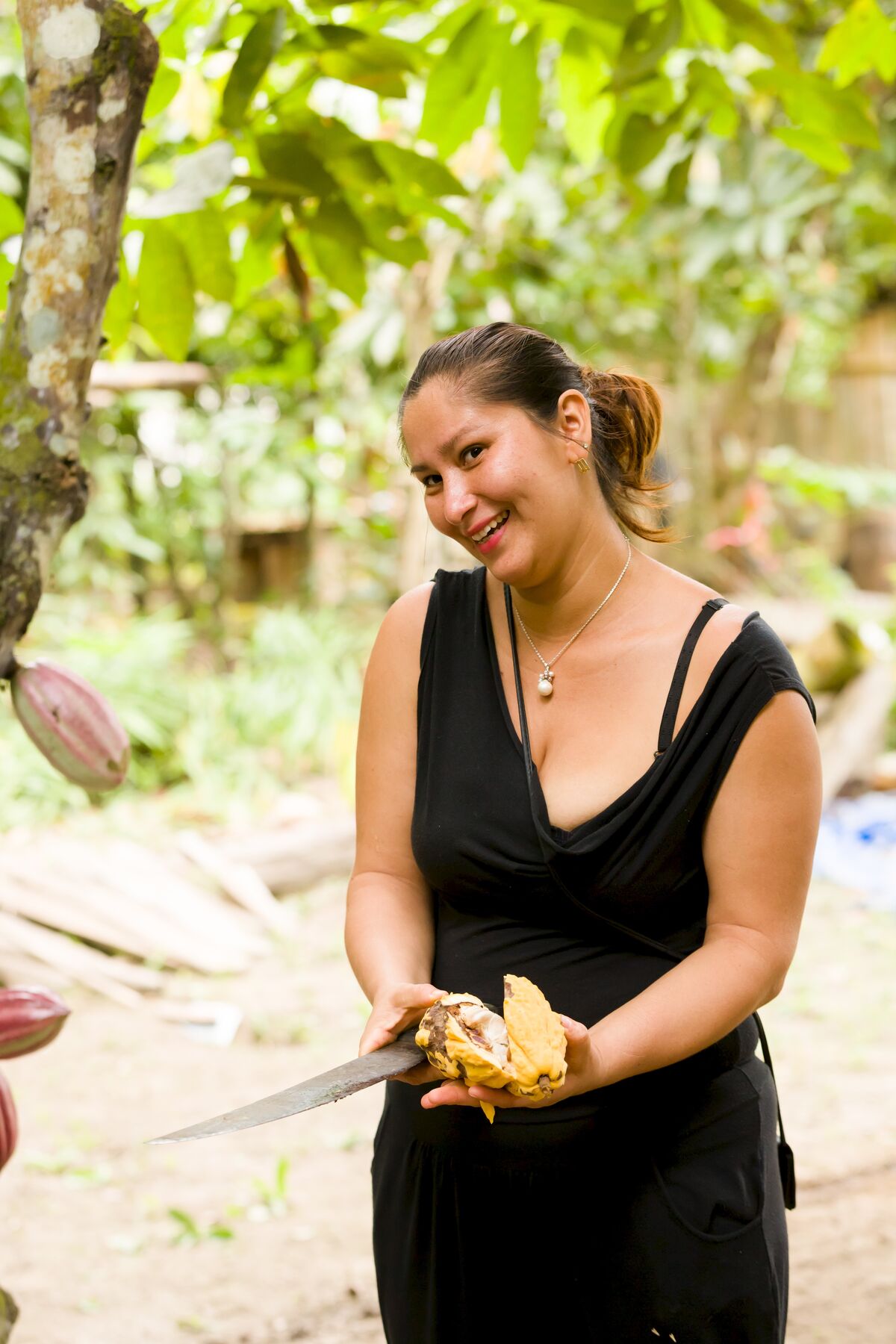 Growing cacao is often a family affair. Take Maria, shown above. She's a third generation cacao grower.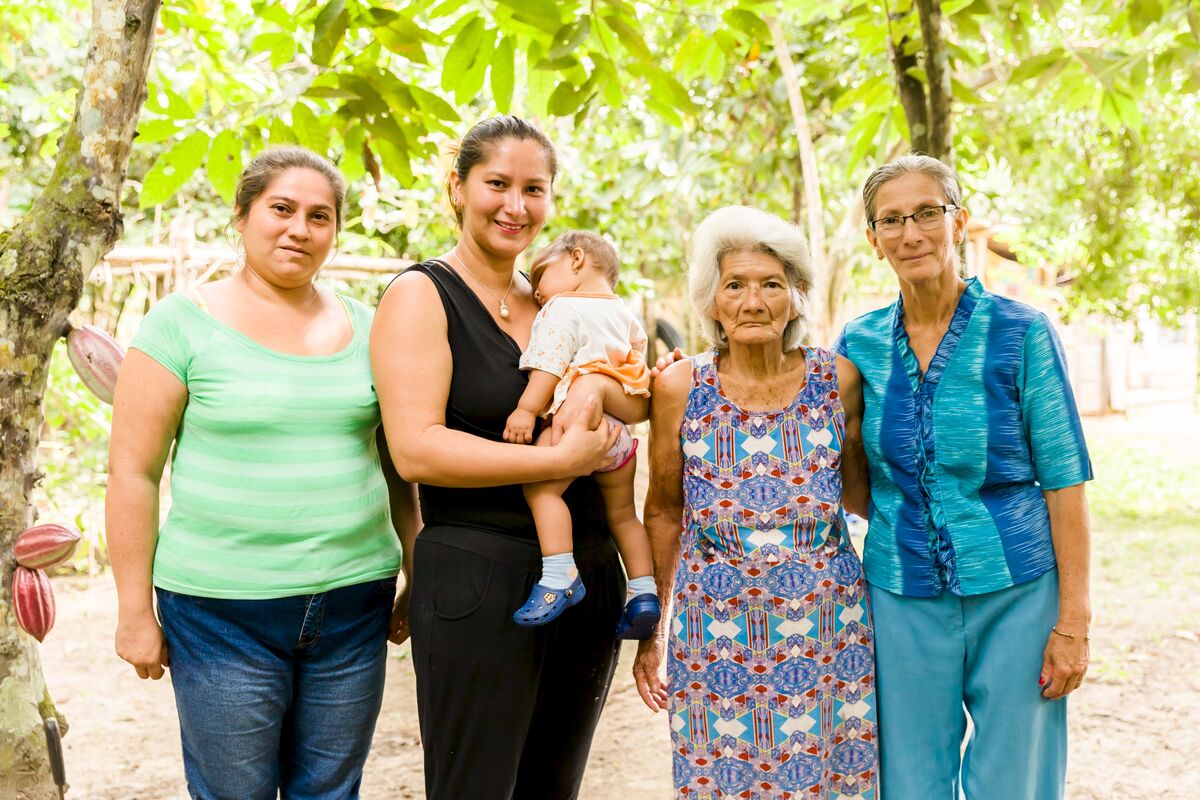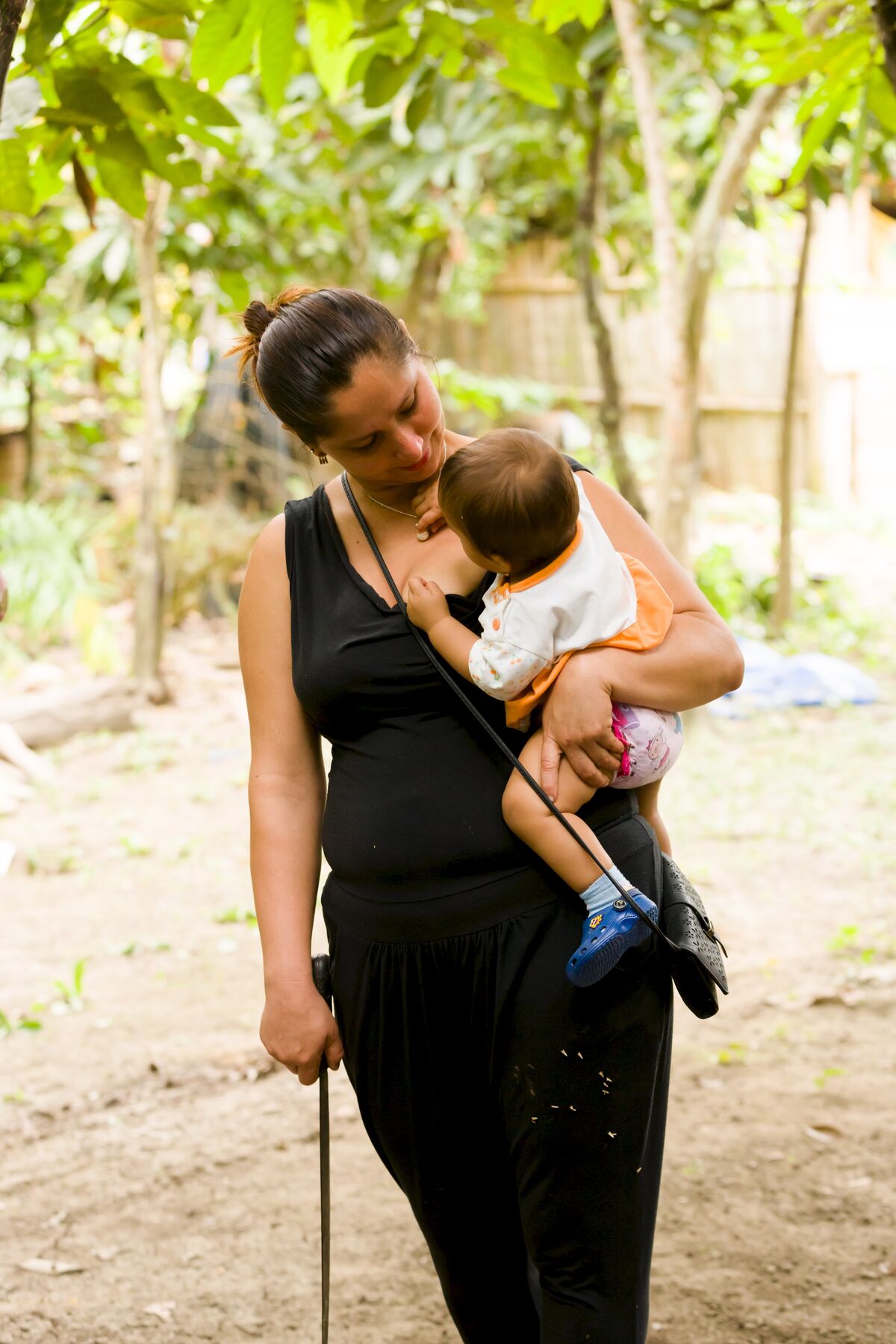 And, she's bringing the fourth generation to work with her every day.
Maria and her family are part of Fortaleza del Valle. Fortaleza del Valle has grown since its inception in 2005 to a become a cooperative of over one thousand growers with average farm sizes of 2.5 to 12.5 acres.
Being a part of a Fair Trade cooperative means that her family benefits from the Fair Trade premium. Let me explain.
Basically, when a company in the United States or elsewhere in the world buys a Fair Trade product to sell, that company pays a fair cost for the product plus an extra percentage, the premium, that is managed by the workers and used on projects to benefit them and their families.
In the case of Fortaleza del Valle, Fair Trade premiums have been used to invest in pre-harvest financing, pruning and replanting of trees to rehabilitate the farms, education and training, and infrastructure for local organizations. It is also used for things like upgraded machetes and irrigation.
When you buy Fair Trade, you are giving individual people the tools that they need to live the life of a dignified person.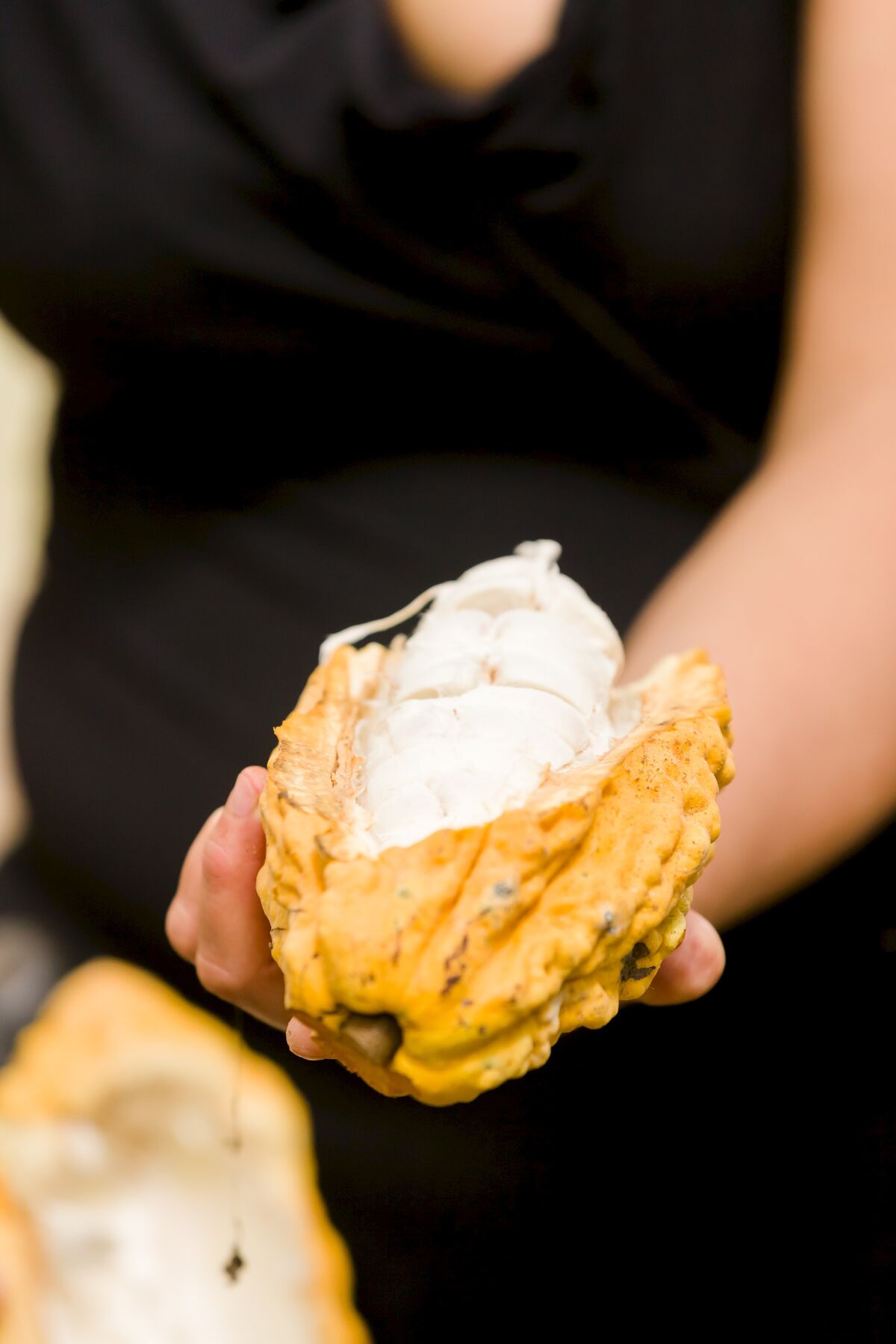 Back to the cacao.
Inside each cacao pod are beans coated in a sweet and tart fruit.
I got to taste the fruit fresh out of the pod (something I've never had the opportunity to do in the states). It was so refreshing!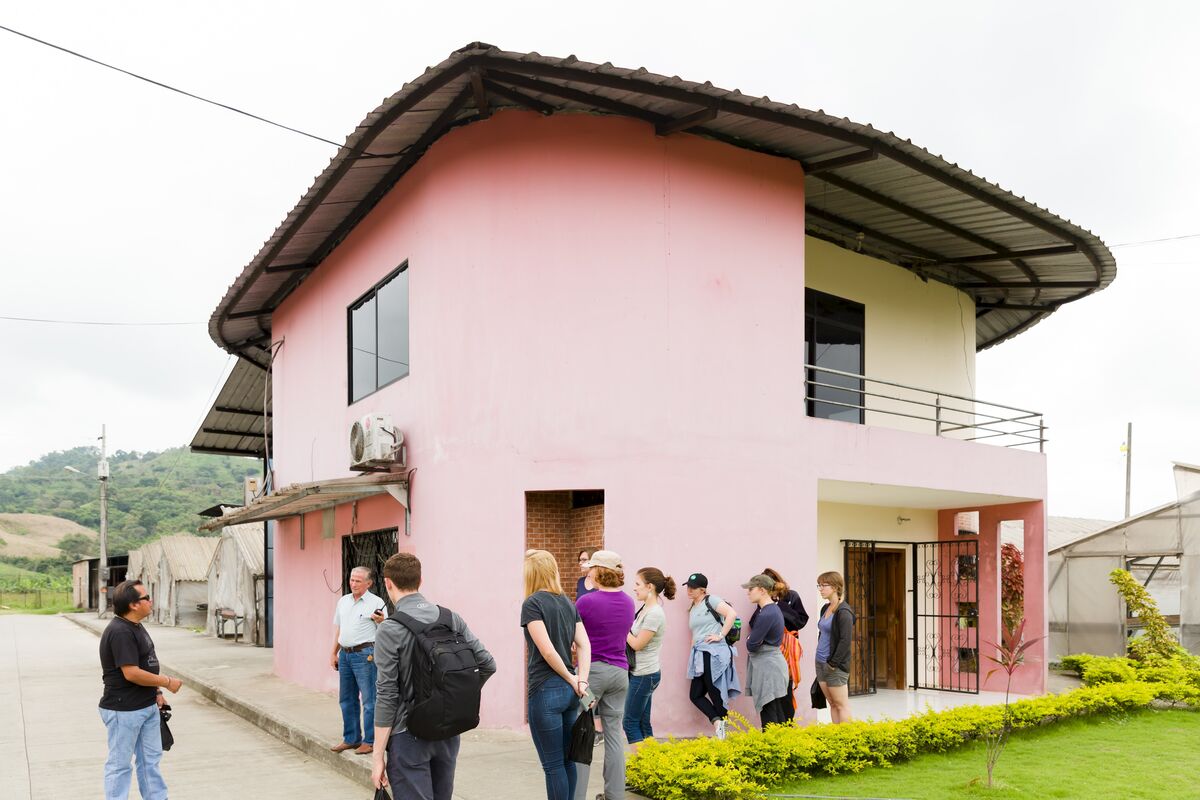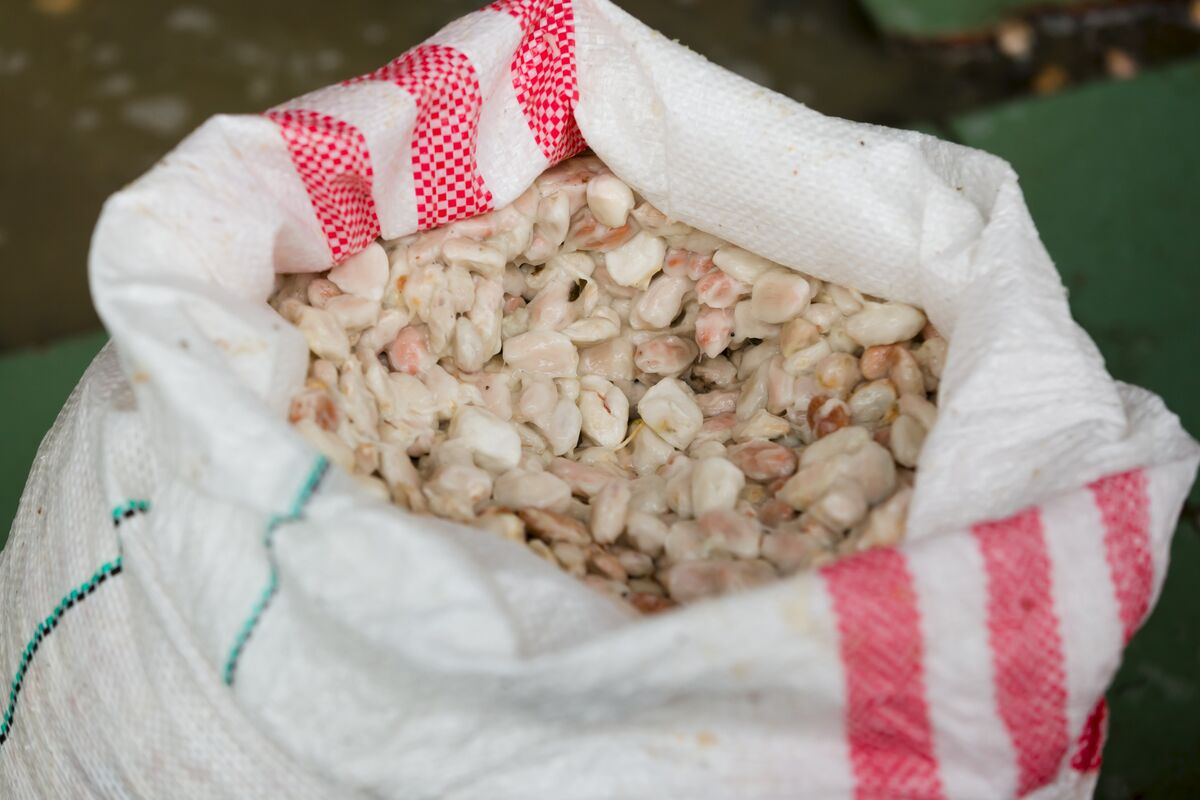 At the headquarters of Fortaleza del Valle, a pink but otherwise unassuming building with a heavenly chocolate smell permeating the air, big bags of cacao beans sit ready to be fermented.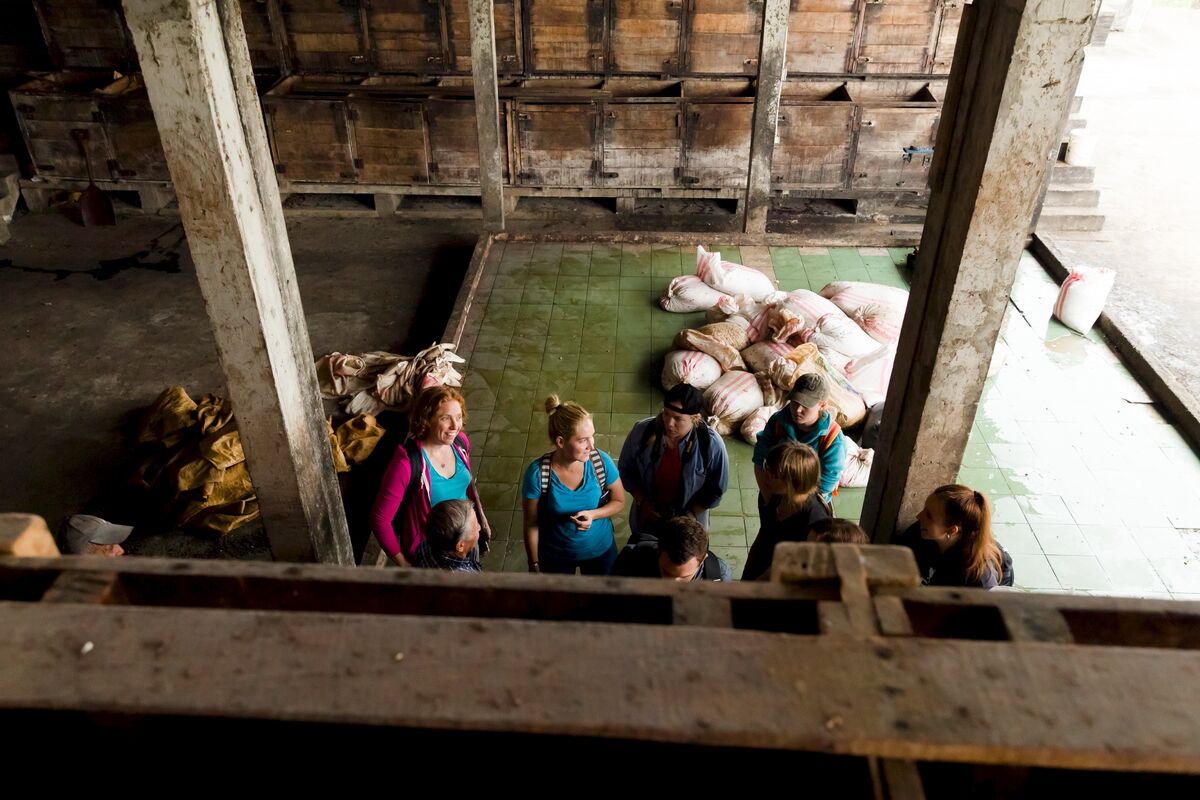 The fermentation area could be some hidden room at Hogwarts with its many columns of mysterious wood crates. The beans go through three levels of fermentation, moving down from the top row of crates to the bottom.
Then, the beans dry. These dried beans taste like raw cacao nibs (well, they essentially are – just not ground up yet).
Fortaleza del Valle sells these beans to TCHO chocolate and Alter Eco (two of my favorite chocolate companies!).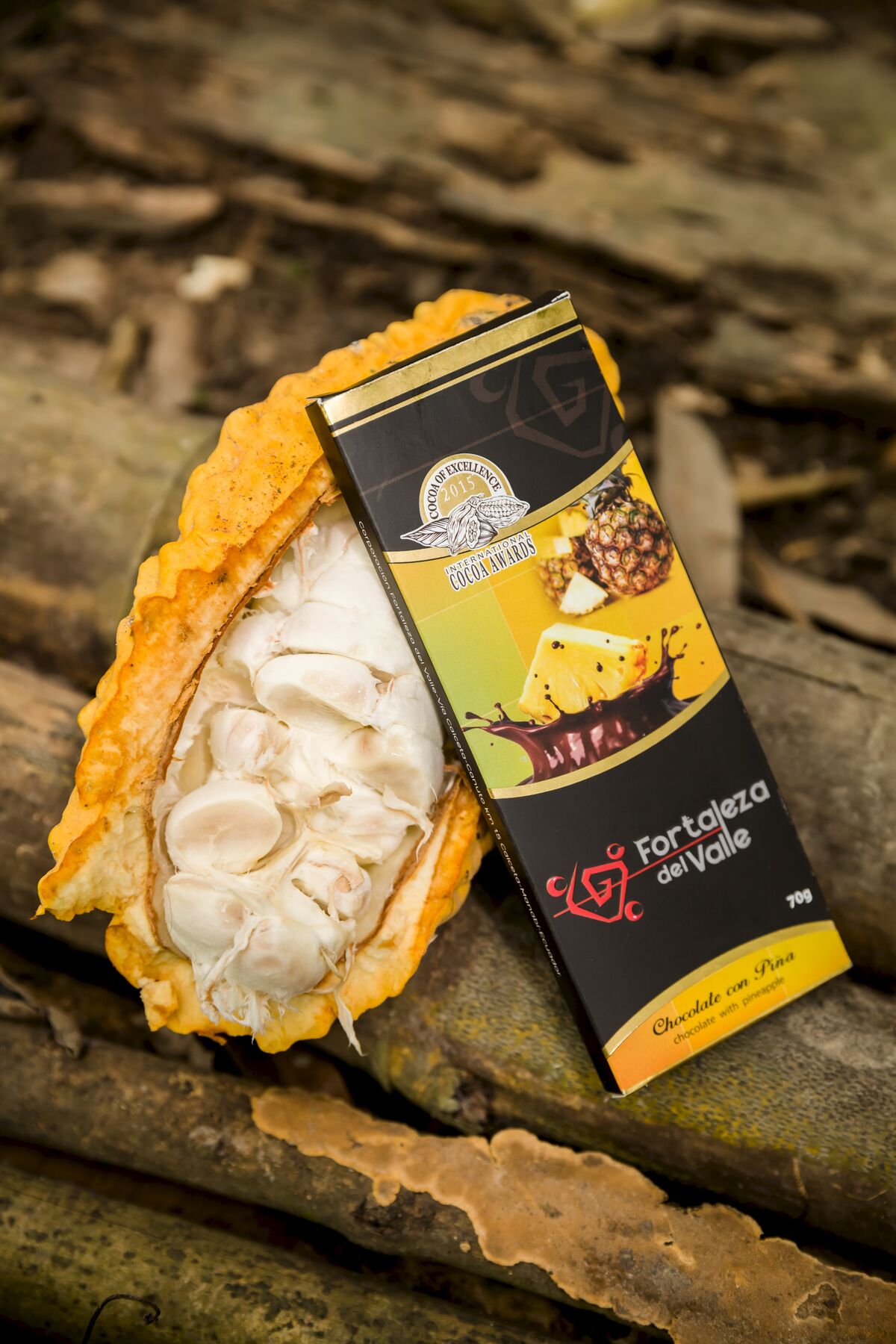 But, they also make their own chocolate. It's not available in the United States yet. However, you can bet that when it is, I'll be buying some! The flavor is sensational!
When I asked the presidents at Fortaleza del Valle why people should buy their chocolate or chocolate made from their beans, they didn't say, "Buy it to help us live better lives," or, "Buy it as a donation to charity." They said to buy it because, "Our beans are better." This is a message that I heard from the people associated with Fair Trade across all industries. These companies are not only looking out for their workers, but they are striving to create quality products – and achieving!
The western coast of Ecuador is conducive to cacao growing and the diversity of plants near the cacao helps their cacao to have its distinctive flavor. Fortaleza del Valle's management were proud to share that their chocolate won an international competition in France.
I know Fair Trade chocolate is often more expensive than other chocolates. So, I always tell people not to treat it like a candy bar. I relish mine, limiting myself to a square or two a day – savoring each second it melts in my mouth.
Other than snacking on bars, I love working with the Fair Trade chocolate baking discs from TCHO to make ganaches and chocolate truffles where you can really taste the chocolate flavor. (View on Amazon)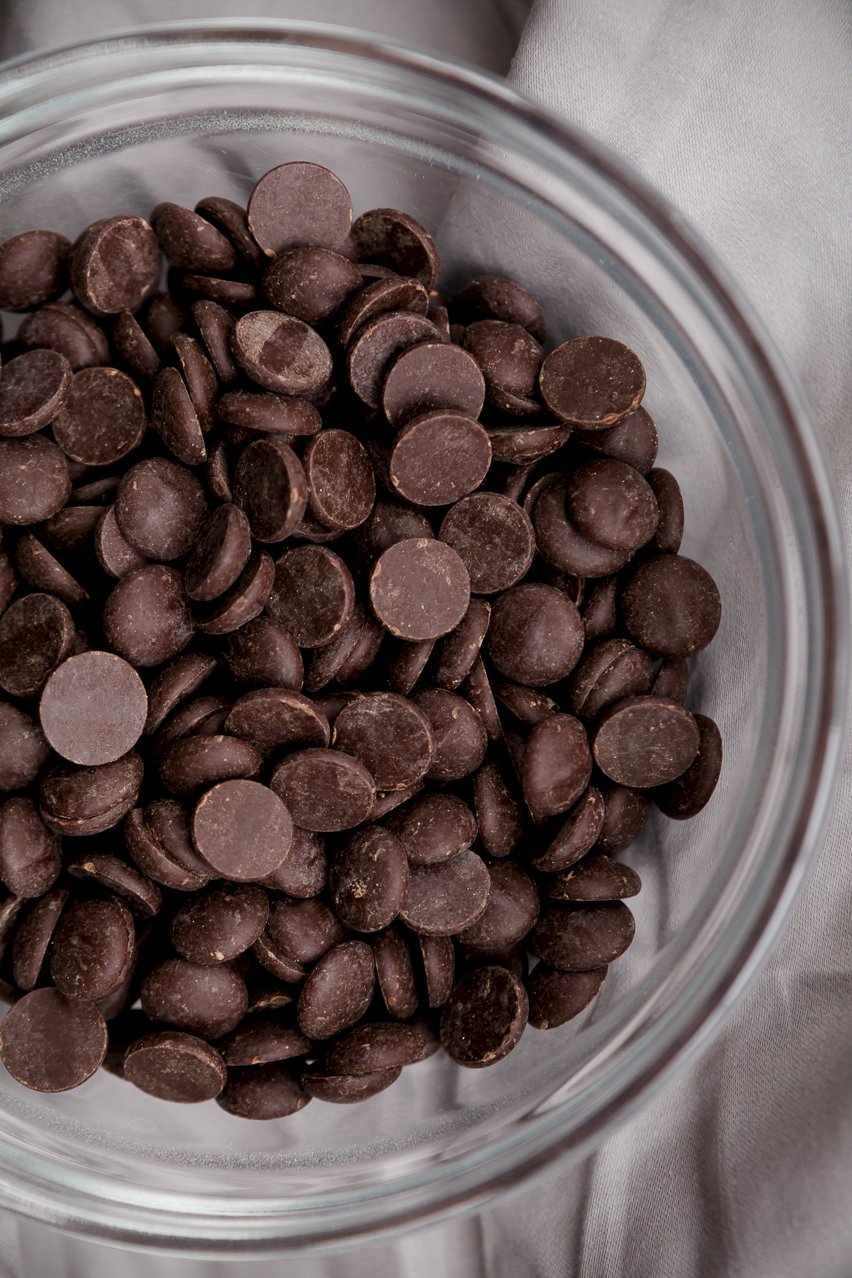 My post on tempering chocolate walks you through the steps you need to make a glossy chocolate truffle or other confection using these discs.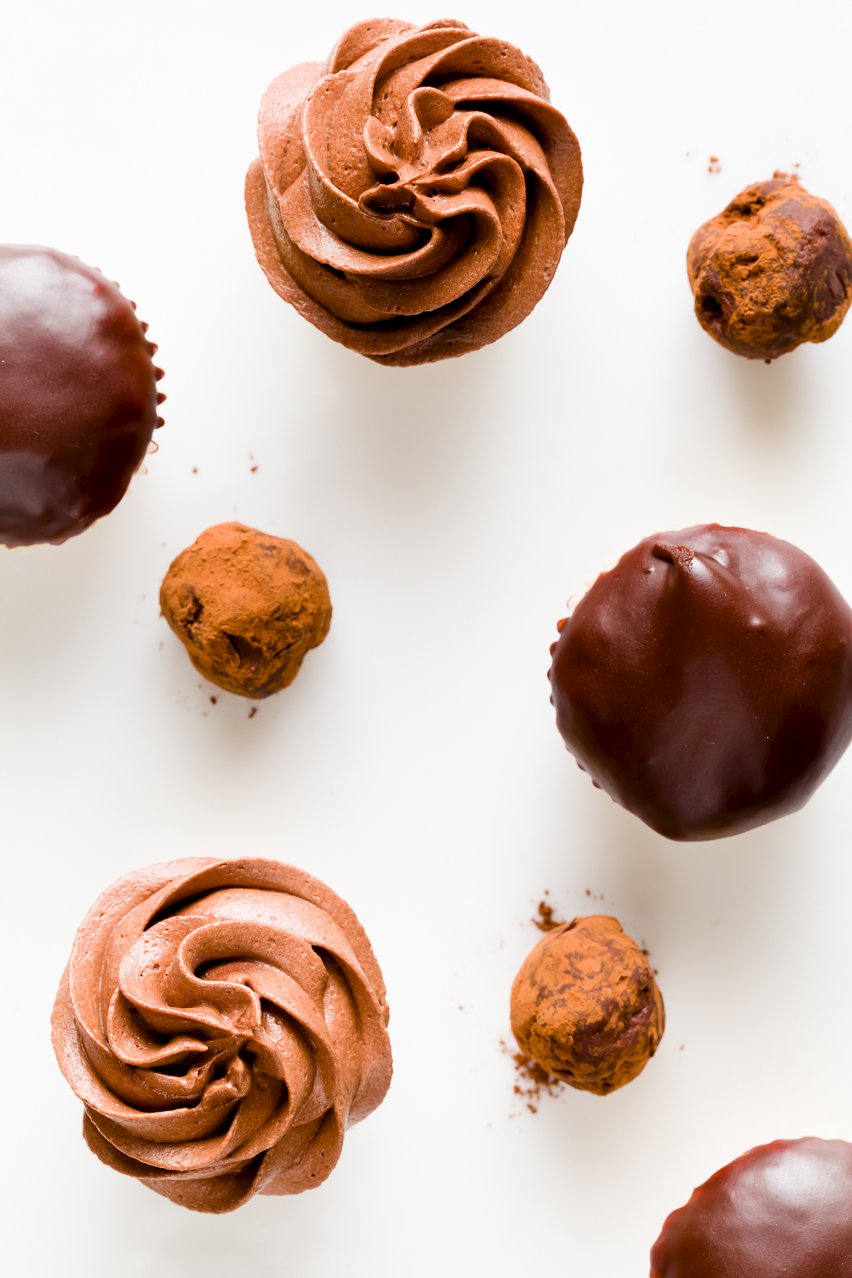 And, my chocolate ganache post shares everything you need to know to make all different kinds of ganache.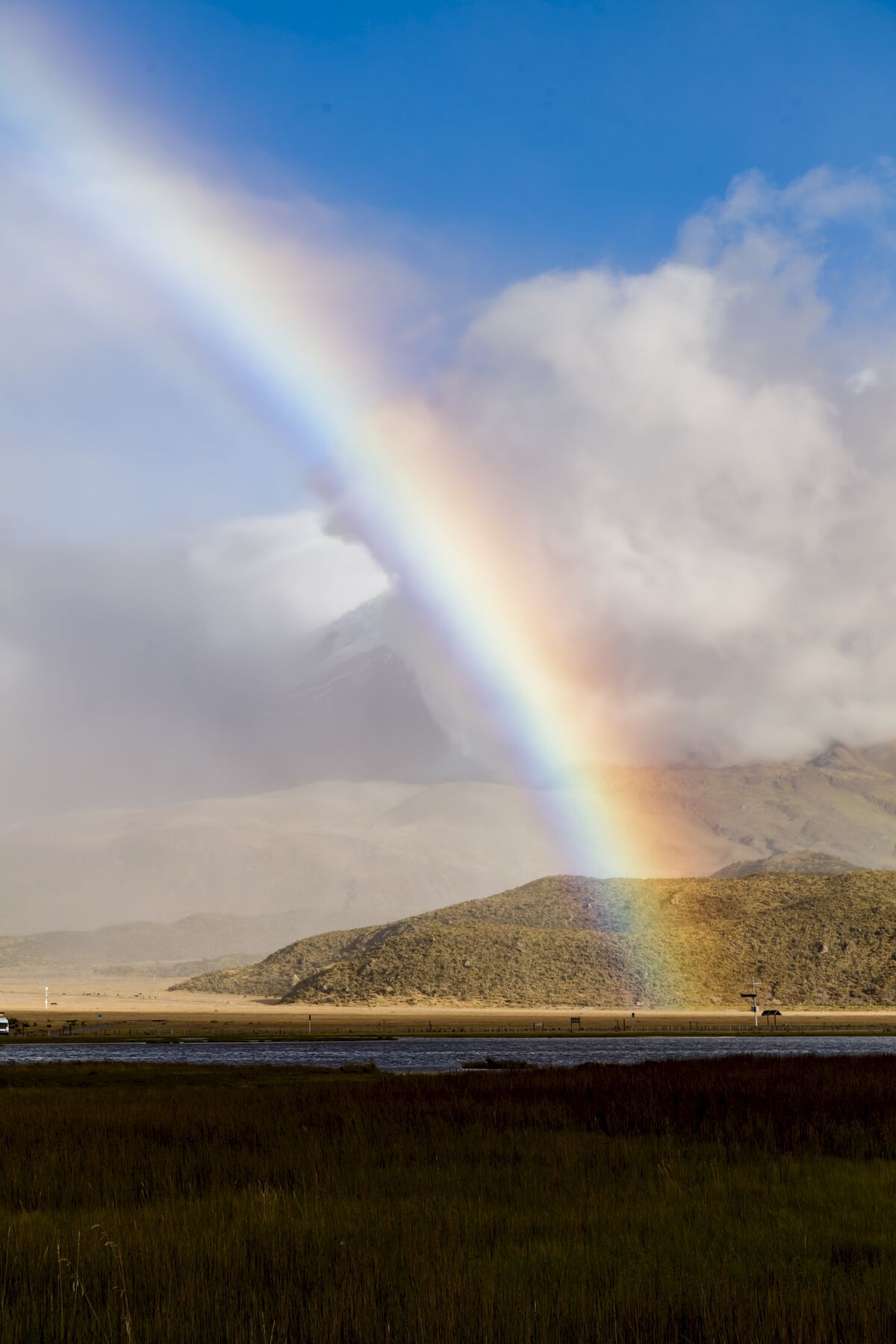 I'm closing out this post with an image of a rainbow that Jonathan shot at Cotopaxi, the world's largest active volcano. Rainbows are a symbol of hope, and this Fair Trade tour gave me such hope that workers banding together, supportive leadership and international organizations, and conscious consumers can come together to make a difference in the world.