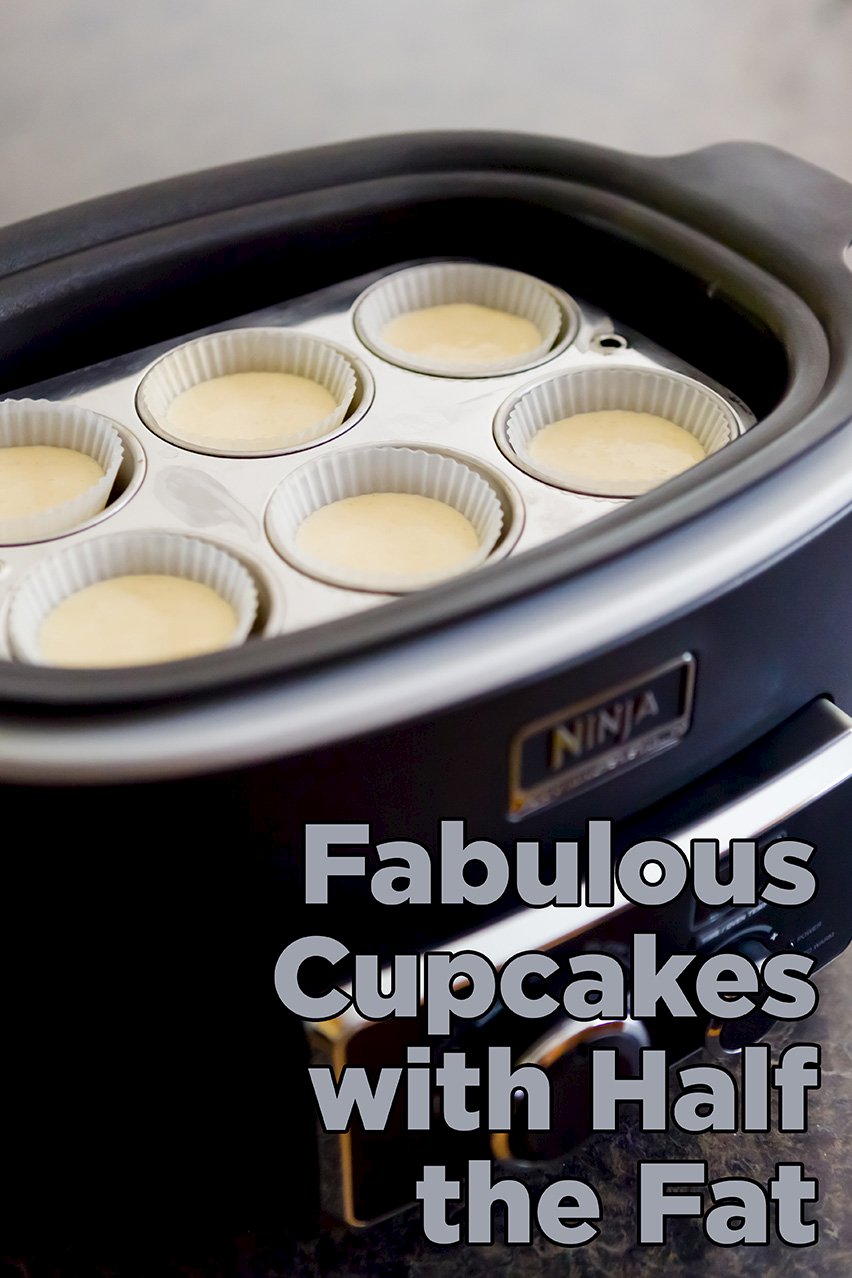 At the International Food Blogger Conference earlier this year, my friend Stephanie O'Dea from A Year of Slow Cooking demoed the new Ninja 3-in-1 Cooking System.
The recipe book that comes with the Ninja states, "Steam baking only requires you to add HALF the fat of traditional cake and loaf recipes!"
Could I really make cupcakes with half the fat and have them taste as good as traditional cupcakes?  I was given a free Ninja to review and I had to put it to the test.

My Ultimate Vanilla Cupcakes get their fat content half from oil and half from butter.  I cut the fat in half by removing all of the oil.  Then, I baked some of the batter in my oven and some in the Ninja.  I wanted to see what would happen to my batter when I only used half of the fat and baked it normally versus using the Ninja's steam-infused baking exactly following the instructions laid out in their manual.
The Results
Texture:
Oven:  Baking with half the fat in my oven yielded a dense, heavy cupcake. Note that my Ultimate Vanilla Cupcakes with full-fat are never described as dense.
Ninja:  Baking with half the fat in the Ninja yielded a pillowy, light cupcake.  I loved the texture, but I will warn you that it was a bit different than a typical cupcake.  The texture more closely resembled that of a Chinese steamed bun (baozi) – a little chewy on the outside and airy and bread-like on the inside.
Taste:
Both the oven and the Ninja cupcakes tasted quite good.  Cutting the fat in half did not have much of an effect on the taste of the Ultimate Vanilla Cupcakes.
Appearance:
Oven:  The cupcakes didn't dome as well as their full-fat counterparts do, but otherwise they looked great.
Ninja:  The majority of the cupcakes split at the top (as shown above).  I contacted the PR folks from Ninja about this to see if the split was caused by some error on my part.  I was told that this is just something that happens with steam-infused baking.  The steam-infused cupcakes are not the prettiest, but once you frost them, no one will know the difference.
Overall Enjoyment:
Without question, if I wanted to cut the fat of my recipes in half, I would choose to make them in the Ninja.  The cupcakes were just as enjoyable as their higher-fat counterparts.
Although I wouldn't recommend purchasing a Ninja 3-in-1 Cooking System just to make cupcakes, I would highly recommend taking a look at the Ninja if you are on the market for a slow cooker.  Why get a standard slow cooker when you can get one that has so many different functions?!
Have you heard of the Ninja?  Have you tried it?  Leave me a note in the comments.