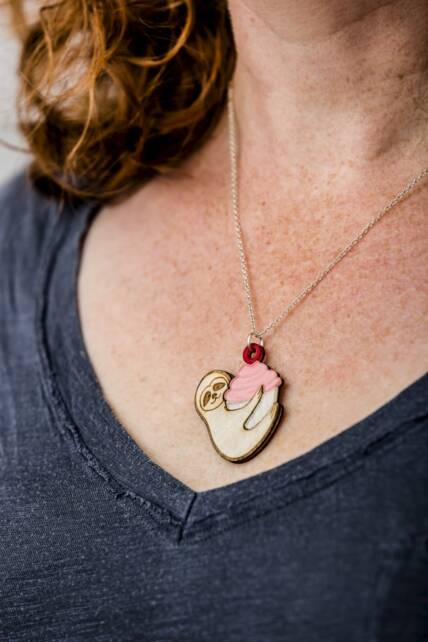 First, the facts:  This adorable cupcake and sloth necklace that I designed in conjunction with Danger!Awesome is only $15 and is on sale for just 6 days.  It hasn't actually been produced yet, but as long as 15 of you buy one, Danger!Awesome will make them.  If there aren't 15 sales, you get your money back (the process works kind of like Kickstarter).  Buy this cupcake and sloth necklace on Danger!Awesome for yourself or anyone you know who loves cupcakes or sloths or both!!
Now, the story: Danger!Awesome (don't you love the company name?!) approached me about working together on a design project.  I'd come up with an idea that I thought you guys would love, they would design and produce it, and we'd sell it together.  I couldn't pass this up.  I've had many opportunities come my way in life, but jewelry designer has never been one of them.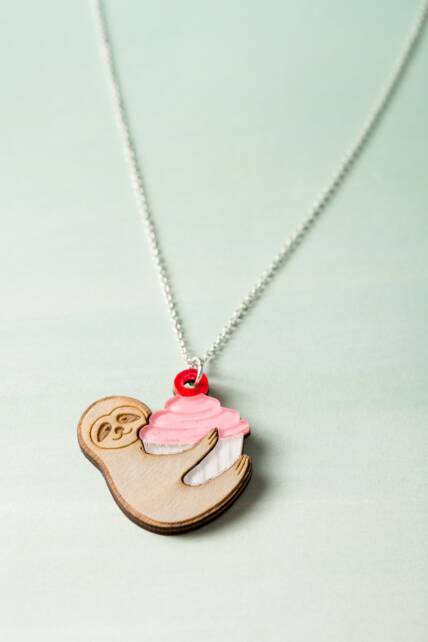 Why a sloth?  What's funny is that my friend and former Cupcake Project intern, Jeanette, threw out the idea of a sloth on a cupcake when we were brainstorming ideas together and she had no clue how much I love sloths.  I loved sloths before they were cool and featured in Disney movies!
Have you ever seen a sloth move?  They are the ultimate yogis – each motion seems so thought out and intentional.
My son and I visit our friend, Camden the sloth, at the St. Louis Zoo every time we go there.  OK – I'm not going to lie, the zoo switched Camden with another sloth for a while and we didn't even notice.  We stood there like fools saying, "Hi Camden, your friends are here!!"  Thankfully, we have now we have learned where he has been relocated to and we visit him there.
If you aren't so familiar with sloths, everything you need to know about them is in this video.  But, before you go down the YouTube rabbit hole, head to the Danger!Awesome zone and buy this necklace!