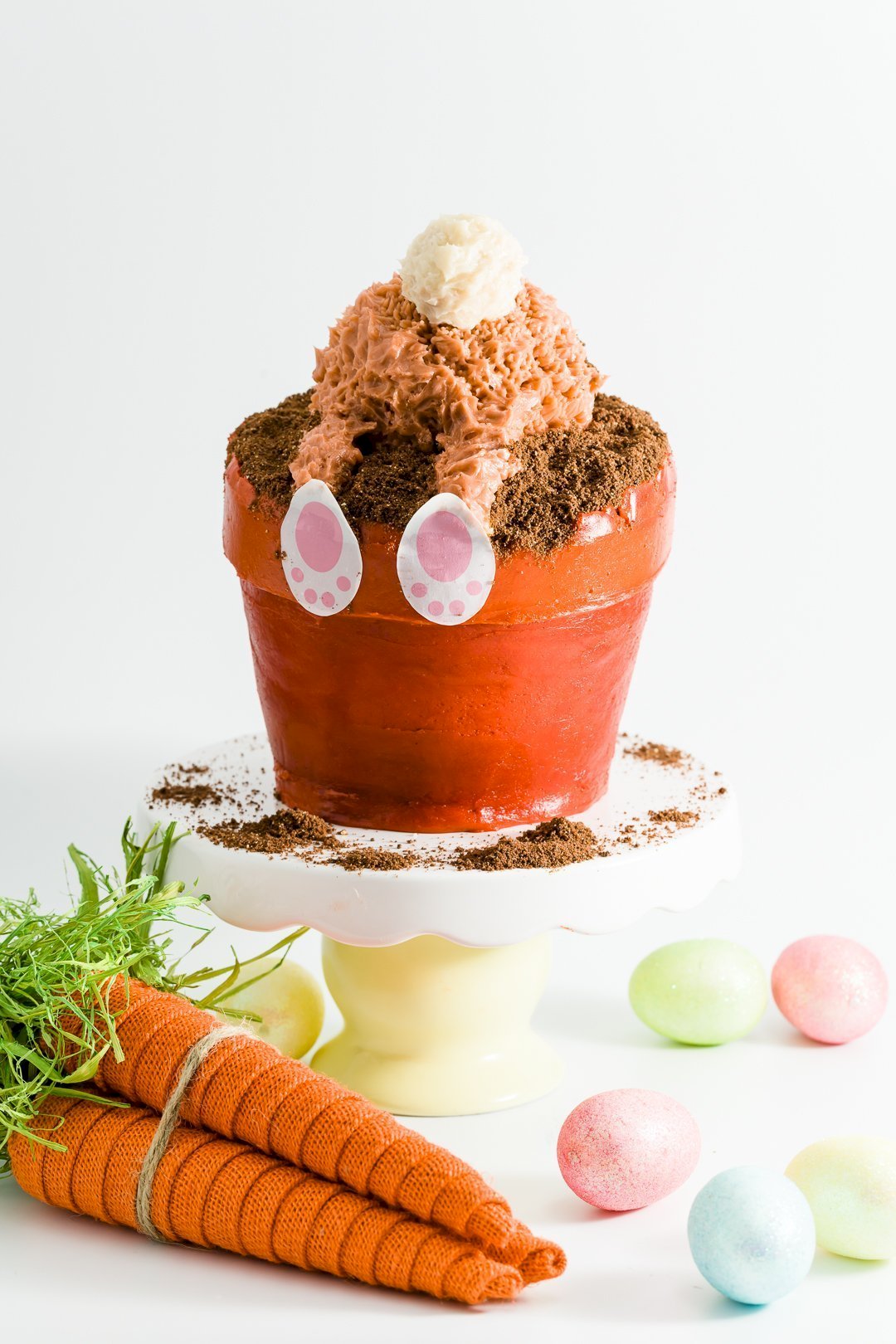 Bunnies have never been a major problem in our garden. It's the darn squirrels. Last fall, they went to town on the apples from our apple tree. We only had three apples, otherwise I might have been OK with sharing. 😜
Starting to see the bunnies is always a sign around here that spring is underway. And, this Easter bunny butt cake by Cake Wars star Liz Kraatz totally makes me smile.
Unlike most of my posts, this post is geared specifically toward intermediate and advanced bakers. It doesn't cover how to bake the cake or how to acheive a smooth base coat of frosting. If you need help with those topics, I strongly recommend taking some classes on Craftsy.
There's a video below if you want to watch it all come together.
How to Make an Easter Bunny Butt Cake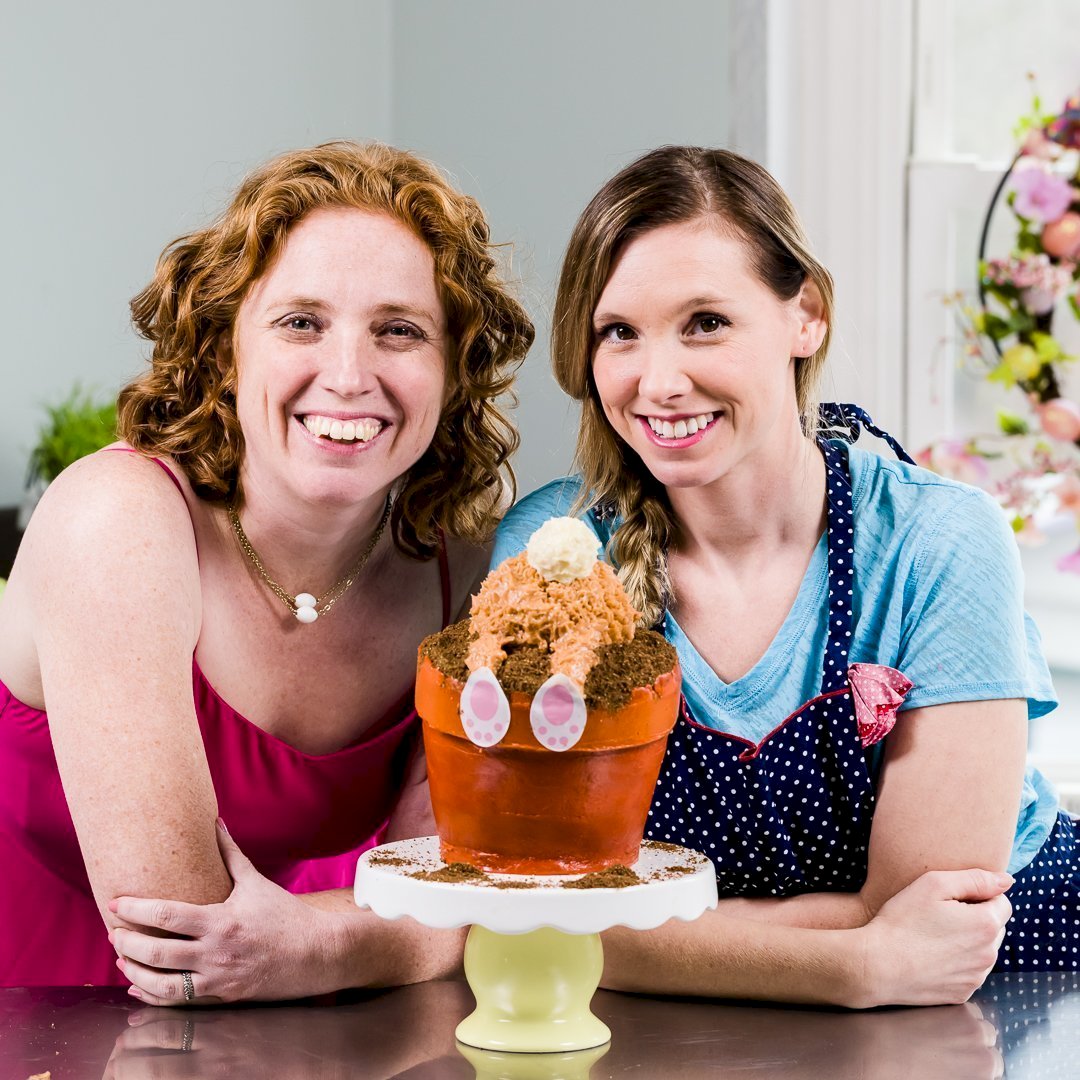 Easter Bunny Butt Flower Pot Cake
Celebrate Easter with this adorable bunny cake!
Ingredients
3

8" round cakes

Any flavor of cake will work, but Liz's favorite recipe is from Sugar Geek Show.

Artisan Accent food colors

red, orange, brown

Edible image of bunny feet

You can order edible images though Never Forgotten Designs.

6

inch

round cake board

8

inch

round cake drum

thick cake board for the base of the cake

2

piping bags

Grass piping tip

Offset spatula

Scissors

Blender

Chocolate cookies
Instructions
Stack the three cake rounds and place the 6" cake board in the middle of the top cake round. Using a serrated knife, carve the cake so the bottom is smaller in diameter than the top cake round (to match the shape of a flower pot). SAVE YOUR CAKE SCRAPS IN A SEPARATE BOWL.

Color 3/4 of the buttercream with the edible food colors until they match a clay pot color.

Remove the cake layers and start filling them with buttercream as you restack the cake layers.

Ice your stacked cake and place it in the fridge to cool. Remove your cake from the fridge and finish coating the cake with your clay-colored buttercream.

Use a piping bag with a large easy cake coverage piping tip to create the rim of the clay pot.

Next, take the cake scraps and mix about 1-2 cups of the clay-colored buttercream in with the scraps to form cake clay or cake pop mix. Form a ball about the size of a tennis ball for the bunny butt and another small ball, about the size of a large marble, for the tail. (Alternatively, you can simply pipe a buttercream ball to form the bunny bum and tail instead of using cake clay.)

Blend chocolate cookies and pulse until you have a substance that looks like dirt. Sprinkle the "dirt" on top of the cake clay pot until you are satisfied with the coverage.

Take 3/4 of the remaining white buttercream and color it any color you want for the bunny butt and legs.

Place the large cake ball in the center of the cake and use the grass tip to pipe bunny fur.

Use cake scraps to make bunny legs that run from the large cake ball base to the rim of the cake clay pot. Use the grass tip to pipe bunny fur on them.

Place the smaller cake ball on top of the bunny butt and pipe white buttercream to form the tail fur.

Using scissors, cut the bunny feet out of the edible image paper and place them on the top rim of the clay pot, attaching them to the piped legs.

Finish off with sprinkled cookie crumbs for more messy fun! Enjoy!
Video
Nutrition
Nutrition Facts
Easter Bunny Butt Flower Pot Cake
Amount Per Serving
Calories 434
Calories from Fat 36
% Daily Value*
Fat 4g6%
Cholesterol 153mg51%
Sodium 804mg34%
Potassium 148mg4%
Carbohydrates 91g30%
Protein 8g16%
Vitamin A 230IU5%
Calcium 105mg11%
Iron 4.1mg23%
* Percent Daily Values are based on a 2000 calorie diet.
---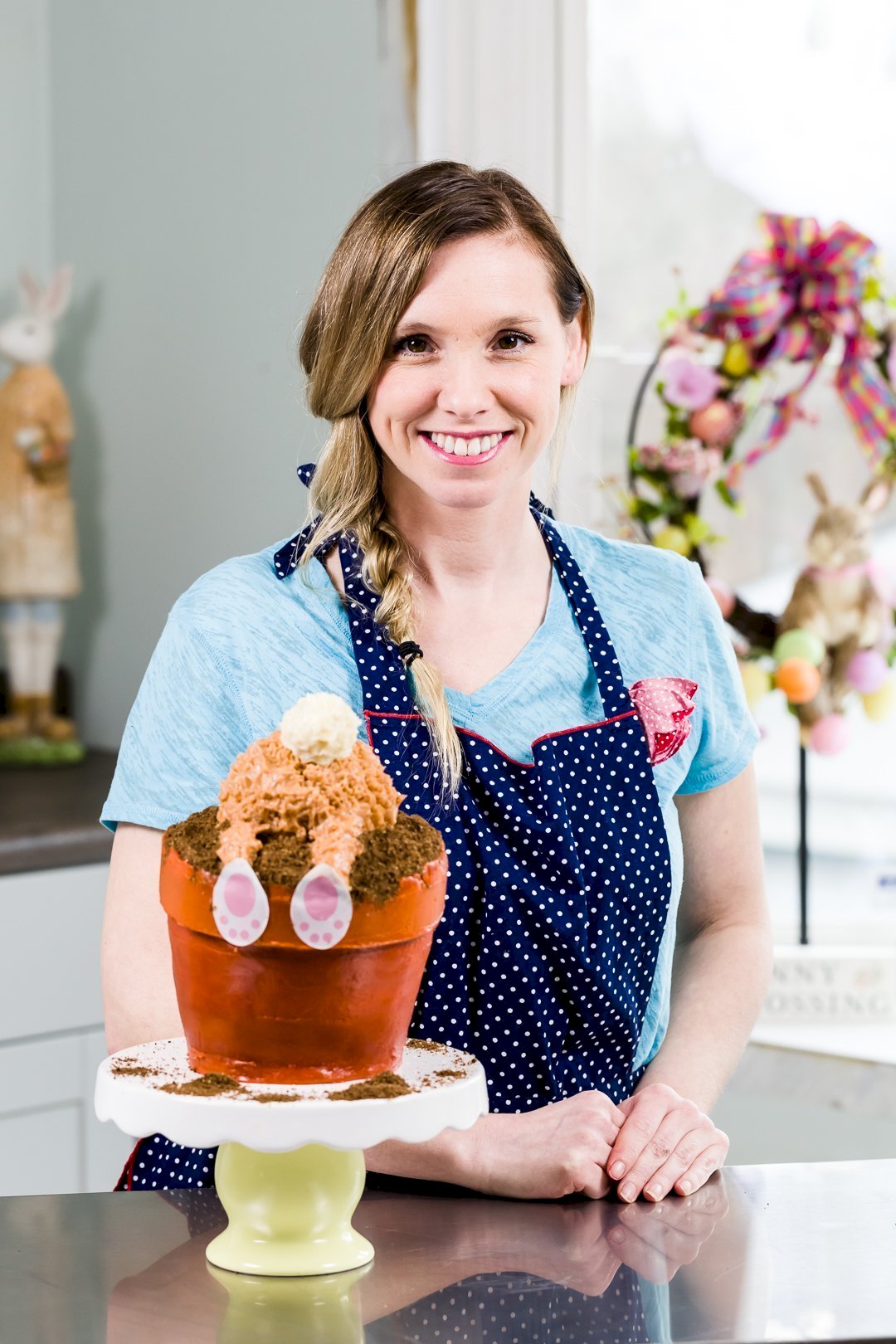 Liz Kraatz is the owner of Liz's Cake Art and The Chili Experience, both located in St. Louis, Missouri. She creates custom cakes designed to please her customers and produces the World's Best Chili and Cornbread. You can find her on Season 2 of Cake Wars Christmas on Food Network as well as teaching at Dierbergs Cooking School in and around St. Louis. Liz and her sous chef, her mother, are competitors at the World Food Championships and hold the title of the World Open Chili Champion 2016 AND 2017. Food sport is her life! She was a high school teacher, but resigned to pursue her passion of competition cooking and baking. Liz and her mother are competing for $100,000 in April, 2018 with their winning chili recipe.