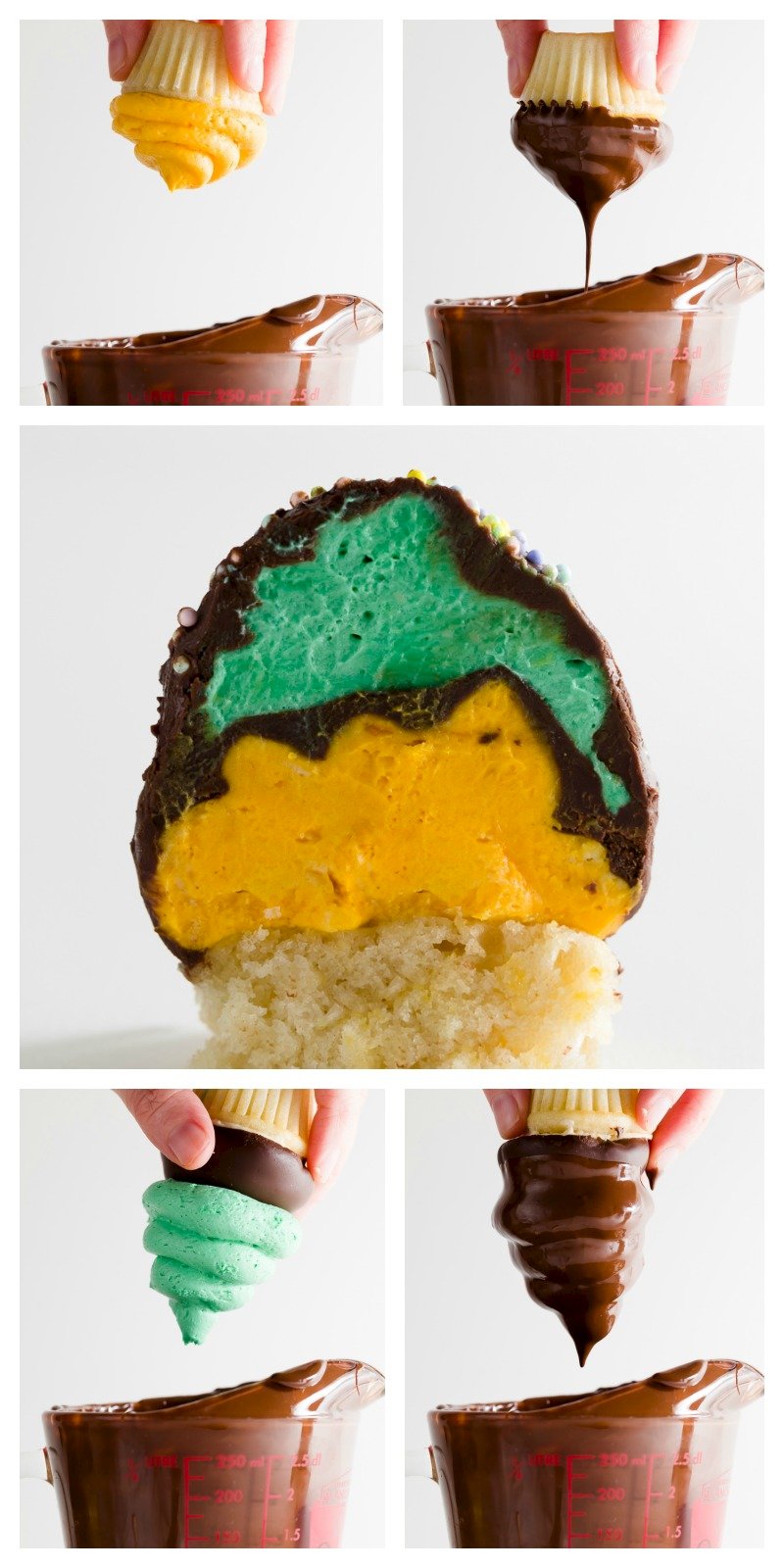 I set out to make hi-hat cupcakes – cupcakes with a giant frosting swirl coated in chocolate. Hi-hat cupcakes are spectacles on their own, but today I thought bigger. Why stop at a single dip? I piped a second layer of frosting on top of the hardened chocolate, dipped again, and the double-decker hi-hat cupcake was born!
On the outside, a double-decker hi-hat cupcake looks like a tall dipped soft-serve ice cream cone. Sprinkles are not optional!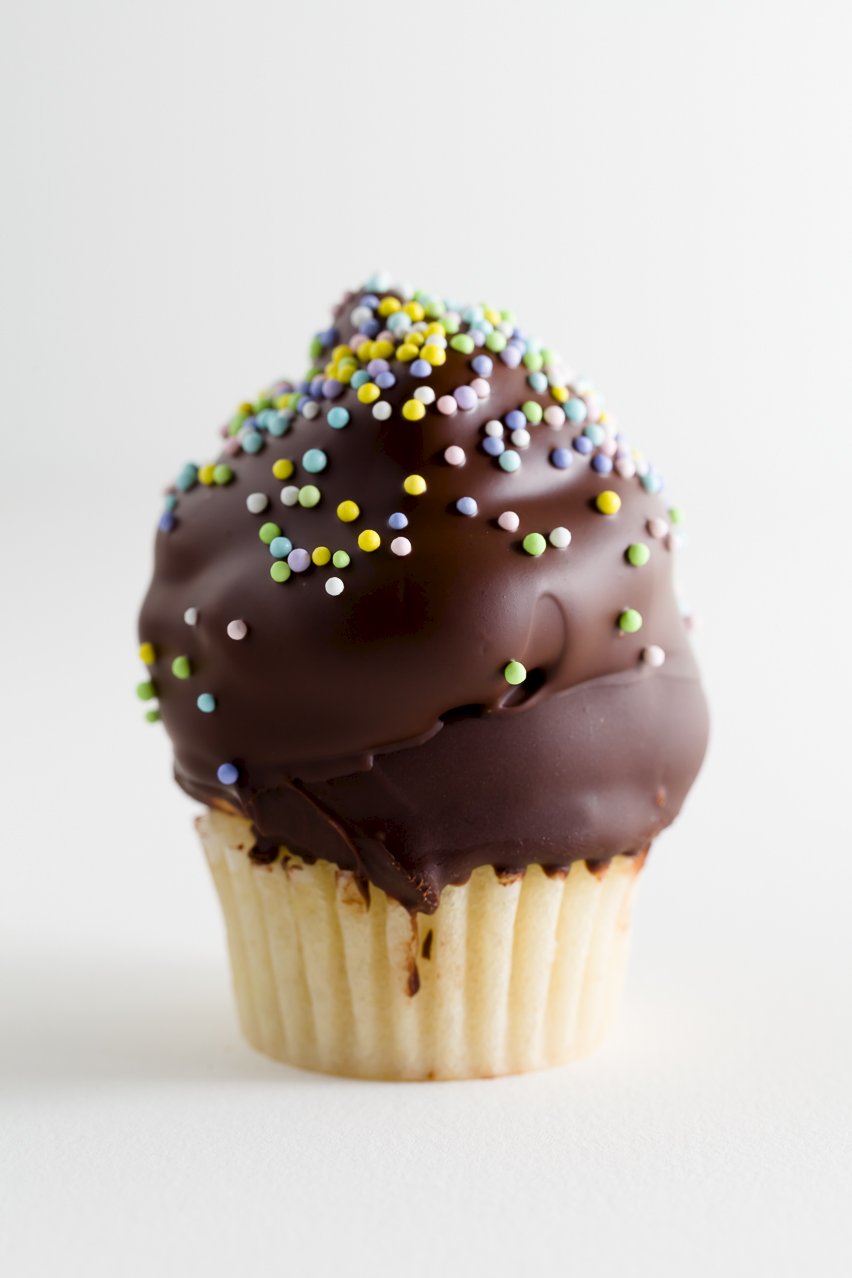 Inside is the surprise: two layers of frosting with a layer of solid chocolate in-between.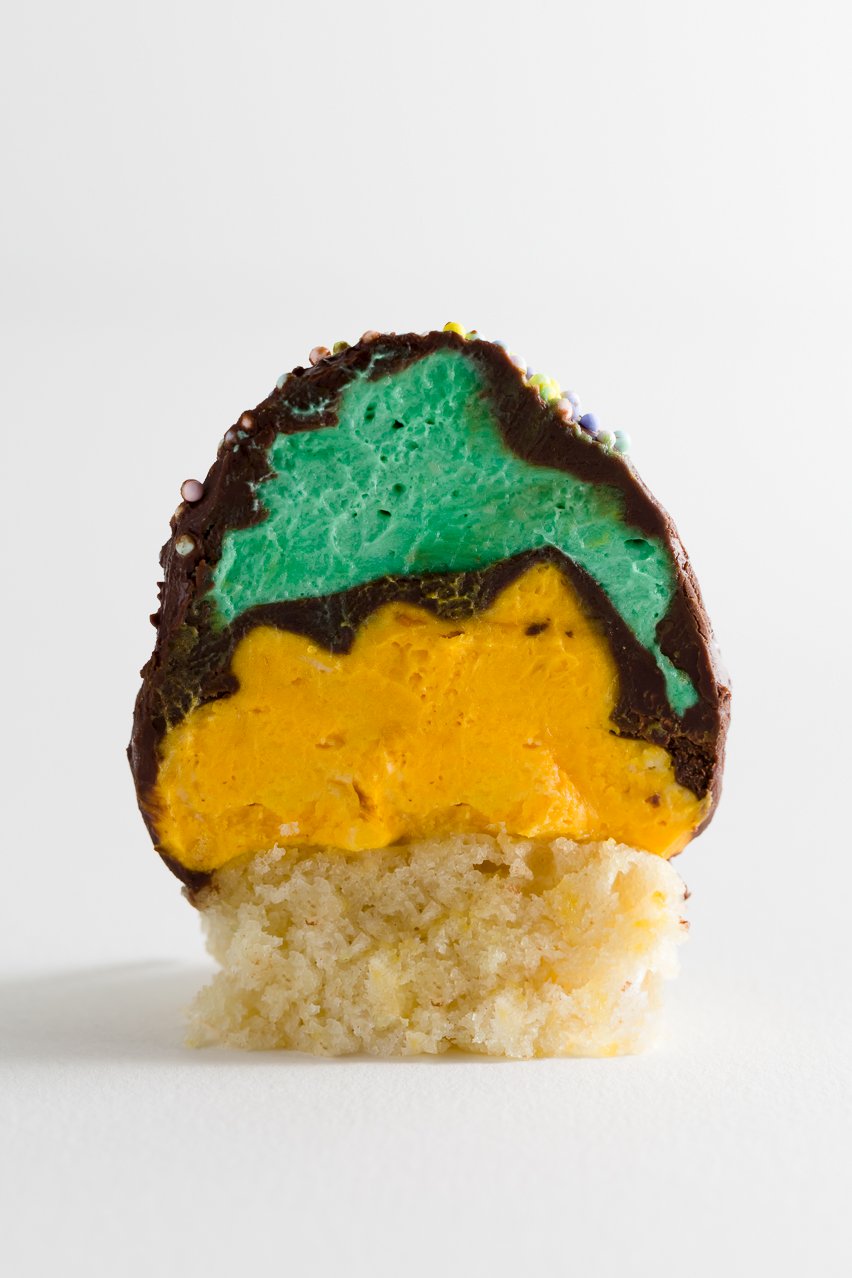 Regular readers know that I'm not a food coloring fan. But, I used it here to show off what you can do with this technique. You can create double-decker hi-hat cupcakes with school or team colors or a holiday theme. If you didn't pipe the frosting quite so high, you could even do three layers (with the height of my frosting, these cupcakes started to wobble at two layers).
Double-decker hi-hats really shine when using frosting flavor pairings. You could, for example, bake up my peanut butter chocolate hi-hat cupcakes and add a second layer of banana frosting. Or, how about a strawberry cupcake with a layer of chocolate frosting and a layer of vanilla frosting?
Making double-decker hi-hats is easier than you might think; just be sure that you have plenty of room in your freezer. You'll need to take the cupcakes in and out throughout the process.
Double-Decker Hi-Hat Cupcakes
Double-decker hi-hat cupcakes have double the frosting and double the dip.
Ingredients
cupcakes

2

kinds of pipe-able frosting

semi-sweet chocolate chips

3

tablespoons

vegetable oil for every 2 cups of chocolate chips

sprinkles
Instructions
Pipe a swirl of the first kind of frosting onto cupcakes using a large round tip. I used Wilton tip number 1A , but if you don't have a tip, you can just cut the end off of a sandwich bag.

Place the cupcakes in the freezer for 20 minutes or until the frosting is frozen solid.

Place chocolate chips and oil into a tall microwave-safe cup (I used a two cup Pyrex measuring cup).

Microwave for twenty seconds at a time (stirring in between) until all of the chocolate is melted.

Take the frosted cupcakes out of the freezer. One by one, grab the cupcakes by their wrappers, turn them upside-down, and dunk them into the cup of melted chocolate - making sure that all of the frosting gets covered. (If you listen carefully, you may be able to hear them squealing, "Wheeee!") Let the cupcakes hover over the cup of chocolate until all of the excess chocolate drips off.

Admire your work.

Return the dipped cupcakes to the freezer for a few minutes until the chocolate has completely hardened.

Pipe the second frosting on top of the hardened chocolate using the round tip again. Don't make the swirl go all the way to the edge of the chocolate; if you do, you'll end up with more of a blob shape. I placed my swirl about 1/4" in from the edge.

Freeze the cupcakes with the second layer of frosting for another 20 minutes or until the frosting is frozen solid.

Dip the cupcake in the melted chocolate again (you will need to reheat your chocolate in the microwave for another 20 seconds or so and stir well). Dunk them all the way, covering both the new layer of frosting and the old layer of chocolate.

Rain sprinkles down over the wet chocolate.

Refrigerate until ready to eat.
Nutrition
Nutrition Facts
Double-Decker Hi-Hat Cupcakes
Amount Per Serving
Calories 153
Calories from Fat 45
% Daily Value*
Fat 5g8%
Sodium 140mg6%
Potassium 40mg1%
Carbohydrates 24g8%
Protein 2g4%
Vitamin A 20IU0%
Vitamin C 0.1mg0%
Calcium 56mg6%
Iron 0.6mg3%
* Percent Daily Values are based on a 2000 calorie diet.
For more hi-hat cupcake ideas, don't miss: