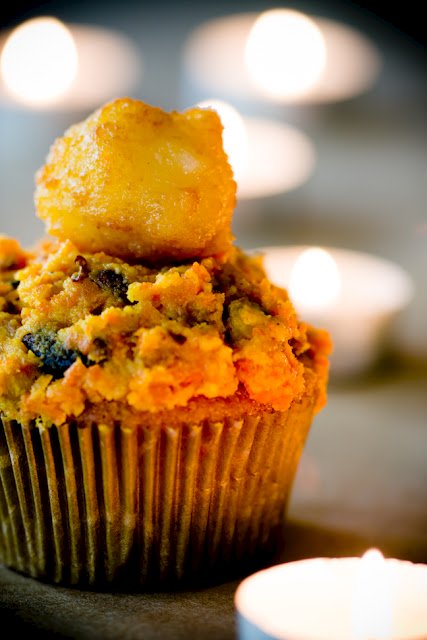 In my next post, I'll be announcing the winning charity for Cupcake Project 4.0, revealing the cupcake recipe that you'll receive if you donate, and telling you how to donate. But first, join me on a trip to India for Diwali.
These Diwali cupcakes are a twist on traditional Diwali sweets. One of my readers, Pia BRoy, requested Diwali cupcakes on my Facebook page. I told her that I would be happy to make some incorporating her favorite Diwali sweets. She replied that her top Diwali sweets are carrot halwa and gulab jamun – so, Pia, I bring you the Diwali sweets-inspired carrot halwa cardamom cupcakes topped with carrot halwa and a gulab jamun.
Close your eyes as you eat these and you can imagine yourself in India for Diwali. It's easy for me since I was there in '94. Diwali is the Indian festival of lights, and when they say lights, they mean LIGHTS! Our July 4 celebrations don't hold a candle to Diwali (mainly because – at least when I was there – there was no one stopping people of any age from lighting fireworks in the street). There were so many fireworks that it looked like the entire city (I was in Chennai, formally known as Madras) was on fire. Our bus driver could only see two feet ahead of him as he tried to maneuver around cows, people, cars, and carts. I did not envy him!
Open your eyes after you've taken your first bite so that you can peek inside the Diwali cupcakes and see the light texture and scattered orange carrot halwa flecks.
A Little More About Diwali
Diwali is not just about fireworks and sweets. Wikipedia describes the spiritual significance of Diwali:
The most significant spiritual meaning is "the awareness of the inner light". Central to Hindu philosophy is the assertion that there is something beyond the physical body and mind which is pure, infinite, and eternal, called the Atman. Just as we celebrate the birth of our physical being, Diwali is the celebration of this inner light, in particular the knowing of which outshines all darkness (removes all obstacles and dispels all ignorance), awakening the individual to one's true nature, not as the body, but as the unchanging, infinite, immanent and transcendent reality. With the realization of the Atman comes universal compassion, love, and the awareness of the oneness of all things (higher knowledge). This brings Ananda (joy or peace).
Let your light shine
and bake these Diwali cupcakes for Diwali on November 5.

Diwali Cupcake Recipe
I'm not going to claim that these Diwali cupcakes are easy. They require making carrot halwa and gulab jamun before you can even get started with cupcake making. But, if you bake them, you will have an opportunity to experience some of the unique and wonderful flavors of India.
Diwali Cupcakes with Carrot Halwa and Gulab Jamun
Diwali Cupcakes with Carrot Halwa and Gulab Jamun are the perfect holiday recipe with traditional flavors.

Ingredients
1 1/2

C

all-purpose flour

1

tsp

baking soda

1

tsp

ground cardamom

1/2

C

sugar

1

recipe carrot halwa

see my carrot halwa recipe

2

large eggs

1/2

C

ghee

3/4

C

gulab jamun cardamom syrup

see my gulab jamun recipe

14

gulab jamun for toppers

see my gulab jamun recipe
Instructions
In a medium-sized bowl, whisk together flour, baking soda and cardamom.

In another medium-sized bowl, mix sugar, 3/4 cup of tightly packed halwa, and eggs until well combined.

Mix the ghee and cardamom syrup into the carrot halwa mixture until well combined.

Mix in the flour mixture until fully incorporated.

Fill cupcake liners 3/4 full.

Bake at 350 F for 25 minutes or until a toothpick inserted in the middle of a cupcake comes out clean.

Take the remaining carrot halwa (don't worry, I know that you will have eaten several spoonfulls of it at least - I took that into account) and mix it up using an electic mixer or your own arm strength to incorporate some air into it.

Spread the halwa on top of the cupcakes.

Just before serving, warm the gulab jamun in the microwave and use them to top the cupcakes.
Nutrition
Nutrition Facts
Diwali Cupcakes with Carrot Halwa and Gulab Jamun
Amount Per Serving
Calories 193
Calories from Fat 63
% Daily Value*
Fat 7g11%
Cholesterol 39mg13%
Sodium 110mg5%
Potassium 23mg1%
Carbohydrates 31g10%
Protein 2g4%
Vitamin A 35IU1%
Calcium 8mg1%
Iron 0.8mg4%
* Percent Daily Values are based on a 2000 calorie diet.