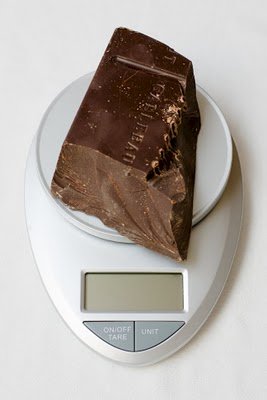 Ladies and gentlemen, boys and girls, children of all ages*, step right up and guess the weight of this piece of chocolate for a chance to win an EatSmart Precision Pro – Multifunction Digital Kitchen Scale.
Leave a comment by 11:59 PM CST on Tuesday, February 9 with your email address and a guess (you can guess in grams, ounces, pounds, or kilograms). The closest guess wins! If more than one person guesses correctly, I will randomly select the winner from everyone who guessed correctly.

More About The EatSmart Precision Pro – Multifunction Digital Kitchen
Judging by the Guidebook to Calorie Counting that came with the EatSmart Precision Pro – Multifunction Digital Kitchen Scale that I was sent for review, most people use their digital scales for counting calories. Not me! A cupcake blogger counting calories would be like a marathon runner counting each step – it's best not to think about it.
I most often use my kitchen scale for CHOCOLATE! I buy baking chocolate in large blocks, chop off the amount I need with my chocolate chipper (one of my favorite kitchen tools) and use my scale to weigh out the quantity that I need.
My second favorite use of my kitchen scale has nothing to do with the kitchen. I use it to weigh letters so that I know how much postage to use – it's really handy.
Like your bathroom scale, the main point of your kitchen scale is to weigh something accurately; everything else is just bells and whistles. Here are the bells and whistles that make the Precision Pro a nice choice:
It can weigh up to 11 pounds.
It's precise to .05 ounce / 1 gram increments.
It measures in four different units: grams / ounces / pounds / kilograms.
It has a tare (most digital scales do – don't get one without it). This lets you set the weight of a container to zero so that you can measure only the weight of its contents.
*One guess per person + sorry, but EatSmart is only able to ship to a US winner.