This football dessert hand-pie – perfect for a football party, as a Super Bowl dessert, or as an impressive tailgating dessert – is a rich, fudgey brownie surrounded by flaky chocolate pie dough. The brownie-stuffed pie dough is then deep fried, taking on a donut-like flavor, and finished off with a sweet and salty chocolate glaze.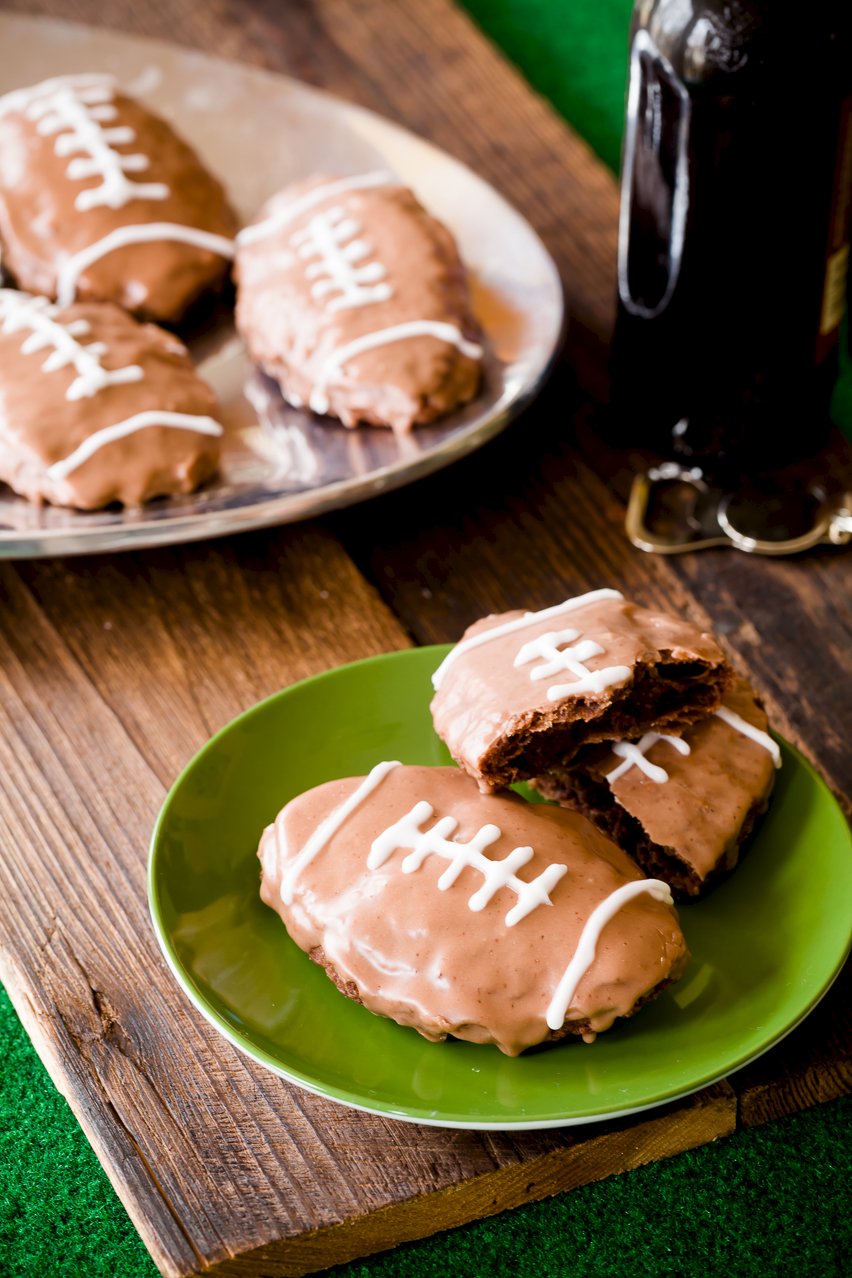 Yes, these football deep fried brownie hand pies are over-the-top. That is just how football desserts should be. Go big or go home!
Why This Tailgating Dessert Works
This recipe is salty, sweet, chocolaty, and crispy. That's a winning combination that will impress anybody looking for a great dessert.
These footballs can be made ahead of time and transported to a tailgate party or any football-themed party.
What Tools Will You Need to Make This Football Dessert Recipe?
The chocolate pie crust recipe is made in a food processor. However, if you don't have one, you could follow the same recipe and mix by hand. If making the crust by hand, be careful to not squeeze the ingredients too hard while mixing, causing them to warm up. The pie dough should stay nice and cool. (View on Amazon)
While not essential, I highly recomment a deep fryer. This model is great because it has a built-in filtration system for the oil. When you are done frying, the oil filters down into a plastic container at the bottom of the unit so that you can reuse it. It is so practical, and almost all of the deep fryer parts are dishwasher safe! (Note that T-fal is not a sponsor of this post; I bought this fryer with my own cash dollars and that was a fantastic decision.) (View on Amazon)
I use a silicone pastry brush because it's dishwasher-safe and durable. This is used to brush egg wash around the perimeter of the hand pie to help seal in the contents prior to deep frying. (View on Amazon)
How to Make This Deep Fried Football Dessert
The Crust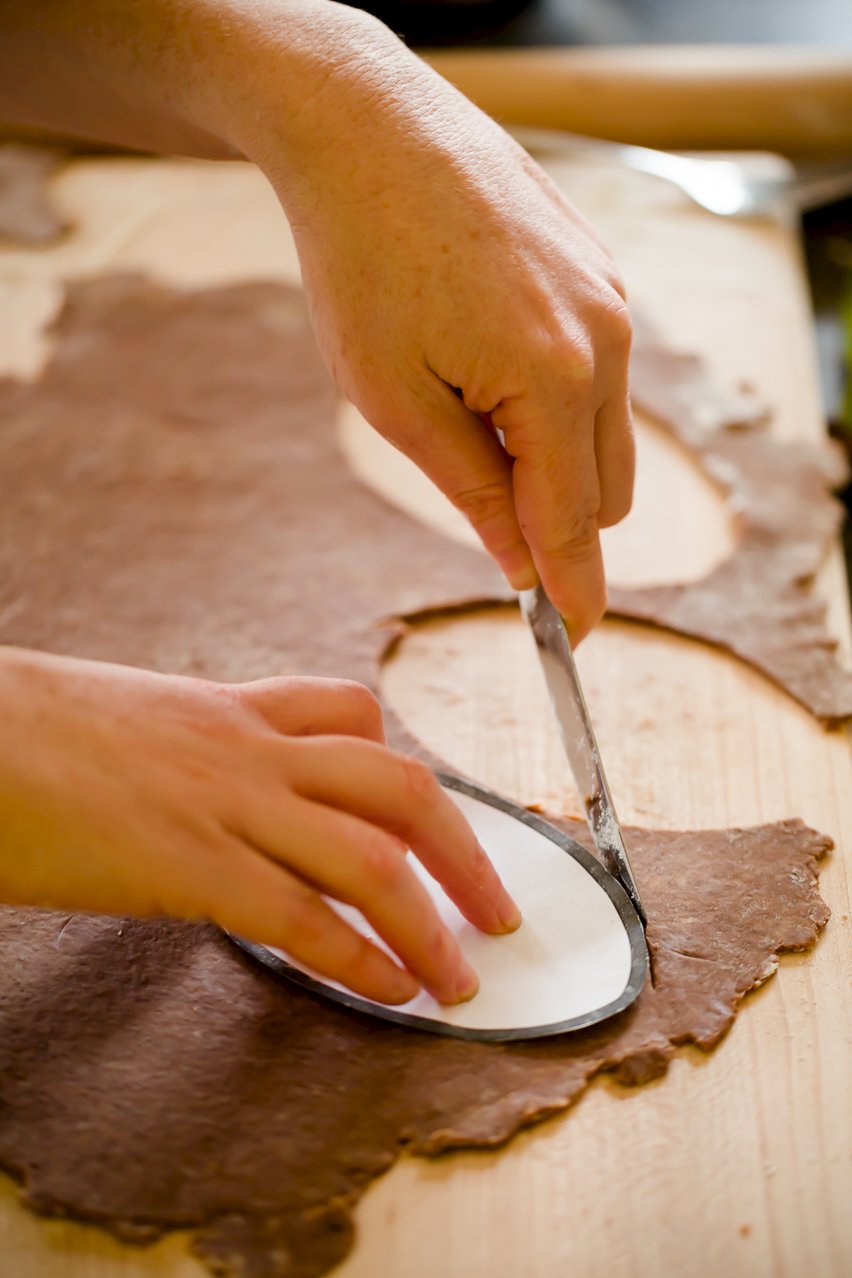 These deep fried football brownie hand pies start with a chocolate pie crust. Having never made a chocolate pie crust before, I turned to Laura from Simply Scratch for a chocolate pie crust recipe. I share the recipe in my own words below, but Simply Scratch has some nice process photos for the dough that you should definitely check out.
On a somewhat related note, I got hooked on the Simply Scratch blog after finding this chocolate pie crust recipe and was totally moved by her blog-to-book story. I couldn't share her recipe here without giving her some book love! (View on Amazon)
The Brownie Filling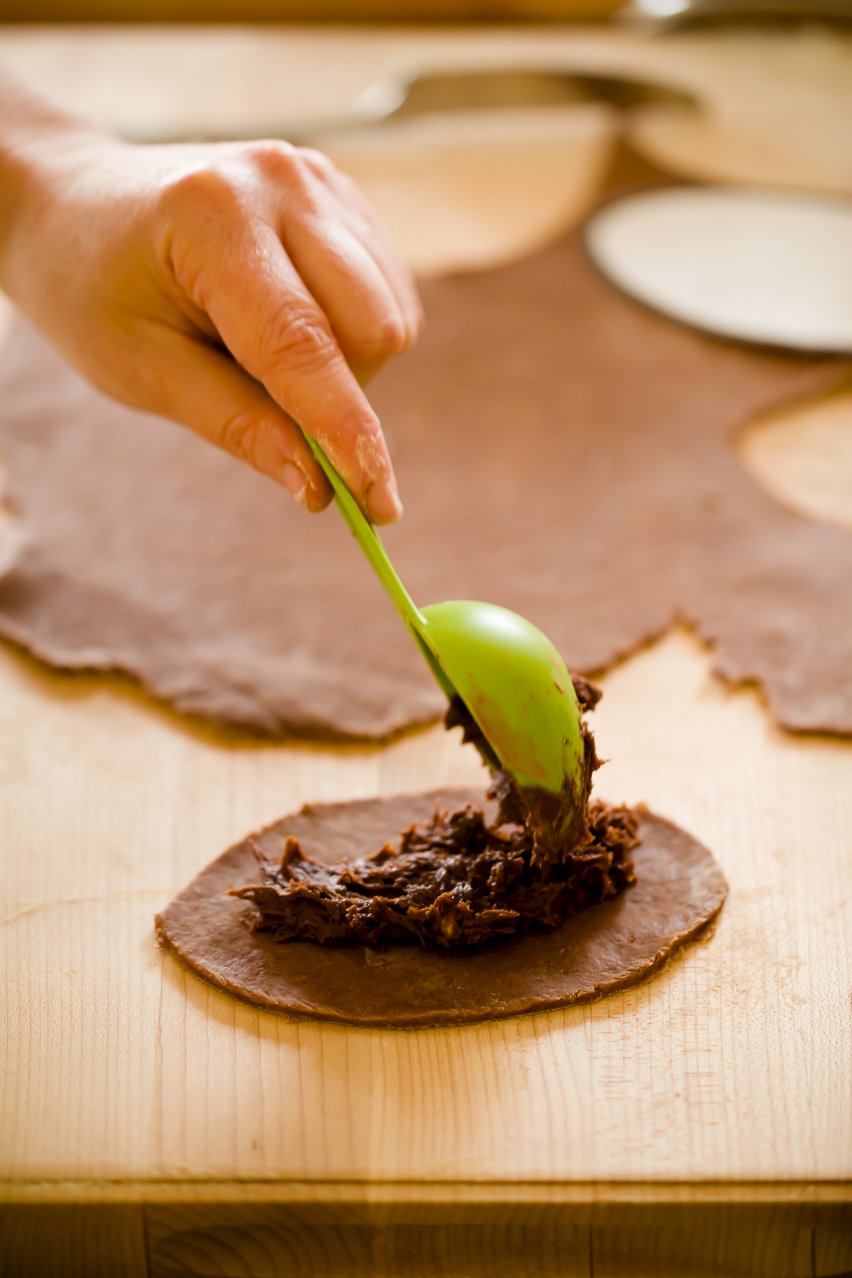 You can fill the football hand pies with any brownie recipe you like. I use my mom's cakey brownie recipe because she makes my favorite brownies and I'm happy for any excuse to eat them. A taste of her brownies always does me good when we haven't spoken recently. This recipe is also included below.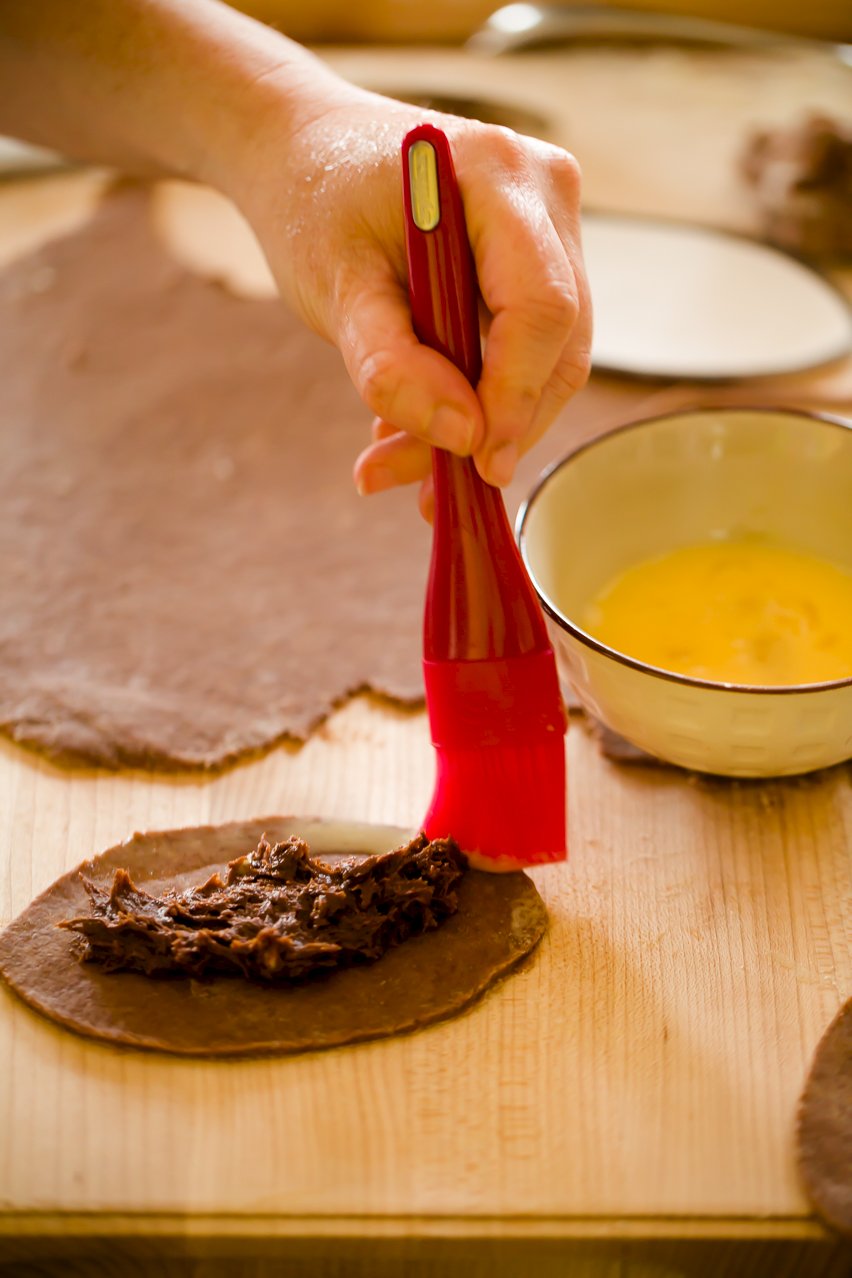 To seal the brownie batter into a hand pie, brush the edge of the pie crust with an egg wash.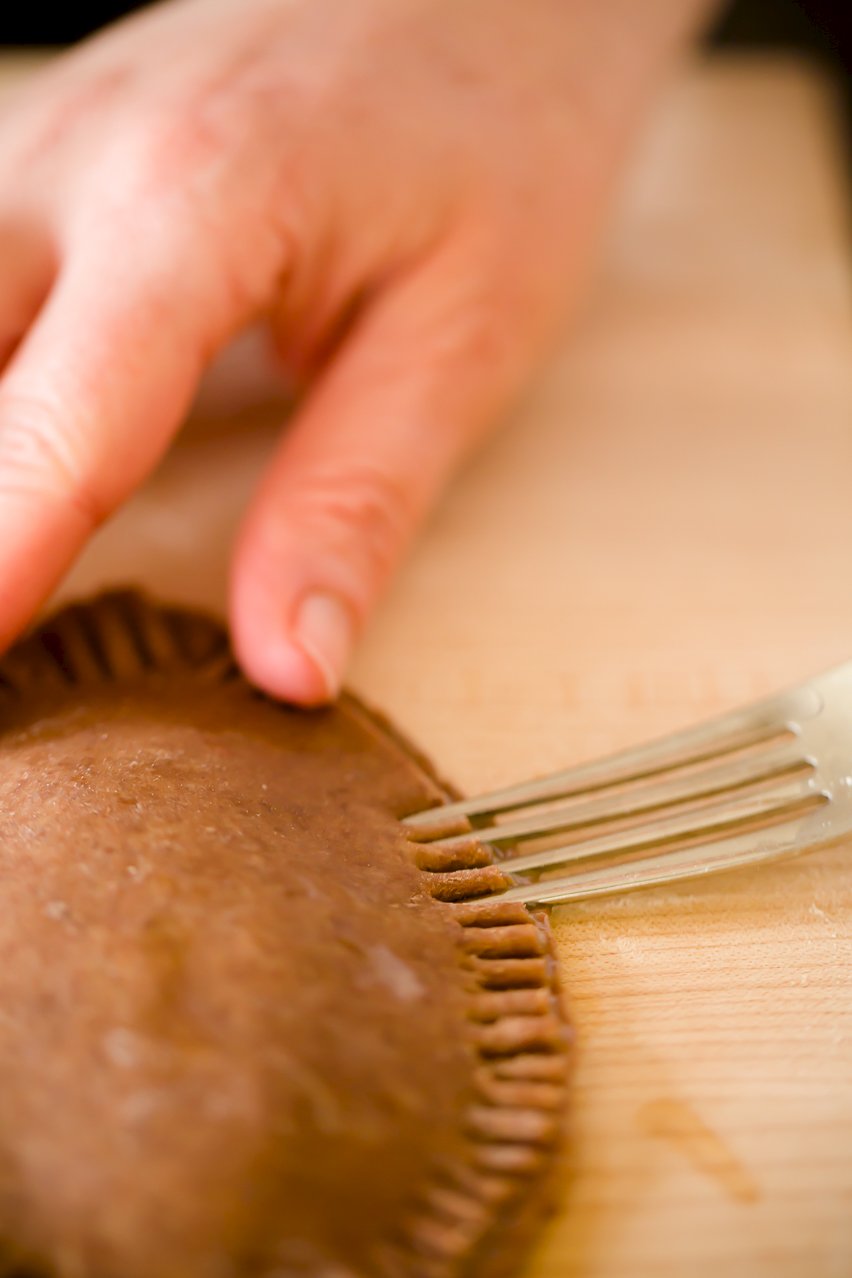 Then, place a second piece of pie dough on top and crimp tightly with a fork. Flip the crimped football over and repeat on the other side.
Frying
I use a deep fryer to fry at 350 F. However, if you don't have a deep fryer, a deep pot (like a cast iron dutch oven), a thermometer, and a slotted spoon will do the trick.
Glazing
Once the hand pies are cool, it's time to glaze with chocolate glaze. This is not just a decorating stage; the glaze is absolutely essential to the flavor profile of the hand pies. The pie crust on its own isn't very sweet or salty. It's when eaten together with the glaze that everything tastes balanced and wonderful.
If you've ever decorated cookies, decorating these hand pies is essentially the same thing.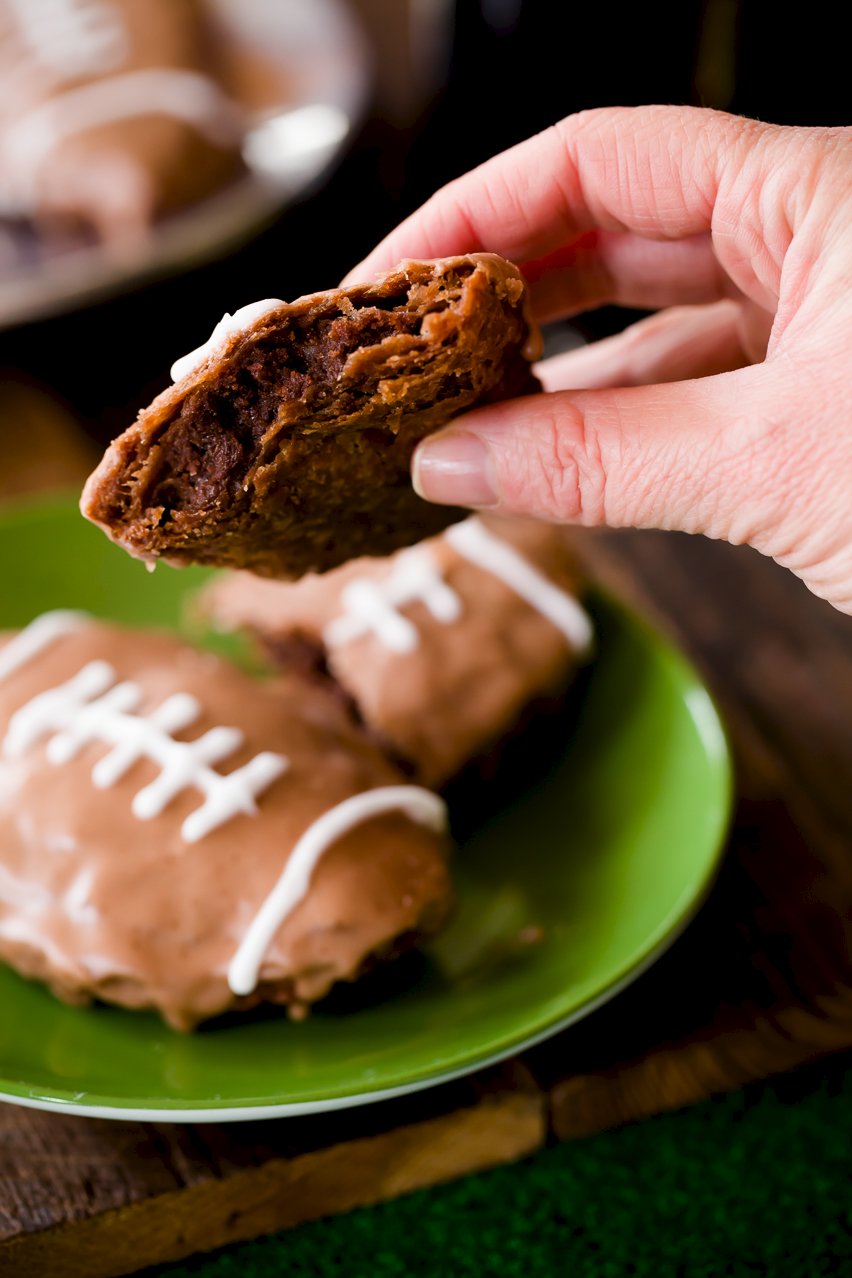 They're now ready to serve as a mind-blowing tailgating dessert!
More Football Recipes
Don't miss my other Super Bowl desserts:
Deep Fried Football Brownie Hand Pies
Chocolate-stuffed pie dough, deep-fried and glazed.
Ingredients
Pie Crust Ingredients
2 1/4

cups

all-purpose flour

1/4

cup

cocoa powder

1/4

cup

granulated sugar

1/2

teaspoon

salt

1

cup

unsalted butter

cold and cut into tablespoon-sized pieces

6

tablespoons

ice cold water

you may need less
Brownie Ingredients
3/4

cup

all-purpose flour

1

cup

granulated sugar

5

tablespoons

cocoa powder

1/2

teaspoon

salt

1/2

cup

unsalted butter

room temperature

2

large eggs

1

teaspoon

vanilla extract
Assembly and Frying Ingredients
vegetable oil

fill deep fryer according to manufacturer's instructions

1

large egg

beaten
Chocolate Glaze Ingredients
4

cups

powdered sugar

4

teaspoons

cocoa powder

1

teaspoon

salt

1/2

cup

water

you may need less
Decorating Icing Ingredients
1

cup

powdered sugar

1 1/2

tablespoons

water

you may need less
Instructions
Chocolate Pie Crust Instructions
Pulse flour, cocoa powder, sugar, and salt in a food processor until combined.

Add butter and pulse until butter is pea-sized.

Add water one tablespoon at a time until the pie dough is wet enough to stick together well if you pick up a clump of it.

Wrap pie dough in plastic wrap and refrigerate for at least 30 minutes.
Brownie Instructions
Place all ingredients in a medium-sized mixing bowl and mix until thoroughly combined.
Assembly and Frying Instructions
Preheat fry oil in deep fryer to 350 F.

Roll dough to about 1/8" thick. Cut football shapes out of the dough. Mine were 5" long and I used a paper template to ensure that they were all consistent. Re-roll scraps as needed to use as much of the dough as possible.

Top half of the footballs with about 1 heaping tablespoon of brownie batter per football. Spread the batter in a strip along the inside of each football, leaving an open border around the edge. You won't use all of the brownie batter. You can bake any leftover batter in a ramekin at 350 F for about 30 minutes.

Brush a thin coating of egg around the edge of each brownie-covered football.

Top each brownie-covered football with a second football and use a fork to crimp the edge closed. Flip the footballs to the reverse side and crimp again to make sure that they are completely sealed.

Deep fry a few at a time (being careful not to crowd the fryer) for 6 minutes each, flipping halfway through. Turn out to a cooling rack to let excess oil drip off.
Chocolate Glaze Instructions
Sift powdered sugar and cocoa powder into a medium-sized bowl.

Stir in water a little bit at a time until the mixture is the consistency of a thick soup.

Dip each hand pie into the the glaze and set on cooling rack, dipped side up, to drip and dry. Use a toothpick to remove any large air bubbles. Once the glaze dries, dip and dry the same side a second time.
Decorating Icing Instructions
Sift powdered sugar into a small bowl.

Add water a little bit at a time until the mixture has a toothpaste-like consistency.

Transfer icing to a small plastic bag. Cut a TINY hole in the corner of the bag and pipe football lines on top of the chocolate glaze.

Store loosely covered in a single layer (they will get soggy in an airtight container) until ready to eat.
Nutrition
Nutrition Facts
Deep Fried Football Brownie Hand Pies
Amount Per Serving
Calories 530
Calories from Fat 189
% Daily Value*
Fat 21g32%
Cholesterol 87mg29%
Sodium 351mg15%
Potassium 101mg3%
Carbohydrates 83g28%
Protein 5g10%
Vitamin A 659IU13%
Calcium 19mg2%
Iron 2mg11%
* Percent Daily Values are based on a 2000 calorie diet.