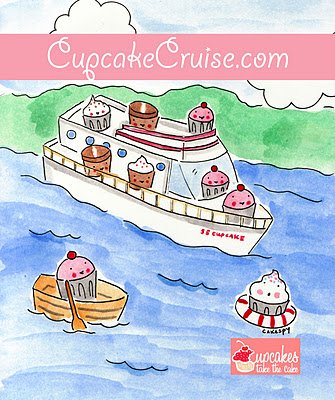 'Tis the season for dropping hints about what you might want as a holiday gift.  Now's the time to tell someone who loves you about the Cupcake Cruise.
The Cupcake Cruise is bound to be a joyous cupcake love fest!  It's a seven day cruise to the Bahamas (from August 19-26, 2012) for cupcake bakers, authors, enthusiasts, and eaters.  You'll get to meet and learn from cupcake superstars like Cupcakes Take the Cake editors Nichelle Stephens and Rachel Kramer Bussel, Karen Tack and Alan Richardson, New York Times bestselling authors of Hello, Cupcake! and What's New, Cupcake?, Baked bakery owners Matt Lewis and Renato Poliafito, authors of the cookbooks Baked and Baked Explorations, and Allison and Matt Robicelli of Brooklyn's Robicellis.
Am I Going On the Cupcake Cruise?
Clearly, the cupcake cruise would totally float my boat.  However, I'm not yet sure if I'll be able to go.  But… you can help.  If you decide to set sail for cupcakes, please mention Cupcake Project when booking your room.  If 15 cabins are booked through this blog, my husband and I get to sail for free. If I go and you are in one of those 15 cabins, you will be my bestest cruise friend. I will seek you out and hug you, let you pick my cupcake brain as we lay on deck chairs basking in the sun, and declare your greatness on the blog.
How to Book Your Cupcake Cruise
Go to cupcakecruise.com for more information.
When you book, tell the agent that you heard about the cruise through Cupcake Project.
Leave a comment here letting me know that you booked so that I can double-check their list.
Hope to see you at sea!