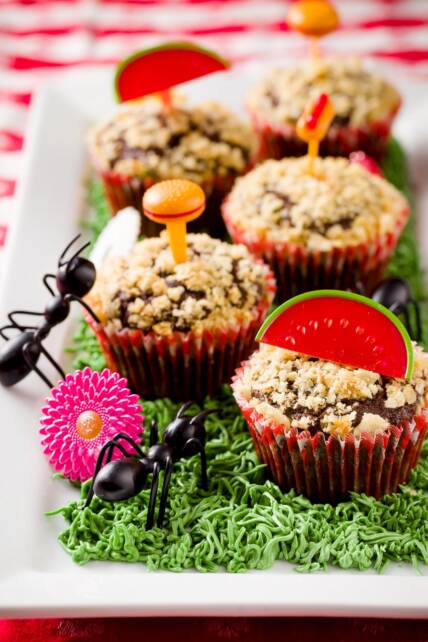 Have you ever dipped your potato chips in chocolate?  If you have, you'll understand the allure of these dark chocolate potato chip cupcakes.  Dark chocolate and potato chips make some of the best "chocolate chips" you'll ever have.  When combined as a cupcake, you end up with cupcakes that are sweet and salty with a little crunch.
The dark chocolate potato chip cupcakes use my Ultimate Chocolate Cupcake recipe as the base for the cake.  I hadn't baked that recipe for a while; I was done with chocolate after a year of experimentation trying to get the recipe perfect.  It was nice to again appreciate how stellar that recipe is after a break from it.  I had truly forgotten how much I enjoyed it.
As you can see from the photo, the dark chocolate potato chip cupcakes are not frosted.  This makes it easier to take them to an outdoor event on hot summer days, and the crunchy chips are all the topping you'll need – although, I wouldn't blame you if you served some ice cream on the side too!  No frosting doesn't mean that the cupcakes can't look adorable.
My Bakers Box
Cute baked goods is where My Bakers Box shines.  My Bakers Box is a subscription box that will send you adorable products that inspire creative baking ideas every single month (or as many months as you choose).  It's a new company and I think the concept behind it is so much fun!
This month's My Bakers Box came with everything you need to make picnic-themed cupcakes or cake pops along with a couple of suggested ways to use the products.  My Bakers Box sends products that might be hard to find at a local store.  I have no idea where I would have found such cute toppers without shopping around online.  Also, I never would have thought to buy the little ants – and I loved sticking them on the plate!
When I think of picnics, I think potato chips, so I opted to use some of the box contents to decorate these potato chip cupcakes.  My only problem was that I really wanted to use the grass tip that came in My Bakers Box – but when I thought about piping grass on top of the cupcakes (as was the intention), I realized that would make my potato chips soggy.  Jonathan suggested that I use the tip to pipe a field of grass frosting for my cupcakes to rest on.  When I served the cupcakes, my friends ended up spreading some of the plate frosting onto their cupcake bites.  Some people even dipped chips into it!
How to Pipe Grass
The grass plate is half of the fun of these dark chocolate potato chip cupcakes.  If you have never worked with a grass tip before, don't worry – you can do it!  The grass will look like grass even if you aren't perfect about it – my lawn certainly doesn't look perfect and even.  Here's a great video tutorial I found that explains how to use a grass tip.

Dark Chocolate Potato Chip Cupcakes
Have you ever dipped your potato chips in chocolate?  If you have, you'll understand the allure of these dark chocolate potato chip cupcakes.
Ingredients
All of the ingredients for the Ultimate Chocolate Cupcakes

you can use any chocolate in that recipe, but for these cupcakes, I recommend dark chocolate

2

cups

of your favorite potato chips

very salty chips work the best because they pair best with chocolate
Instructions
Prepare Ultimate Chocolate Cupcake batter according the to

the recipe instructions

but don't put them in the oven yet.

Crush potato chips into small pieces by putting them in a plastic bag and pounding on them with a glass or by using a food processor.

Sprinkle crushed chips evenly over the unbaked chocolate cupcakes.

Bake according to the Ultimate Chocolate Cupcake directions.

Store very loosely covered and serve within 24 hours for maximum chip crispness.
Notes
If you are tempted to mix the chips into the batter, do not do so. I tried this technique and the chips became really soggy. Using the method in this recipe keeps them crispy.
Nutrition
Nutrition Facts
Dark Chocolate Potato Chip Cupcakes
Amount Per Serving
Calories 201
Calories from Fat 72
% Daily Value*
Fat 8g12%
Sodium 182mg8%
Potassium 212mg6%
Carbohydrates 28g9%
Protein 2g4%
Vitamin A 20IU0%
Vitamin C 2.1mg3%
Calcium 55mg6%
Iron 0.8mg4%
* Percent Daily Values are based on a 2000 calorie diet.
This post was sponsored by My Bakers Box.