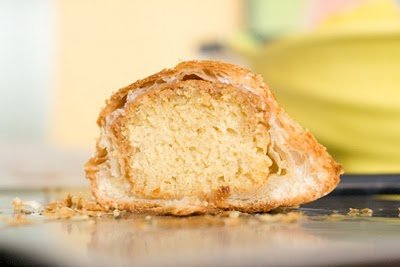 Take a baked and frosted cupcake, wrap it in puff pastry, bake it again, and you've got Cupcakes Wellington (a Cupcake Project original creation). Imagine a steaming hot, flaky croissant with a soft, warm, frosted buttery cake waiting for you inside. Bride 1.0 best described the joy of this eating experience with the following quote: "Every cupcake should be wrapped in puff pastry!"
Baking Cupcakes Wellington couldn't be easier. Watch, learn, and go try this yourself today. Do not wait!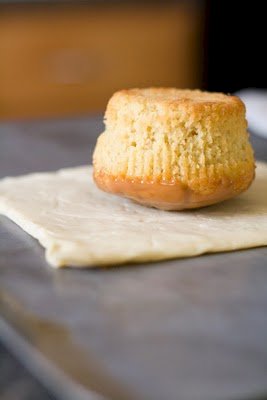 First, unwrap a cupcake and plop it, frosting side down, on a piece of puff pastry atop a baking sheet. Enjoy the moment. You don't often get the opportunity to turn a cupcake upside down.
For the detail oriented:
What kind of cupcake should I use?
It's entirely up to you. Any cupcake would work. However, some frostings work better than others. I used a mango cupcake with dulce de leche frosting and the dulce de leche absorbed a bit into both the cupcake and the inner side of the puff pastry, adding a delicate sweetness to the dessert.
I plan to make Cupcakes Wellington again with a cupcake that has a chocolate ganache frosting – like my Better Than Sex Chocolate Cupcakes (if I wrapped those bad boys in puff pastry, I'd have to call them Better Than Better Than Sex Cupcakes).
I do not recommend using a cupcake with a buttercream frosting, but feel free to experiment.
How much puff pastry should I use?
I used a 5″ x 5″ square of puff pastry for each cupcake. But, trust me, there is no need to break out your ruler. Use as much or as little puff pastry as you'd like – just make sure that you have enough to wrap it completely around the cupcake.
What kind of puff pastry should I use?
I used the same brand that I used in my Beef Wellington, Dufour. But, use whatever brand you prefer, or make puff pastry from scratch.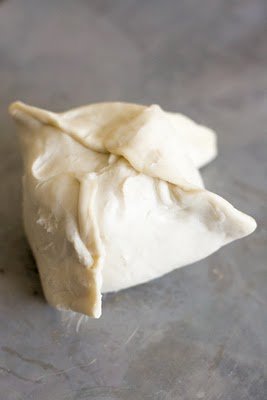 Wrap the puff pastry tightly around the cupcake. Squeeze the edges shut and try to minimize any dough overlap.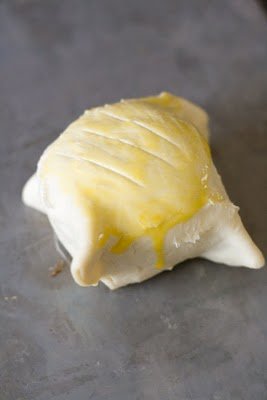 Turn the cupcake right side up, brush with egg yolk, and draw a few lines (or whatever shape you'd like) in the dough with a knife (be really gentle so you don't cut through to the cupcake layer).
At first, I worried that baking the cupcake a second time would dry it out. But, au contraire, the second baking made the cupcakes extra moist.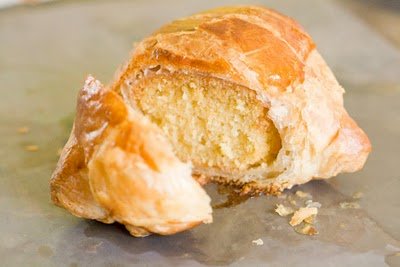 Cut the Cupcakes Wellington into slices and eat them while they're hot!!
Credits
I'd like to send a special shout out to Free Range Cookie for the idea!