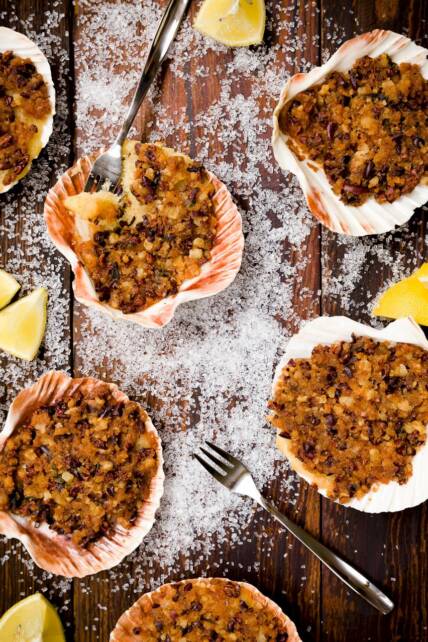 Don't worry, there's no fish in these cupcakes on the half shell.  These cupcakes on the half shell are simply a new and surprising way to present America's favorite treat.  If you are serving clams, oysters, or other seafood for dinner, this is the dessert that will blow your guests' expectations out of the water!
Start by baking a lemon cupcake (or any flavor cupcake that you love) into cleaned clam shells.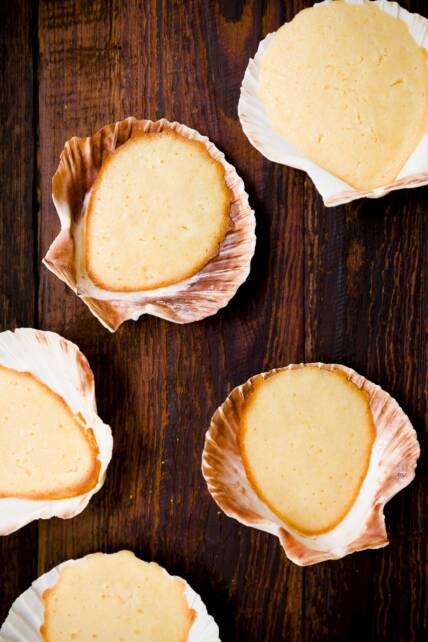 Then, top the cupcakes with the special topping of melted butter, lemon juice. dried cupcake crumbs, cacao nibs, and chopped fresh basil.  Bake again to finish.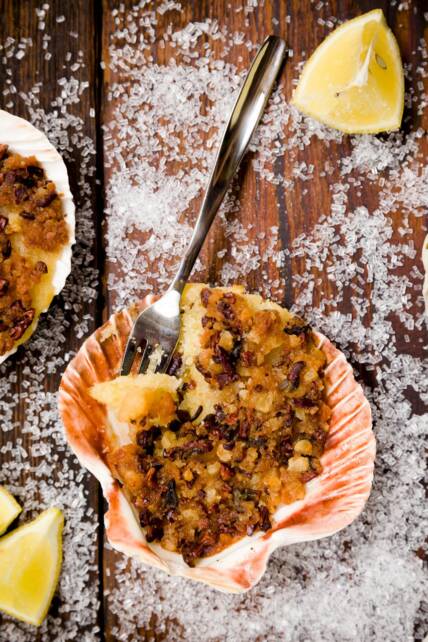 Serve the shells on a bed of coarse sugar.
Cupcakes on the half shell taste like like any other cupcake, but they are more moist because of the second bake with the buttery topping.
Products Related to Cupcakes on the Half Shell
If you've tried this recipe, please RATE THE RECIPE and leave a comment below!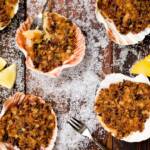 Cupcakes on The Half Shell
Servings
6
cupcakes on the half shell
Ingredients
Cupcake Batter Ingredients
1/2

cup

sugar

3/4

cup

plus 2 tablespoons all-purpose flour

1/4

teaspoon

baking soda

1/4

teaspoon

salt

1/4

cup

unsalted butter

room temperature

1

large egg

1/2

cup

lemon juice

1/4

cup

milk
Cupcake Crumb Topping Ingredients
1/4

cup

plus 2 tablespoons unsalted butter

1/4

cup

lemon juice

1/4

cup

plus 2 tablespoons cacao nibs

1/2

cup

plus 2 tablespoons dried cupcake crumbs made from ingredients above

see below for instructions

1

tablespoon

finely chopped fresh basil

2

tablespoons

milk
Instructions
Cupcake Instructions
Preheat oven to 350 F.

Mix sugar, flour, baking soda, salt, and butter in a medium-sized mixing bowl until fully combined.

Mix in egg.

Mix in lemon juice and milk.

Fill 6 clam shells with cupcake batter (about 3/4 of the way to the top of each shell). Place clam shells on a cookie sheet lined with parchment paper or a Silpat.

Put four cupcake liners in a cupcake tin and fill each 3/4 full with the remaining cupcake batter.

Bake shells and cupcake liners for 20 minutes or until cupcakes bounce back when lightly touched and cupcakes in the shells are just beginning to brown around the edges. The cupcakes in the liners may take a couple of minutes longer to bake than the ones in the shells.
Cupcake Crumb Topping Instructions
Remove the four baked cupcakes from the liners and convert them to cupcake croutons by following the directions in

my cupcake crouton post

. Skip the step about seasoning with brown sugar and spices because the end goal is dried-out cupcake crumbs.

Food process the croutons to make coarse crumbs.

Preheat oven to 375 F.

Place all cupcake crumb topping ingredients in a small saucepan on medium heat. Gently stir until butter is completely melted.

Divide topping evenly between all shells on top of the baked cupcakes.

Bake for 10 minutes and serve warm.
Inspiration
Kimberly of the lovely Rhubarb and Honey (who happens to be a great friend of mine and co-conspirator for the upcoming Food Media Forum) won my most recent Facebook game of Cupcake Roulette.   I was tasked with finding something on her blog to inspire cupcakes.  When I saw her baked oyster crackers, I got all kinds of oyster crackery ideas, including making my own homemade oyster crackers!  Oyster crackers made me think of oysters, which made me think of clams, which led to these crazy cupcakes.  Thanks, Kimberly, for starting me on my path down the fishing hole.