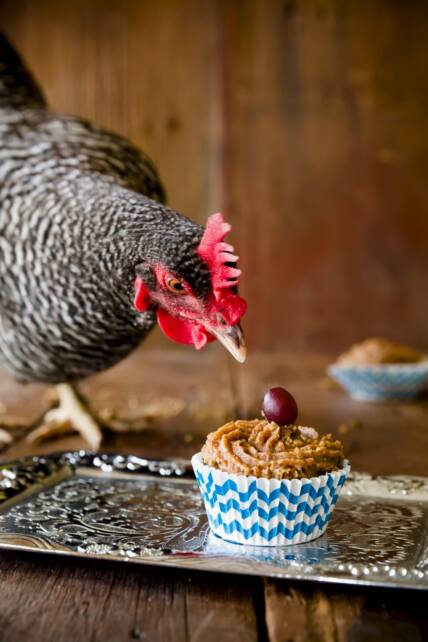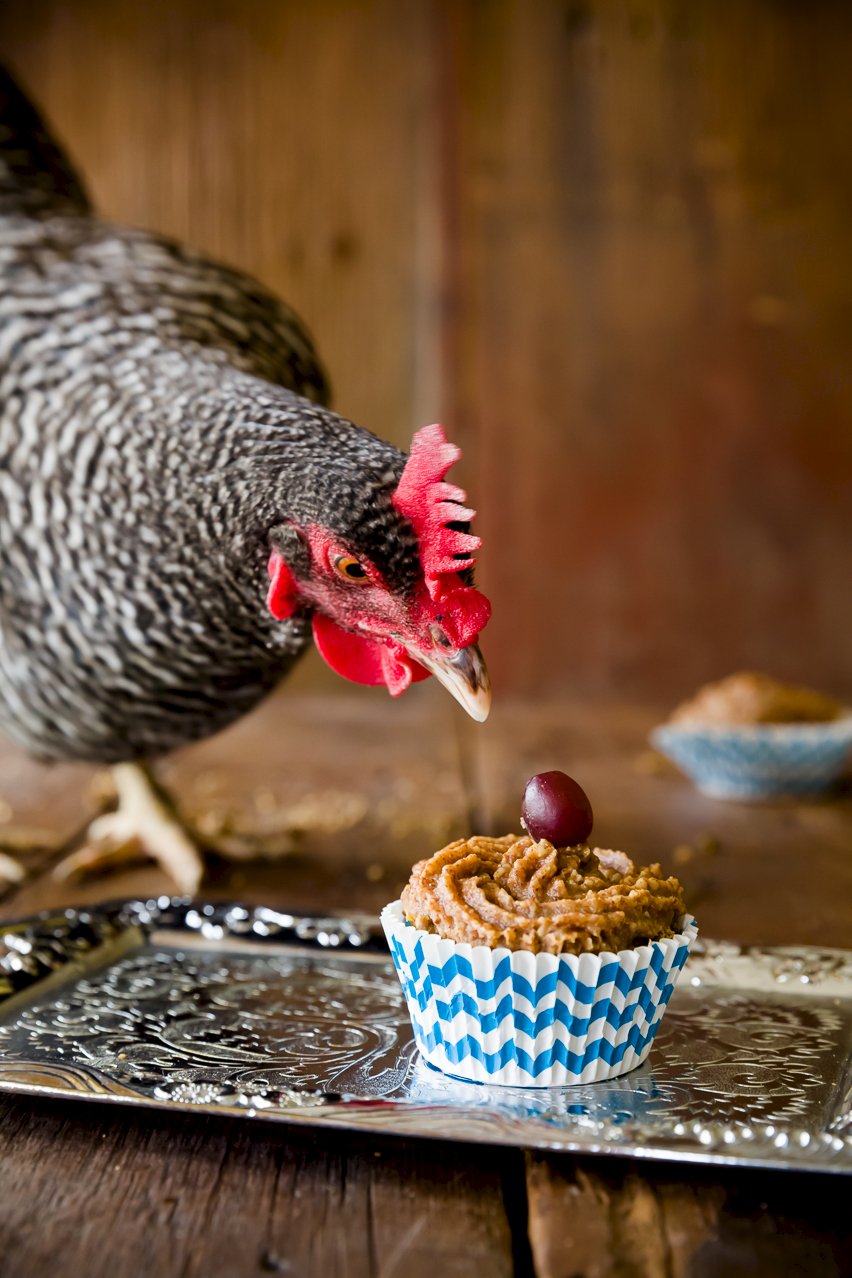 Our family jumped on the urban chicken bandwagon about a year ago and we haven't looked back.   Our five chickens are family members who provide us with daily fresh eggs with deep golden yolks.  We like to spoil them with our kitchen scraps – apple cores, collard greens, mango skins to pick clean, and basil and cilantro stems.  Admittedly, our chickens don't concern themselves much with aesthetics.  They are happy to eat directly off their wood chip- (and poop-) laden coop floor, but as we move  into peak laying season, I thought our ladies deserved an extra special and adorable treat.  As any good urban hipster would do, I made chicken treat cupcakes.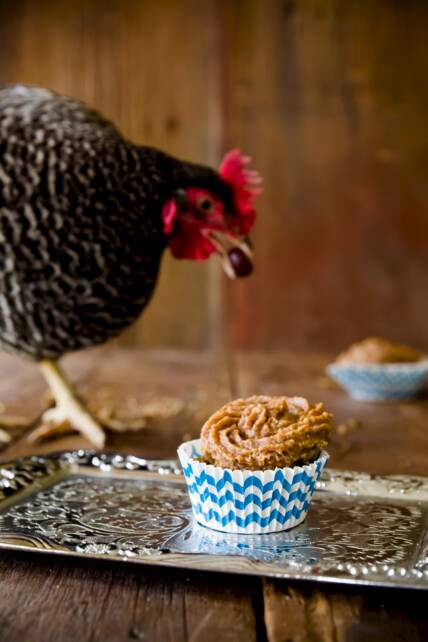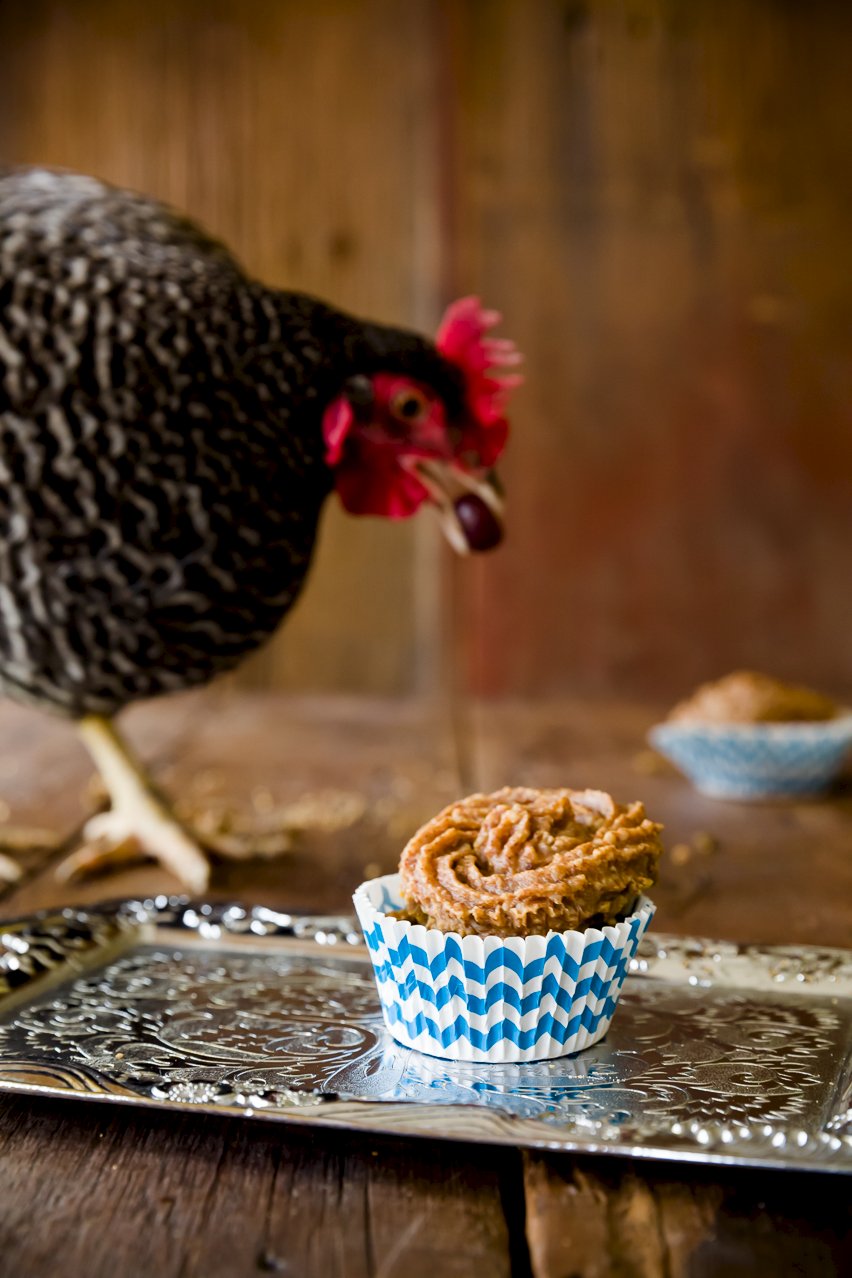 These chicken treat cupcakes don't use any eggs.  Some people do feed eggs to their chickens for protein (and I'm not judging), but something about it feels icky to me.  These cupcakes are made with a blend of their regular organic chicken feed, oats, raisins, and almond butter.  I frost them with an almond butter frosting and top them with my chickens' absolute favorite treat – grapes!  The cupcakes don't hold together very well, which doesn't matter at all.  Serve them in the wrappers and let the girls have at it.  You can also freeze the cupcakes before serving for a cool treat on a hot day!
If you've tried this recipe, please RATE THE RECIPE and leave a comment below!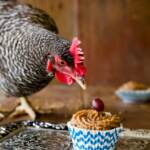 Cupcakes for Chickens
Ingredients
1

cup

almond butter or peanut butter

all-natural and salt-free

1/2

cup

chicken feed

1/3

cup

oats

1/4

cup

raisins

6

grapes
Instructions
Heat up half of the nut butter in the microwave until it is soft.

Mix with the remaining ingredients.

Place six cupcake liners in a cupcake tin.

Divide mixture evenly between liners, packing the mixture in tightly.

Add a tablespoon of water at a time to the remaining nut butter and mix completely. Keep adding until the nut butter is soft enough to pipe onto the chicken treat cupcakes.

Frost the cupcakes and top each one with a grape.

Freeze (so that your chickens will have a nice cool treat).

When ready to serve, remove and thaw for a few minutes.

If your chickens are like mine, they might be a bit "chicken" at first and shy away from the cupcakes, but once they try them, they'll be happy!