I had never heard of cupcake push pops until I saw a post about Easter cupcake push pops on Love From the Oven. Those cupcake push pops were just about the most adorable thing I've ever seen (well, except for any photo of my son).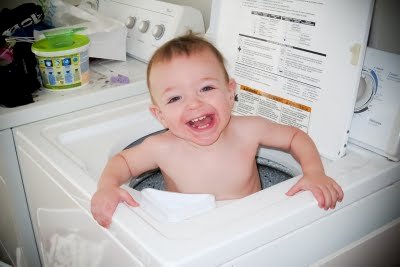 Here's my son in his happy place (the washing machine).
Although I knew my cupcake push pops could never compete in cuteness with the Peep-topped ones from Love From the Oven, I had to try making some. Besides, it's hard to screw up with a push pop. No matter how ugly they turned out, my tasters were bound to be excited by them!
I contacted CupKatesEventDesign and she sent me some push pop holders to review. These push pop holders have been such a huge seller for her that she regularly sells out of them. If you don't see any in her shop right now, check back soon.

I used two different methods to make the cupcake push pops. For the method shown in the photo above, I cut a mini cupcake in half, put the bottom half into the push pop holder, piped some frosting in, put the top half in, and finished it off with more frosting and sprinkles. This method left plenty of room for lots of frosting and looked adorable.
Method two is the same as method one except instead of cutting a mini cupcake in half, I used two full mini cupcakes. This method is better for those who prefer a higher cake to frosting ratio.
Aside from the fun factor, what excites me about cupcake push pops is that because they can be sealed, cupcake push pops are a fantastic way to ship cupcakes (check out another way to ship cupcakes). For shipping, I recommend packing the push pop containers tightly with frosting and cake. The cupcake push pops will likely get jostled in transit, so I'd worry less about presentation and more about volume and flavor (these were key lime).

How to Eat Cupcake Push Pops
How you eat your cupcake push pops is just as personal a choice as how you eat your Oreos: Push a little at a time and lick the frosting off first, push up halfway and eat one cupcake and frosting and then push more and eat the next one, or push it all the way and eat the whole thing in one giant bite!