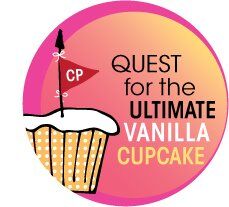 I was honored/humbled/awed/floored/thrilled that almost 700 of you volunteered to be Cupcake Project Explorers – a huge thank you to everyone who volunteered!  Narrowing it down to 50 was a nearly impossible task.  I've assembled a diverse team of cupcake enthusiasts with a wide range of skill levels.

Some have only baked cake mixes before, some are from-scratch bakers who are regularly called upon to bake cupcakes for family and friends, while still others are pastry school students, professional bakers, and cupcake shop owners who sell either out of their homes, farmers' market stands, or brick and mortar shops.  Some have a favorite vanilla cupcake recipe already that they plan to compare this one against.  Others have tried a few and haven't found a favorite.  A few of have tried hundreds of vanilla cupcake recipes!
What the Explorers all have in common is a passion for cupcakes and an excitement about working together to find a recipe that everyone can share!
Once the Cupcake Project Explorers decide on an Ultimate Vanilla Cupcake recipe, I will post it on Cupcake Project with confidence that you'll love it!
Here are the names of the Explorers.
Round One
Becky Beagle
Andrea Bernott
Michele Boyce
April Bunting
Betty Burlesque
Kim Campbell
Adam and Tara Carle
Aditi Chang
Mary Cornelius
Sarah Dalske
Patti DeYoe
Dominique Dobson
Kate Dorman
Jamie Dumaine
Jessika Emma
Alexandra  Felton
Rocio Flor-surovec
Dolly Georgiopoulos
Roxine Grant
Debbie Graves
Haley Green
Janice Haugjord
Denise Hinton
Raelyn Houston
Michelle Hrudowsky
Wendi Jones
Amanda Kan
Sana Khan
Kyle Lane
Andrea Marshall
Glenda Mitchell
Dawn Morris
Jennifer Moulder
Christa Mu
Connie Munoz
Thelma Pascoal
Danay Powers
Pamela Raymond
Paige Reagan
Vicki Rullman
Laura Spindler
Julie Streeter
Rachel Taylor
Stephanie Thompson
Alicia Tucker
Jennifer Vaniel
Erin Walker
Kate Wilentz
Kim Wolterman
Lauren Wright
Round 2
Becky Beagle
Andrea Bernott
Michele Boyce
April Bunting
Kim Campbell
Adam and Tara Carle
Aditi Chang
Patti DeYoe
Rachael Dickson
Dominique Dobson
Kate Dorman
Jamie Dumaine
Jessika Emma
Rocio Flor-surovec
Dolly Georgiopoulos
Roxine Grant
Debbie Graves
Jennifer  Greatsinger
Haley Green
Denise Hinton
Sandia Hoormann
Raelyn Houston
Michelle Hrudowsky
Wendi Jones
Kristi Kan
Kyle Lane
Carolyn Lowry
Andrea Marshall
Glenda Mitchell
Dawn Morris
Jennifer Moulder
Christa Mu
Connie Munoz
Susan Palmer
Thelma Pascoal
Danay Powers
Tara Powers
Pamela Raymond
Paige Reagan
Rebecca Richmond
Heidi Riddell
Vicki Rullman
Laura Spindler
Rachel Taylor
Stephanie Thompson
Casey Van den berg
Jennifer Vaniel
Erin Walker
Kim Wolterman
Lauren Wright