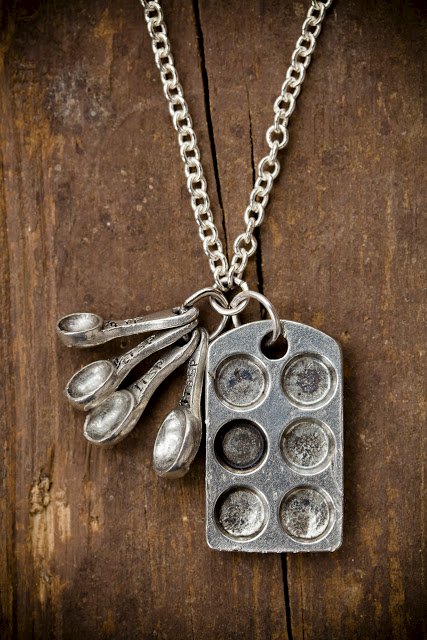 Update 2/18:  The winner is Erica Sharp!  Congrats! If you didn't win the necklace and would like to purchase it, Sarita is now offering 15% off to Cupcake Project readers – just enter the code "Cupcake Project" when you check out.  
This cupcake lover charm necklace from SaritasJewelryBox is my new favorite Etsy find.  The free one Sarita sent me is now my go-to necklace (if you've run into me recently, I've probably been wearing it).  It's hard to not be charmed by the mini versions of my baking supplies.
I wish I could give one of these necklaces to each of you – Oprah style.  While that's not possible, thanks to Sarita, I am able to give one lucky winner a necklace they will treasure.
How to Win a Cupcake Lover Charm Necklace

Leave a comment on this post.  In the comment, let me know how you express your love for cupcakes (aside from eating them).  Do you own a cupcake T-shirt, necklace, scarf, or hat? Maybe you have cupcake stationary that you adore. Feel free to share links to products that you love.  I may feature them in future Cupcake Project giveaways.  If you don't have any cupcake stuff, that's OK.  If you win, this necklace will start your collection.
Be sure your comment includes a way to contact you.
Entries must be received by 11:59 PM CST on Friday, Feb. 17.  I will randomly draw the winner on Saturday, Feb. 18.  I will update this post with the winner's name and also contact the winner directly.  If I don't hear back from the winner within one week of contacting him/her, I reserve the right to draw a new winner.
Note: If the winner has an address outside of the U.S., he/she will be responsible for the shipping costs.


Matching Earrings (Not For the Giveaway, but Awesome)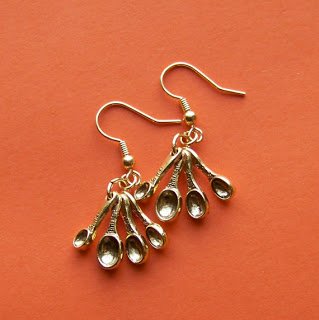 Photo from Sarita's Etsy shop
Random fact about me: I don't have pierced ears.  But if I did, I'd be completely sold on Sarita's cute matching earrings.  She's got a ton of adorable stuff in her shop.  You really should check the whole place out.