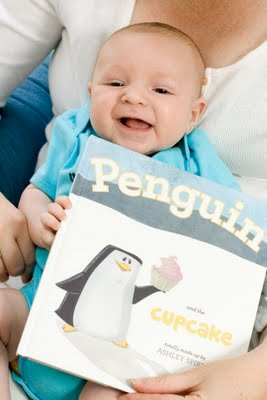 I hope everyone had a great Thanksgiving! We spent it in New York. I didn't bake at all during the trip (hence the lack of posts). However, my mom made a cake out of my vanilla cupcake recipe. She used pumpkin yogurt instead of sour cream, which turned out to be a repeat-worthy seasonal modification.
Since I don't have a new cupcake to post and everyone's mind is on holiday shopping, I thought I would share with you my new favorite cupcake book – Penguin and the Cupcake. Let me start by saying that this is not a paid review. I did not even get the book from the publisher (I get lots of free stuff, but I'll always tell you when I do). This book was a gift for baby Myles from our friends Bryan and Anna.
Things I love about Penguin and Cupcake:
It's honest. Penguin says, "I decided to head north to find some cupcakes. When I was all packed up and ready to go, I spread my wings and took to the sky." The book then goes on to point out that penguins can't fly, he was lying, and he actually had to take an airplane (sure, penguins don't take airplanes either, but let's ignore that).
It's filled with environmental facts. Penguin goes to search for cupcakes because penguins are having trouble finding food due to over-fishing in the ocean.
It has things that are fun to say when reading aloud to a kid like, "Eeeeeeeeeeeeeeeeeeeeeeeeeeeeeeeeeeeeeeeeeeeeeeeeeee!"
The illustrations are adorable. You'll have to buy the book to see them.
It's not girly. I am 100% positive that if we had a girl, people would have bought her tons of cupcake stuff (probably more than I would even want her to have). There is no reason why cupcakes have to be all pink and girly. Little boys can love cupcakes, too!
Penguin and his cupcake aren't on TV. I get tired of seeing kids' books based on TV shows. It takes the imagination out of reading.
Remember that bit above about full disclosure? If you buy Penguin and the Cupcake for the little someone in your life, please buy it by clicking on this link. That gives me a VERY small commission, which you can think of as your holiday gift to a cupcake blogger.
Thanks! You'll love it!
P.S. I baked today, so expect a new cupcake post soon!