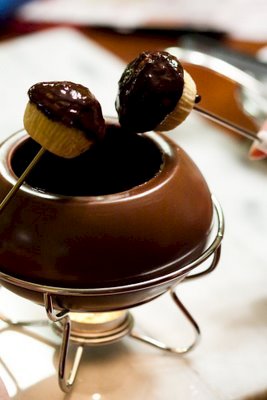 For something hot this Valentine's Day, dip your cupcakes in fondue. Not only do you get to play with wet, drippy chocolate, but you get the opportunity to frost each others' cupcakes.
Cupcake Fondue Tips
Choose a cupcake that is either spongy or dense. If you pick one with too much of a crumb, it may fall apart when you stab it with the fondue fork. I used pound cake cupcakes, which worked perfectly.
Most fondue pots can't handle more than one full-sized cupcake being dipped at once. It works best to make mini cupcakes.
Any cupcake recipe can be made into a mini cupcake simply by reducing the baking time and using mini baking cups. Start by cutting the baking time in half. If the cupcakes are not completely done in that time, check on them every few minutes until they are fully baked.
Fondue cupcakes are best hot and fresh. If you have extra cupcakes and fondue, you can dunk all the cupcakes and refrigerate them until you are ready to eat them, but they won't be nearly as good.
Fondue Recipes
You can use any chocolate fondue recipe you like for your fondue cupcakes. If you don't have one, check out some of these fantastic fondue options from other food blogs.
Other Valentine's Day Cupcake Ideas