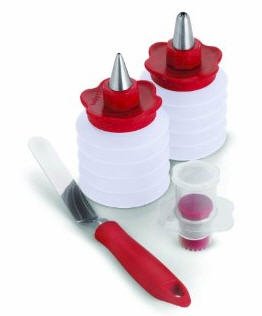 Update:  The winner is Robin from Little Pat of Butter!  But, Jenny from the beautiful food blog Purple House Dirt has generously offered her cupcake corer as a second prize.  Jenny has never used it and wanted it to have a good home.  Joy from Pastries by Joy won that corer (it's just the corer, not the whole kit)!  Congrats to both of you!!
When I first heard about the cupcake corer
, I thought that it had to be the most gimmicky product imaginable. For years now,  I've been happily coring cupcakes without ever using the term or the tool –  I just used a small paring knife
.  But, as a recent convert to apple corers
, when I was offered a free sample of the cupcake corer, I decided to give it a go.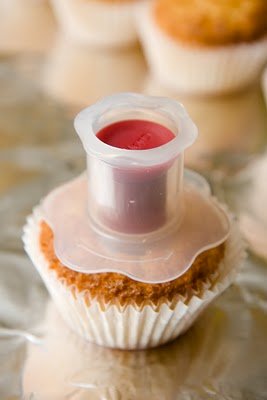 Stick the corer in a cupcake and twist it a few times.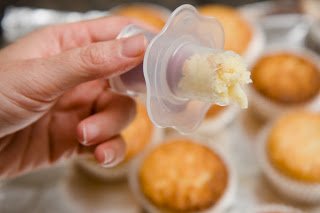 Cupcake innards come out in the corer.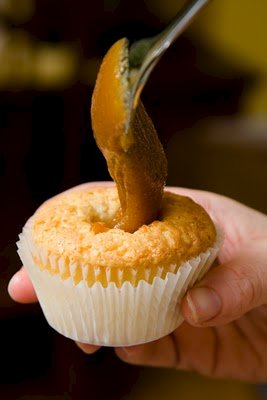 It makes a perfect hole every time, ready for filling.
After using it, I still think the cupcake corer is hokey. However, it does actually make coring easier; and since the kit comes with two squeeze bottles with tips for filling and frosting (silly me, using that spoon) and an offset spatula, it would make a great gift for someone just getting started with cupcake baking.
The nice folks at Cuisipro have offered me a second cupcake corer to give away.  Yay!
How to Win a Cupcake Corer
I used my cupcake corer to fill the inside of my caramel cupcakes with more caramel.  For your chance to win, leave a comment telling me your favorite thing to fill cupcakes with.  For a second chance, become a Facebook fan and leave a comment on this post on Facebook telling me your second favorite cupcake filling (it must be a comment on this post, not just a comment on my wall).
The Fine Print
All entries must be in by Monday, September 13, 11:59 PM CDT.
Only two entries are allowed per person (one on Facebook and one on this blog).
Blog entries must include an email address or a link to profile with an email address.
I will randomly draw one winner and post the winner on this post on Sept. 14.
If I do not hear back from the winner within one week, I will draw a new winner.
Sorry, only readers in the continental United States are eligible to win.