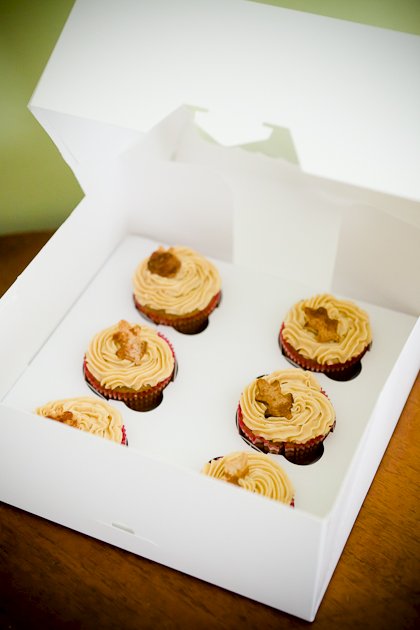 A Tale of No Cupcake Boxes: Do Not Try This At Home (like a certain author of this blog)
It was a sunny day and Blogger X loaded her cupcakes into plain bakery boxes (not cupcake boxes with cupcake inserts).  She carefully held the bakery boxes on her lap while someone else drove (it may have been a photographer to whom she was married). One cupcake with a mind of its own toppled over to its demise. Of course, it didn't die alone.  The cupcake managed to take down several of its neighbors in a grisly, messy murder.  Blogger X tried to blame the driver.  Perhaps he took a turn too fast.  But, Blogger X only had herself to blame; she needed cupcake boxes!
Where To Buy Cupcake Boxes
Although you can find cupcake boxes in stores (I've been able to pick some up at Michael's), your best best may be to shop online if you want the most options in terms of size and quantity.  I was recently contacted by Bake-a-Box about reviewing their cupcake boxes.  Bake-a-Box sent me an assortment of cupcake boxes (they have a lot to choose from).  I was happy with the quality of the boxes and how easy they were to put together.  But, my favorite feature is the peek-through window that lets me check on my kids (err, cupcakes) to make sure that they are behaving in transit – not that I need to worry since the cupcake dividers really do hold them in place.
Coupon Code
Until the end of October, Bake-a-Box is offering 10% off any product listed under Cupcake Boxes & Inserts to Cupcake Project readers. Simply enter the code project930 (all lowercase) at check out.



Want to Win Cupcake Boxes?
Update: 10/4/2011 The giveaway is now complete.  
The winners chosen for their comments are Ansheehan and Libelula3049.
The randomly chosen winners are Egnefkow and Alexisrunningaway.
Bake-a-Box is giving away cupcake boxes to four lucky Cupcake Project readers.  Each winner will have the choice of six individual cupcake boxes with inserts or two 6-count cupcake boxes with inserts.  Here's how to win:
Leave a comment telling me who you will give your boxes of cupcakes to and why.  Two of the four prizes will go to the stories that I find most compelling.  The other two winners will be randomly drawn.
Be sure to include a way to contact you in your comment.  There have been so many times that I have drawn contest winners and then had to re-draw because I had no way to tell them that they won.  No contact info = no prize = sad.
Fine Print
All entries must be in by 11:59 PM CDT, Monday October 3, 2011.
I will select the two story winners and randomly draw the other two winners on Tuesday, October 4.
If you are a relative, I've hung out with you in person in the last six months, or you are a personal Facebook friend, you are not eligible for the story-based prize.  I don't want to worry about playing favorites.  However, you are still eligible to win the randomly drawn prize.
The winners will be notified by e-mail and this post will be updated with their names.
If I do not hear back from a winner within one week of contacting them, they forfeit their prize.
Prizes can only be shipped to U.S. addresses.
Want a Second Chance to Win?
Make sure that you like Cupcake Project on Facebook.  I'll be giving away one more set of boxes on the Facebook page in the near future.