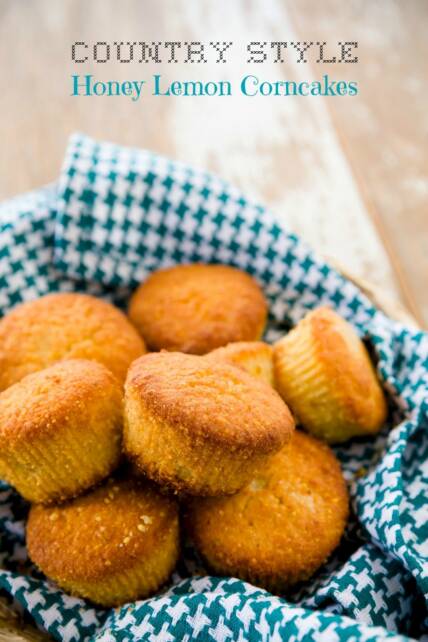 I considered calling these country style honey lemon corncakes "corn muffins."  However, I didn't want you to picture a typical dry, bland corn muffin that needs to be severed warm with a slathering of honey butter (not that there is anything wrong with corn muffins – these just ain't them).  These honey lemon corncakes are a cross between honey cake, lemon cake, and corn muffins – with a gritty, crumbly texture and a touch of almond flour for extra earthiness.  Their flavor is complex, but smoothly blends together to create a down home comfort food that could as easily fit in as a side to a slab of ribs as it could headline a dessert buffet.
I adore the whole concept behind Love, Bake, Nourish.  All of the recipes use honey, maple syrup, and fruit for naturally sweet flavors (minimizing the use of refined white sugar) and ancient flours like spelt, buckwheat, rye, and nut flours (replacing white all-purpose flour).  As you all know, I'm not one to shy away from sugar and all-purpose flour, but it's nice to experiment with alternatives that are not only more healthful but also provide a wealth of different flavors to experience.
I'm also a sucker for beautiful food photos, and the images by Ali Allen from Love, Bake, Nourish don't disappoint.
The photo above is the image from the book for the lavender, lemon, honey cake recipe.  Yes, the photos are all that pretty!
Enjoy this corncake recipe – and if you do check out the book, I'd love to hear which other recipes you try.
If you've tried this recipe, please RATE THE RECIPE and leave a comment below!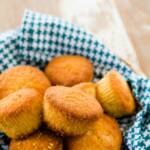 Country Style Honey Lemon Corncakes
Ingredients
1/4

teaspoon

ground lavender

optional (double if you love the flavor of lavender)

1/2

cup

superfine sugar

1

cup

unsalted butter

room temperature

2 1/3

cups

almond flour

1

teaspoon

vanilla extract

3

large eggs

1

teaspoon

lemon zest

2

tablespoons

lemon juice

1/4

cup

honey

2/3

cup

cornmeal

1/2

teaspoon

baking powder

pinch

salt
Instructions
Preheat oven to 325 F.

In a medium-sized mixing bowl, mix lavender and sugar together with a fork.

Mix in butter until fluffy and pale in color.

Mix in almond flour and vanilla until just combined.

Mix in eggs, one at a time.

Mix in remaining ingredients until just combined.

Fill cupcake liners 3/4 full.

Bake for 25 minutes or until a toothpick inserted into the middle of the corncakes comes out clean.
Recipe Notes
Adapted from Love, Bake, Nourish by Amber Rose © 2014 Kyle Books