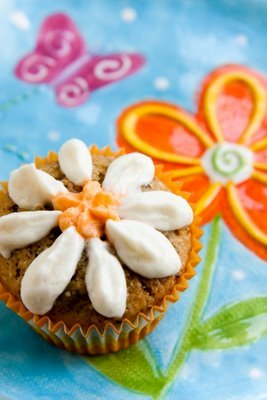 My mother-in-law just reported that these cornmeal cupcakes with orange flavor and Grand Marnier whipped cream are her favorite cupcakes so far this year. She also said that she really liked the crunch. "The crunch?" I asked. Could a crunch possibly be a good thing in a cupcake? She thought so. Personally, I wouldn't describe the cupcakes as having a crunch, but they definitely do have more of a gritty texture than normal due to the coarse blue cornmeal.
My other taster of the week, Susan, enjoyed that the cornmeal cupcakes weren't overly sweet, and she also liked the orange flavor (which she felt could be even more pronounced).
As for me, I was happy to move back to a healthier (not healthy) cupcake after the cookie dough cupcakes. I felt springy and happy after eating a cornmeal cupcake.


Cornmeal Cupcakes with Orange Flavor and Grand Marnier Whipped Cream Recipe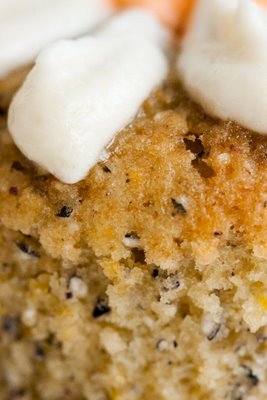 I got the recipe for the cornmeal cupcakes from Garrett of Vanilla Garlic. When I first started this blog, I made several of his cupcakes and they were all hits. I haven't made one in a while, but when I started looking for a blue cornmeal cupcake to go with my blue cornmeal pancakes, he had the perfect recipe (he used yellow cornmeal, but that was an easy substitution)! The best part of the recipe is its simplicity, it requires only one bowl.
Garrett's recipe is below, with my notes.
If you've tried this recipe, please RATE THE RECIPE and leave a comment below!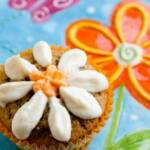 Cornmeal Cupcakes with Orange Flavor and Grand Marnier Whipped Cream
Ingredients
Cornmeal Cupcake Ingredients
1/2

C

olive oil

2

large eggs

room temperature

1

C

sugar

1/2

C

dry white wine

1 1/4

C

all-purpose flour

1/2

C

yellow cornmeal

I used blue cornmeal

1

t

salt

2

t

baking powder

Finely grated zest of one orange

I used 1/4 t orange extract instead
Grand Marnier Whipped Cream* Ingredients
1

C

heavy whipping cream

1/4

C

Grand Marnier syrup. See my Grand Marnier syrup recipe.

1/4

C

sugar

1

t

Grand Marnier
Instructions
Cornmeal Cupcake Instructions
In a large bowl, whisk together the oil, eggs, sugar, and wine until smooth.

Add the other dry ingredients and the zest; whisk together gently.

Line cupcake tin with cupcake papers and spoon into the papers about 4/5 full.

Bake at 375 F for 22-25 minutes, or until a cake tester comes out clean.
Grand Marnier Whipped Cream Instructions
Whip heavy whipping cream until it looks like whipped cream.

Mix in remaining ingredients.
Recipe Notes
I added some food coloring to the whipped cream to create the middle of the flower. I typically avoid food coloring, but the flower needed some color and I decided to take the plunge.
Grand Marnier Whipped Cream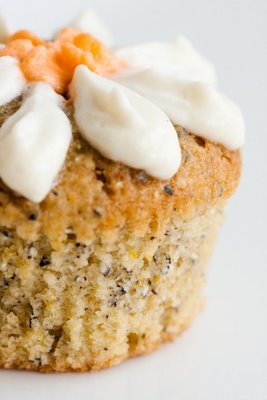 You could top these cupcakes with any number of frostings. They might be great with an orange buttercream frosting. I opted to make a Grand Marnier whipped cream.