Last week, I was lucky enough to attend a pre-screening of Julie & Julia (it's a must-see for food bloggers and a should-see for everyone else). I saw the movie with Groom 2.0. After it was over, he turned to me and asked if I ever have breakdowns like Julie has in the film. "You don't write about that on your blog."
Yes, I have cooking-related breakdowns. There, I've said it.
Like Julie, I imagine all of my readers waiting on the edge of their seats to see what masterpiece cupcake I'll come up with next. I feel guilty when I don't post and guilty when I post something that is only so-so or downright bad. I also hate wasting food. There is nothing worse than the feeling of tossed food – think about the starving children who would love even a bad cupcake.
One Week – Three New Cupcake Recipes
The past couple of weeks have featured more than my normal share of cupcake crises. As you may have seen, I'll be writing for Paula Deen Online starting in October. What I didn't mention is that they need all four recipes by the end of August. I'm due to have a baby on Saturday, so I wanted to get them done ASAP, pre-baby.
I made three recipes last week. I love two of the three. My mom said that one of these was about the best thing she's ever eaten! I can't wait to share!!
However, the third recipe is evil! I will tell you that it involves making caramel and then getting said caramel to stick to a wet object. After my fourth caramel screw up, I fell, deflated, to the floor – much like the meringue you'll read about later in this post that collapsed before ever really peaking. I could blame prego hormones for my brief moment of instability, but I've had pre-pregnancy cooking-related breakdowns, too.
Jonathan encouraged me to keep trying at the caramel and kept offering to go to the store to buy more heavy whipping cream and sugar. Sweet success came on my seventh try. Sadly, the moment was fleeting. The morning after, I awoke to find that all of the candy caramel coating had dripped off of the object. GRRR. Major disappointment. I haven't given up on the caramel, but I have taken a break. I simply can't handle another caramel catastrophe at this moment.
On the bright side, I gave a batch of tasty, but not so sticky caramel to a friend and it's arriving back at my house tomorrow in the form of homemade caramel pear ice cream. Yay!
What Not to Do With 12 Egg Whites
For one of the two successful Paula Dean cupcakes, I used twelve egg yolks – pretty crazy, huh?! Since a week had gone by without posting on this blog, I thought I would bake cupcakes with the twelve egg whites. I even had the title all figured out ("What to Do With 12 Egg Whites"). I followed a recipe that I found for an egg white cake (using 6 egg whites) and made a couple of changes to make them cupcakes – disaster! The cupcakes stuck to the wrappers and had a weird macaroon-like consistency.
Despite the botched cupcakes, I thought that perhaps I could save them with some frosting. I planned to make a Swiss meringue buttercream that would use the other six egg whites. As sometimes happens (with meringue), it never got stiff enough. Besides, I didn't even like the taste. "Another tasty treat for the trash," I thought.
Jonathan, however, would have none of it. He refused to let me throw it out. Instead, he whipped it a bit more, added some cream of tartar, and baked it in ramekins. Two hours later, we had a fluffy, sweet, tasty, custard-like dessert that I would highly recommend to anyone.
Sometimes, I remember on my own that you can turn lemons into lemonade, but sometimes it takes someone else to remind me to turn that frown upside-down.
On that note, I present Stef and Jonathan's Egg White Vanilla Custard.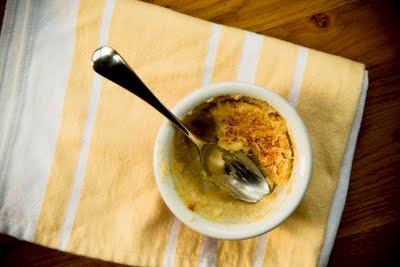 If you've tried this recipe, please RATE THE RECIPE and leave a comment below!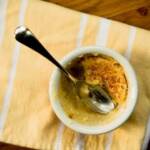 Egg White Vanilla Custard
Ingredients
6

egg whites

1 1/2

C

sugar

2

t

vanilla bean paste

or vanilla extract

1

C

butter

room temperature

1

t

cream of tartar
Instructions
Whip egg whites and sugar until foamy and doubled in size.

Mix in vanilla bean paste.

Mix in butter, one tablespoon at a time.

Mix in cream of tartar.

Distribute evenly among ramekins. They should be about half full.

Bake at 200 F for about two hours.

Use a culinary torch to brûlée the top of each custard.
The Next Few Weeks
If I disappear for a stretch of time, it's probably because I've had the baby. I'll surely continue baking cupcakes, but I may need a few weeks off. Although, my doula says that baking cupcakes is a great thing to do in early labor, so we shall see. :)
Do You Have Cooking-Related Breakdowns?
Do you ever have breakdowns when recipes don't go the way you want? Do you tell?