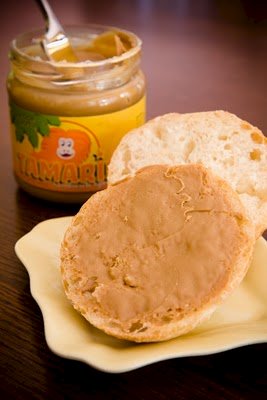 Imagine using a Biscoff cookie as you would use peanut butter.  You could smear it on bread, dip veggies into it, eat it by the spoonful, or, in my case, use it as a frosting.  Imagine no more, my friends; such a thing exists.  It's called Tamarin spread
and it's the cinnamon cookie lover's Nutella
.  I think my dad summed up this product best when he said, "You'd better take this away from me, I could eat way too much of this stuff."
I know that Tamarin spread is no health food (you're spreading a cookie on bread) but I love that it has a simple ingredient list: flour, sugar, rapeseed oil, baking powder, soy lecithin (for smoothness), salt, and spices.  When I talked to my contact at Tamarin, who sent me the free spread, he told me that they actually make the speculoos (the generic name for Biscoff) cookies in the traditional way, then smash them to a powder to make the spread.  Neat!
Tamarin spread has been available overseas since 2008, but the company is currently trying to break into the U.S. market. While you can buy Tamarin spread online
, it may not available at your local shop (check here to see if they sell it near you).
The folks at Tamarin were nice enough to give me one dozen jars of the spread to give away.  Here's how you can win:
I'll randomly choose six winners from people who leave a comment on this post. Tell me why you want to try the Tamarin spread and be sure to include your email so that I can contact you.
I'll choose the other six winners randomly from people who join my newly created Facebook fan page and comment on the status update where I talk about this contest.  I'm really excited about my new Facebook page and I hope that it becomes a fun interactive extension of this blog.
Details:  The contest is open to U.S. residents only and ends on Tue., July 27 at 11:59 PM CDT.   No one can win more that once, but you can enter two times – once on the blog and once on Facebook.
Update: The blog winners are listed below.  Check the Facebook page for the Facebook winners. Congratulations to all the winners!
Vivian mac, who said, "Sounds yummy! I'd make a biscoff sandwich with Tamarin. :)"
Rebecca, who said, "I love Nutella, especially on a crepe with bananas and whipped cream. I wonder if this would taste equally as good?"
Jeff and Corrine, who said, "yum…I must try this!"
Sourkraut, who said " Holy cow! I absolutely must win this! My family is German so even though I grew up in the states we were frequently treated to German delicacies, especially around the holidays. One of my favorites was always Spekulatius, which is, you guessed it, the German version of speculoos. Even if I don't win this contest I'll have to track down a jar of this fantastic-sounding stuff. It'll bring back a taste of my childhood!"
Anonymous, who said, " I want to try it as I love cinnamon and sugar and have never been a fan of Nutella..but wanted my own spread w/o chocolate!"
Anonymous, who said, "This is the first i have ever heard of this spread and it sounds amazing. Speculos cookies are a family tradition. my mom has learned these from her mom who brought the recipe over straight from belgium. If i win this, i would actually give it to my mom b/c of her love of these cookies and it would be great for her to have another happy memory of her mother."