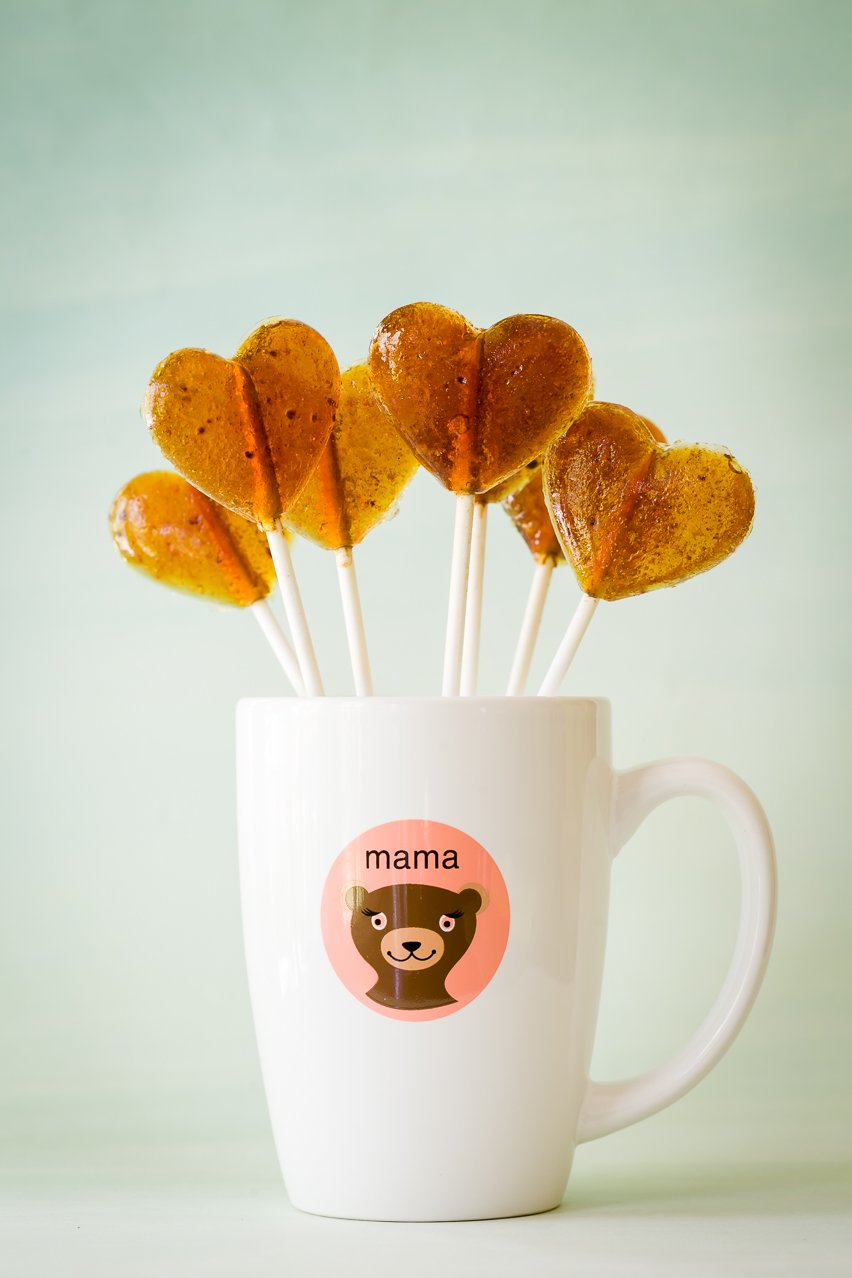 When you were a kid and your mom gave you a lollipop, you had a huge smile that lasted just until the wrapper came off and your tongue came out. This Mother's Day, it's time to reverse the roles and make your mom smile with a homemade cinnamon-dusted coffee lollipop. The coffee lollipops are more along the lines of a sweet latte rather than black coffee; coffee lovers will adore them, but those who aren't hardcore coffee fanatics will love the lollipops, too.
Even if you've never made candy before, you can make these lollipops. You'll just need four ingredients, a candy thermometer, and a very inexpensive lollipop mold with sticks. I'll walk you through the whole process. But, first I want to tell you about a very special mom. (No, I'm not going to tell you about my mom – even though she is the best mom in the whole wide world! Happy Mother's Day, Mom!)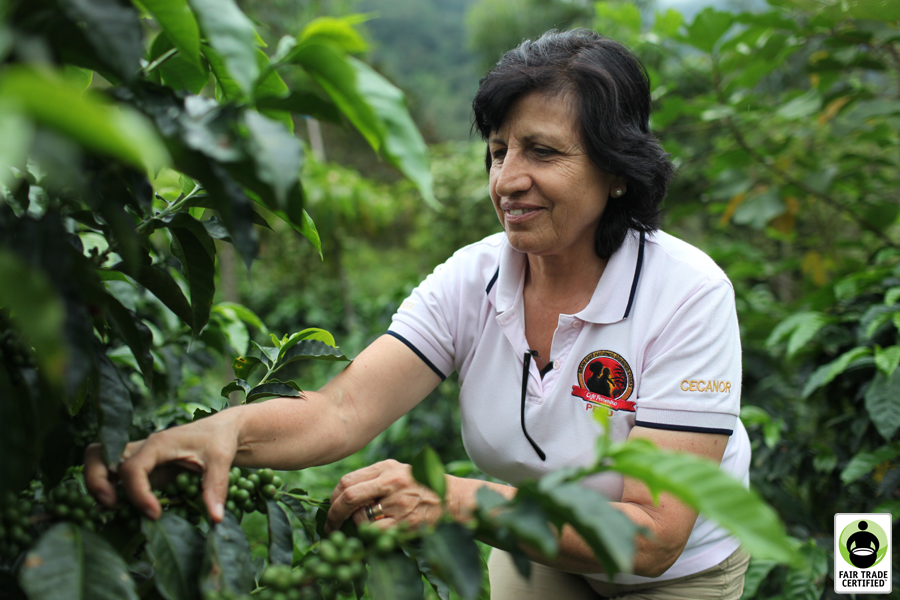 Isabel Uriarte Latorreis (shown above) is a founder and one of the 1,458 members of Central de Servicios Cafetaleros del Nor Oriente (CECANOR), a cooperative of coffee farmers from the Lambayeque region of Peru. CECANOR received a Fair Trade certification in the year of their inception (1999), which helped them gain access to international markets, better prices and wages, and the protections of Fair Trade standards. By selling directly to markets, Isabel and other farmers make more income – keeping them from falling into a cycle of poverty and debt.
Isabel is a hero to both men and women, but the work that she has done particularly for women is extraordinary.
Today, female coffee producers make up 30 percent of the world's 25 million coffee growers. Yet, they often have no rights, make little or no income, experience terrible domestic and workplace abuse, and are forced further into poverty. Isabel and the women of CECANOR were the first group to participate in Café Femenino, a select brand of coffee made only by women. In an interview with Fair Trade USA, she states:
The purpose of Cafe Femenino is to make visible the contribution women make not only to the household economy, but the community and to the umbrella organization CECANOR. It also aids in providing women the same opportunities and respect in these mentioned spaces. By doing so, women gain confidence, status, are protected from marginalization; it even motivates them to develop new ventures.
Through Isabel's leadership, CECANOR has developed wonderful assistance programs. Health, education, and tech assistance projects all benefit the female farmers and their families through introducing new farming techniques, providing health screenings, running sex-education campaigns in rural schools, and improving the productivity of credit programs.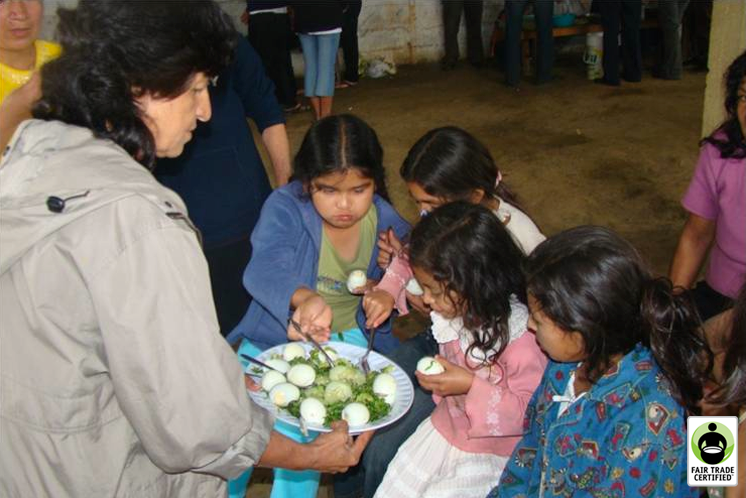 Above, Isabel Uriarte teaches the women and their families of her CECANOR cooperative about proper nutrition, food, and health safety.
Isabel's work has ensured that so many moms have a happier Mother's Day and she deserves to be recognized. I made my cinnamon-dusted coffee lollipops using Fair Trade coffee in honor of her and I encourage you to look for the Fair Trade Certified logo when shopping for coffee and other products – it really does make a difference.
How to Make Cinnamon-Dusted Coffee Lollipops
My cinnamon-dusted coffee lollipops are adapted from this book. The book is hugely inspiring and filled with fabulous lollipop ideas for young and old alike. (View on Amazon)
Although you can make lollipops by pouring the hot candy out onto parchment paper, I highly recommend buying lollipop molds. The resulting lollipops will look so much more professional. (View on Amazon)
Of course, you'll also need lollipop sticks. (View on Amazon)
If they aren't going to be eaten right away, you may also want to purchase some treat bags to store them in individually. (View on Amazon)
You must have a candy thermometer to make lollipops. I like this one because it's digital and I can set it to beep when it reaches the temperature I want. (View on Amazon)
Cinnamon Dusted Coffee Lollipops
The coffee lollipops are more along the lines of a sweet latte rather than black coffee; coffee lovers will adore them, but those who aren't hardcore coffee fanatics will love the lollipops, too.
Ingredients
1

tablespoon

Fair Trade ground cinnamon

1

cup

granulated sugar

1/2

cup

brewed Fair Trade coffee

1/4

cup

light corn syrup
Instructions
Spray ten 2" lollipop mold cavities with a non-stick cooking spray.

Dust each cavity with cinnamon.

Place sticks in the molds.

Place sugar, coffee, and corn syrup in a large pot on medium-high heat. This mixture will easily fit into a small pot, but choose a large pot for this task because the mixture will start to bubble as it heats and it can bubble over and create a nightmare mess (I'm speaking from experience here).

Stir until the sugar dissolves.

Once dissolved, don't touch the mixture for the ten minutes or so it takes for it to reach 300 F (hard-crack stage).

As soon as the mixture reaches 300 F, remove the pot from the stove and, with an oven mitt for protection, pour the hot liquid into the lollipop molds.

While still hot, dust the lollipops with cinnamon.

Let the lollipops set until cool (about 15 minutes).

Remove from the molds and enjoy immediately or store in cellophane bags tied shut with a twist-tie or ribbon in a cool, dry place for up to one month.
Nutrition
Nutrition Facts
Cinnamon Dusted Coffee Lollipops
Amount Per Serving
Calories 105
% Daily Value*
Sodium 5mg0%
Potassium 12mg0%
Carbohydrates 27g9%
Calcium 16mg2%
Iron 0.1mg1%
* Percent Daily Values are based on a 2000 calorie diet.
Fair Trade Brunch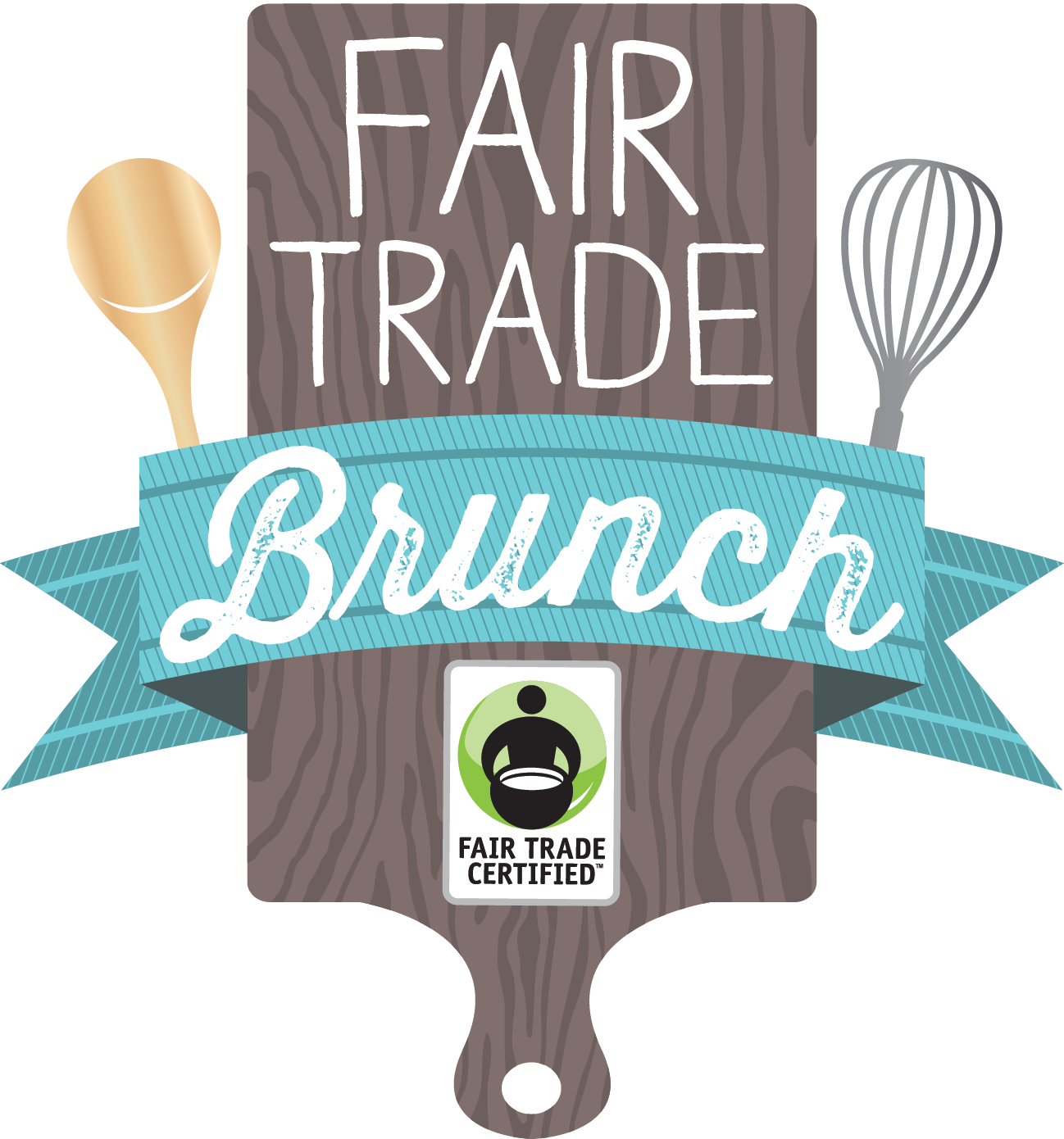 I'm proud to say that this recipe was sponsored by Fair Trade USA as part of the Fair Trade Brunch (if it isn't obvious, this is a cause that I truly believe in)! You can find the other Fair Trade brunch recipes on their Fair Trade Brunch Pinterest board. Please repin the ones you love (cough, cough – mine) to vote for them in a friendly contest.
Oh… and check back here soon for a chance to win a sweet Fair Trade prize package!