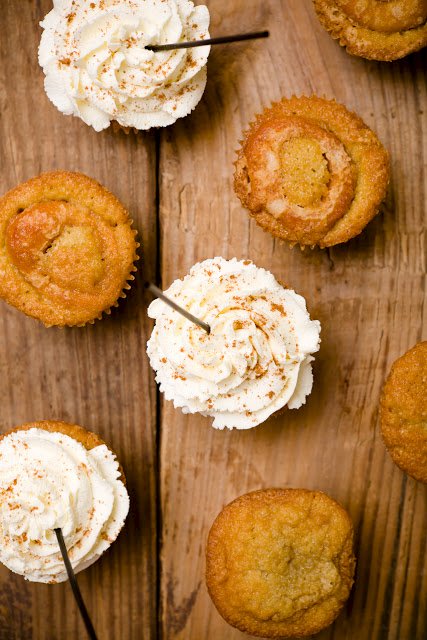 Coffee and doughnut cupcakes are my attempt to wrap the complete experience of a lazy Sunday morning spent lounging in stained sweats, noshing on coffee and doughnuts, into a cupcake.
Oddly, I'm not the first person to make coffee and doughnut cupcakes (there are quite a few of us crazy cupcake innovators out there).  I've identified three methods of preparing coffee and doughnut cupcakes.  Most coffee and doughnut cupcakes (like the ones created by my all-time favorite cupcake blogger, Chockylit, the ones from my pals at C and C Cakery, and the totally adorable ones from Always with Butter) go for method 1. Method 1: Bake coffee cupcakes and top them with doughnuts.  Method 1 makes for an irresistible presentation and affords you the ability to dip the doughnut in the frosting.  However, I shot for a tad bit more integration between the doughnut and the coffee when I created method 2.

Method 2 is a unique and not necessarily optimal method.  Method 2:  Bake doughnuts (in my case, homemade Krispy Kreme doughnuts) into coffee cupcakes.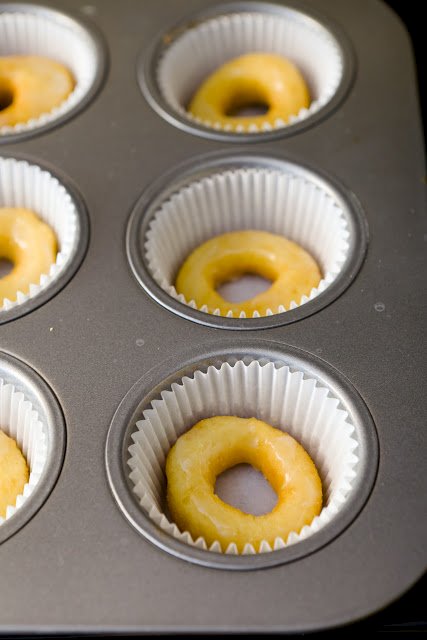 I dropped mini Krispy Kreme doughnuts into cupcake liners and spooned coffee cupcake batter over them.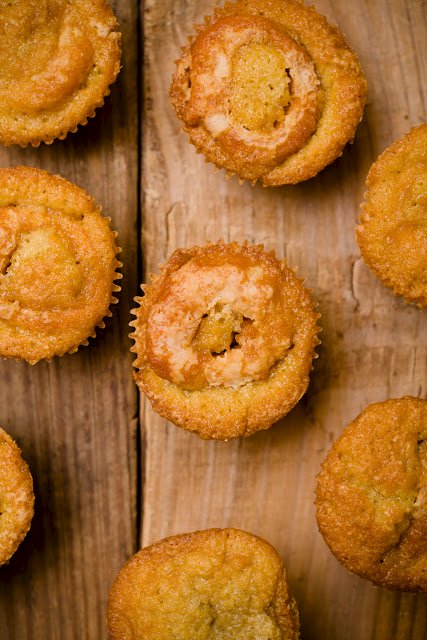 When the coffee and doughnut cupcakes emerged from the oven, the doughnuts had floated to the top like little life preservers.  This isn't the most attractive look for cupcakes, but once they are frosted, who cares?  It's really hard to beat finding a doughnut immersed in your cupcake.  Yet, I was a bit disappointed with the cupcakes' shelf life.  The doughnut burrowed in these cupcakes will get stale if you don't eat the cupcakes quickly. Straight from the oven, the doughnut's edge is a bit chewy, but the inside is still light and flaky. Soon thereafter, the doughnut portion starts to taste rubbery and stale – still good bathed in whipped cream, but not ideal.
If I made coffee and doughnut cupcakes again, I'd opt for method 3.  Method 3:  Bake coffee cupcakes.  Just before serving, warm them in the oven or microwave (hot cupcakes are always better), core a hole in them, drop a doughnut hole in the hole, and top with whipped cream or ice cream. 
Coffee and Doughnut Cupcake Recipe
If you've tried this recipe, please RATE THE RECIPE and leave a comment below!
Coffee and Doughnut Cupcakes Three Ways
Servings
12
cupcakes if using method 2, where the doughnut takes up part of the volume; otherwise, you may want to double the recipe
Ingredients
1/2

cup

+ 2 tablespoons whole milk

1/2

cup

whole roasted coffee beans

3/4

cup

all-purpose flour

1/2

teaspoon

baking soda

1/8

teaspoon

baking powder

1/4

teaspoon

salt

1/2

cup

unsalted butter

room temperature

1/2

cup

sugar

1

egg

Homemade mini Krispy Krispy cream doughnuts

ideal for method 2 or doughnut holes (great for method 1 or 3), or any doughnuts you have on hand (you could make this work for any method)

Whipped cream or ice cream for topping
Instructions
In a small saucepan on medium-high heat, heat milk and coffee beans until just boiling.

Remove from heat, cover, and steep for fifteen minutes.

Using a sieve, remove the beans from the milk and set the milk aside. You will only need 1/4 cup plus two tablespoons of the milk, so it's fine if some sticks to the beans during this process.

Preheat oven to 350 F.

In a medium-sized bowl, mix flour, baking soda, baking powder, and salt.

In a separate medium-sized bowl, beat butter and sugar until light and fluffy.

Add the egg to the butter/sugar mixture, mixing until fully incorporated.

Alternately mix the coffee-infused milk (you should have 1/4 cup plus two tablespoons of the milk to use) and dry ingredients into the butter/sugar bowl, mixing until just combined.
This step varies by method
Methods 1 and 3: Fill cupcake liners 3/4 full.

Method 2: Drop a miniature homemade Krispy Kreme (or a piece of a doughnut that you cut to fit your cupcake liner) into each liner and top with batter until almost full.
Bake cupcakes for 20 minutes or until a toothpick comes out dry.
This step varies based on method
Method 1: Top with whipped cream or ice cream and put a fresh doughnut hole on top just before serving.

Method 2: Top with whipped cream or ice cream and dust with cinnamon.

Method 3: Just before serving, core a hole in the cupcake using a paring knife or a

cupcake corer

and fill the cupcake hole with a doughnut hole. Top with whipped cream or ice cream.
Recipe Notes
Eat on a lazy Sunday.
The recipe below explains how to make all three methods of coffee and doughnut cupcakes. Refer to the text above to remember which method is which.