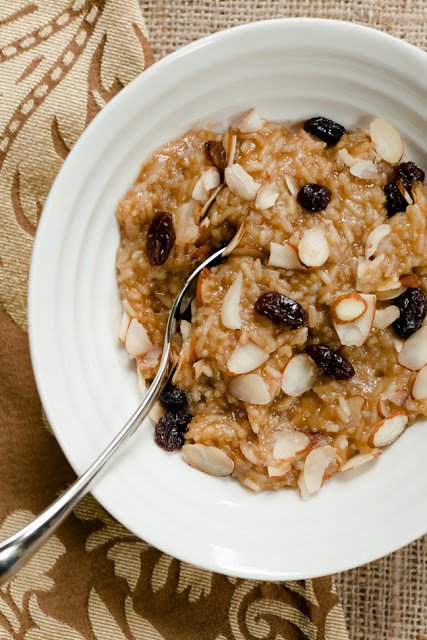 Coconut sticky rice made with coconut milk and brown sugar is the oatmeal of Asia – simple, satisfying and sweet.  Coconut sticky rice is not, however, what I planned to make.
You know those people who tell you that to be successful you should give everything 110% effort?  Regardless of my math-related pet peeve that 110% effort is impossible, I hold that success can and often does come with 100% fun and only 50% effort.  I call it the Full Fun Partial Effort Rule (FFPER).  One of the most popular posts on this blog is my raw cookie dough recipe. I made the cookie dough recipe because cookie dough is FUN and I didn't need that extra 50% effort required for baking.  This coconut sticky rice is another example of the power of FFPER.
I set out to make biko cupcakes.  Biko is a Filipino dessert consisting of coconut sticky rice topped with coconut cream and brown sugar, then baked and cut into squares.  While I did end up with biko cupcakes, I couldn't help but stop halfway through the process and eat a big bowl of the pre-baked coconut sticky rice – throwing in some almonds and raisins for added fun (I could have added different things, but that would have required a store trip – extra effort).  The biko cupcakes were definitely worth waiting for, but if you can't wait, the not-so-showy coconut sticky rice is a treat in its own right that I'd be proud to serve for breakfast, snack time, or dessert.
Coconut Sticky Rice Recipe
This coconut sticky rice recipe comes from using just the first part of the biko recipe from Ivory Hut.  I've reprinted that recipe with my notes below.
If you've tried this recipe, please RATE THE RECIPE and leave a comment below!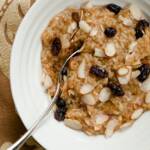 Coconut Sticky Rice with Almonds and Raisins
Ingredients
3

cans

14 oz each coconut milk

4

cups

sweet rice

otherwise known as sticky rice or glutinous rice

1

cup

brown sugar

2

cups

or more to taste sliced almonds

2

cups

or more to taste raisins
Instructions
Pour coconut milk and one cup of water into a large pot on medium heat.

Bring to a simmer.

Add the rice and stir until rice is fully cooked (approximately 15 minutes). It should be similar in texture to a sticky risotto. If the rice starts to get sticky but isn't cooked yet (you'll have to taste it - cooking is such a rough job), then add a little bit more water and continue to stir and test until cooked. The stirring is a good arm workout (just like when you make

polenta

) - especially as the water evaporates and the rice becomes heavier.

Stir in brown sugar and remove from heat.

Stir in almonds and raisins.

Serve warm.
Recipe Notes
Cooking Time: 15-20 minutes