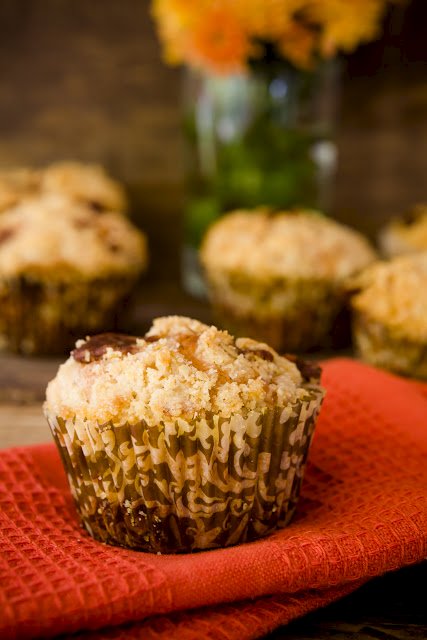 Apple cobbler cupcakes have become my Fall tradition.
The first time I made apple cobbler cupcakes, I topped them with pumpkin pie frosting.  The next year, I made them as part of my Everything Fall cupcake (my favorite pumpkin cupcake with an apple cobbler cupcake baked inside).  This year, I decided to give the apple cobbler cupcakes more of a classic country cobbler feel.
This year's apple cobbler cupcakes have a crumb topping with my homemade pumpkin pie spice chips melted in.  The pile of sweet buttery crumbs that calls to me from the kitchen counter as I head upstairs to the office or roll toy trains around the playroom appeals to me as much as (if not more than) a mound of frosting.
Classic Country Apple Cobbler Cupcakes Recipe
If you've tried this recipe, please RATE THE RECIPE and leave a comment below!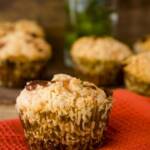 Classic Country Apple Cobbler Cupcakes
Ingredients
Apple cobbler cupcake batter

follow the recipe for apple cobbler cupcakes found in my original post - but don't put them in the oven

1/2

cup

flour

1/2

cup

sugar

6

tablespoons

unsalted butter

cold and cut into small pieces

1/4

cup

rolled oats

1/4

cup

homemade pumpkin pie spice chips

or store-bought cinnamon chips
Instructions
Preheat oven to 400 F.

Use your hands to mix flour, sugar, butter, and oats. Mix until they are well-combined and stick together to form small clumps.

Fill cupcake liners 3/4 full with apple cobbler cupcake batter.

Top apple cobbler cupcake batter with crumbs. Be generous with the crumbs. Make small mounds that rise above the tops of the liners.

Top the crumbs with pumpkin pie spice chips (3 or 4 per cupcake). Place the chips toward the centers of the cupcakes; if they are on the edges, they may melt off of the crumbs and onto your cupcake tin.

Bake for 35 minutes or until crumbs begin to brown.