The Christmas cupcakes are made with mulled wine and have a chestnut butter frosting. They taste like little bites of Christmas!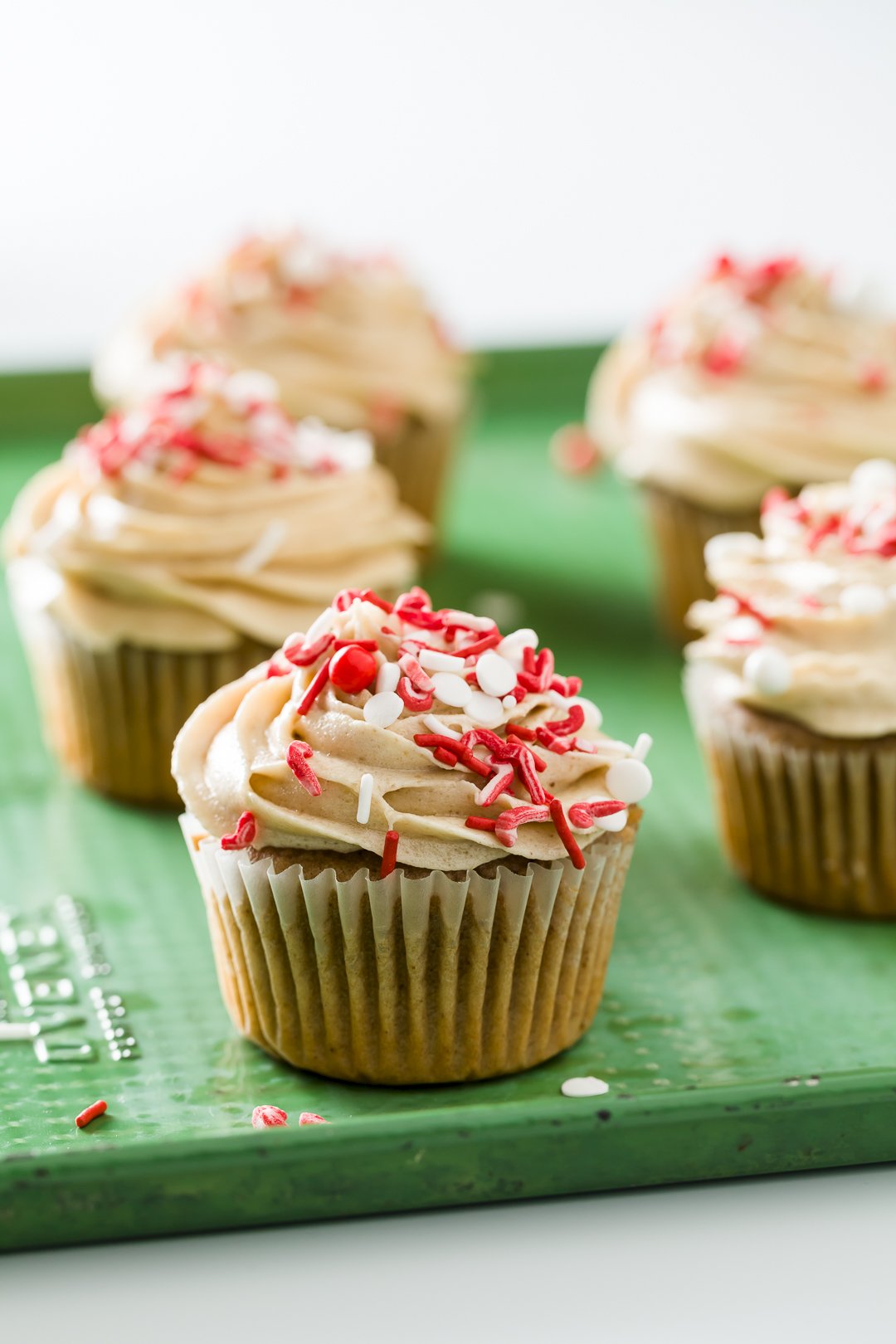 Christmas cupcakes made with mulled wine will have Santa begging for more (he likes his wine, you know – why do you think he has such a ruddy complexion?).
These Christmas cupcakes have a complex adult taste, but they are sweet, moist, and festive enough to serve to the entire family.
The only problem I had with my Christmas cupcakes was that the recipe only made twelve. I would highly recommend doubling it – they are that good! One warning though, the wine flavor is not overpowering. Don't go in expecting a heavy hit of wine flavor.

A Note About Christmas Cupcakes and Me
I don't celebrate Christmas. As a child, I did not ever put out cupcakes for Santa (or cookies for that matter). The staging of this photo was the first time I ever wrote a "For Santa" sign. However, as a Jewish child, I did believe in Santa.
For some reason, I had a stuffed Rudolph doll. I lived in New York, but we always went to Florida to stay with my grandparents over Christmas (I know – how stereotypically Jewish can you get!). On Christmas Eve, I would always take my reindeer doll and set it by the door to the condo to make sure that Rudolph could go out and help Santa deliver toys to the Christian kids.
Before Making Mulled Wine Cupcakes
Before making mulled wine cupcakes, make sure you've made some mulled wine. Duh! Check out my post on mulled wine for instructions.
Mulled Wine Cupcake Recipe
I based the cupcake recipe on my Hokey Pokey cupcakes. They were so yummy that I thought they would be a good starting point. Here is the adapted recipe:
Other Christmas Cupcakes and Chanukah Cupcakes:
Christmas Cupcakes
These Christmas cupcakes have a complex adult taste, but they are sweet, moist, and festive enough to serve to the entire family.

Ingredients
2

C

flour

1 1/2

t

baking powder

1/2

t

baking soda

1/2

t

cinnamon

1/4

t

allspice

1/4

clove

3/4

C

unsalted butter

softened

2/3

C

sugar

finely grated zest of 1 orange

2

large eggs

2/3

C

sour cream

2/3

C

mulled wine

room temperature
Instructions
A few hours before you are ready to bake, combine the orange zest and the sugar in a bowl. This will let the orange flavor infuse into the sugar.

With a fork, whisk flour, baking powder, baking soda, and spices in a bowl.

Beat butter, grated orange zest and sugar in a large bowl for 1 minute, until light and fluffy.

Beat in eggs and sour cream until blended.

Alternately fold in flour mixture and mulled wine in three additions, beginning and ending with flour.

Fill cupcake liners 3/4 full.

Bake at 350 F for about 25 minutes or until toothpick comes out clean.
Notes
Mulled Wine Syrup
I drizzled some mulled wine syrup over each frosted cupcake. This is by no means necessary, but it's a nice splash of red and it tasted quite good. To make the syrup, combine 1 cup of mulled wine and 1 cup of sugar and bring to a boil. Lower the heat and let the mixture simmer for about 10 minutes.
Nutrition
Nutrition Facts
Christmas Cupcakes
Amount Per Serving
Calories 267
Calories from Fat 126
% Daily Value*
Fat 14g22%
Cholesterol 64mg21%
Sodium 76mg3%
Potassium 130mg4%
Carbohydrates 28g9%
Protein 3g6%
Vitamin A 475IU10%
Vitamin C 0.1mg0%
Calcium 54mg5%
Iron 1.2mg7%
* Percent Daily Values are based on a 2000 calorie diet.