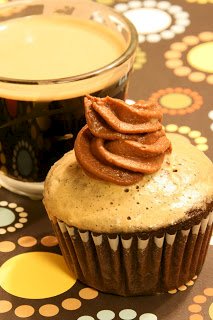 In the past, when I've brought baked goods anywhere, everyone basically said "mmm.. thanks" and gave positive commentary regardless of what they may have actually thought. However, when you tell someone that you are doing a project to pick the best cupcake and you want honest feedback, everyone seems to go out of their way to put on their best critic hat and come up with some helpful hint.
Don't get me wrong, I appreciate every one of them, keep 'em comin'. It is just a source of amusement to me.
Take Person A of the past:
Sticks cupcake in mouth.
Gets big grin.
Provides a cupliment. (Cupliment (n.) – a favorable remark or set of remarks about a cupcake)
Same person with a cupcake project cupcake:
Evaluates appearance.
Stops and smells.
Tastes cake alone
Tastes frosting alone.
Takes a series of small bites of the combination.
Pauses for thought.
States, "It was good.. but.." Too much enthusiasm can't be shown because a good critic doesn't give a 10 to many things.
It should also be pointed out that like critics in any field, the commentary can go in any direction. I thought these were extremely moist cupcakes, the bride and groom thought they were a good level of moistness, and the coworkers thought they were dry/coarse. Were we all eating the same thing?
The Cake
I work for the biggest beer company in the USA. It was only a matter of time before I made a beer cupcake. Although, and you can just pretend you didn't see this, I didn't use beer from my company for these cupcakes. I used a great beer, Young's Double Chocolate Stout. Read into this what you wish.
I got the cake recipe from Big City, Little Kitchen. I just replaced the Guinness with the chocolate stout. Update 12/9/12: Big City Little Kitchen is no longer live. So, I am including the recipe as I made it below.
The Frosting
The frosting had two parts.
The Glaze:
To be honest, the glaze wasn't meant to be a glaze, but by the time I added enough Double Chocolate Stout to it that you could taste it at all, it was too runny to be anything but a glaze. Luckily, it worked perfectly. It looks like I planned it to be a nice layer of beer foam.
The Icing
The icing swirl at the top is the icing from none other than my Grandma's famous golden glow cake (first mentioned here). This a tried and true winner chocolate frosting.
Chocolate Stout Cupcakes
Chocolate Stout in a cupcake?!
Ingredients
Cake Ingredients
1

cup

chocolate stout

1

stick

plus 1 tb, unsalted butter

3/4

cup

unsweetened cocoa

2

cups

dark brown sugar

3/4

cup

sour cream

2

large eggs

1

tablespoon

vanilla extract

2

cups

flour

2 1/2

teaspoons

baking soda
Glaze Ingredients
1 8

oz

package of cream cheese

Don't be lazy and use the cream cheese straight out of the fridge. Wait for it to be room temperature. Who would make a stupid mistake like that and end up with some lumps of cream cheese in the glaze? ummm... me

1

can of Double Chocolate Stout

4

+ cups of powdered sugar

1/4

cup

butter
Icing Ingredients
1 8

oz

package of cream cheese

3

T

milk

3

C

powdered sugar

2

squares of melted unsweetened bakers chocolate
Instructions
Cake Instructions
Preheat oven to 350 F.

Combine the chocolate stout and the butter, chopped into 1-inch chunks, in a large sauce pan, and heat to melt the butter.

Remove from heat, and whisk in the cocoa and sugar.

In a bowl, whisk the sour cream with the eggs and vanilla, then add to the beer mixture.

Sift together the flour and baking soda, and fold into the batter.

Pour into cupcake tins and bake for 25 minutes, or until inserted cake tester comes out clean.

Let stand 10 minutes, remove from cupcake tin, and cool completely on a rack.
Nutrition
Nutrition Facts
Chocolate Stout Cupcakes
Amount Per Serving
Calories 288
Calories from Fat 99
% Daily Value*
Fat 11g17%
Cholesterol 46mg15%
Sodium 217mg9%
Potassium 123mg4%
Carbohydrates 44g15%
Protein 3g6%
Vitamin A 410IU8%
Vitamin C 0.1mg0%
Calcium 54mg5%
Iron 1.2mg7%
* Percent Daily Values are based on a 2000 calorie diet.
For those of you reading this thinking "eww beer cupcakes", the good news is you can't even taste the beer. It just tastes like a nice, rich, not too sweet chocolate cupcake. For those of you who really wanted to try a strong knock-you-on-your-ass beer flavored cupcake, this probably isn't it.
Whoa…. hold up….. the big big boss just came by my cube where the cupcake Tupperware is sitting. I must point out that he does not know about the project, so of course he is less of a critic. However, he liked them and was so excited about a beer cupcake that he wanted the recipe. Good thing he doesn't know what brand of beer went into them.
Back to your regularly scheduled blogging.
Or not… he's come back to my cube to offer me a recipe of his own. This one is for beer margaritas.
See, I wasn't kidding about the importance of using a certain brand of beer (btw.. I know this recipe is blurry. It's a lesson on what happens when you drink beer.)
Summary
I'll make these again if someone requests them. This time the glaze will be on purpose. I'd really like to try making them with our smaller local beer company's coffee stout (if you like coffee and beer, you should try this beer) and a coffee based frosting.