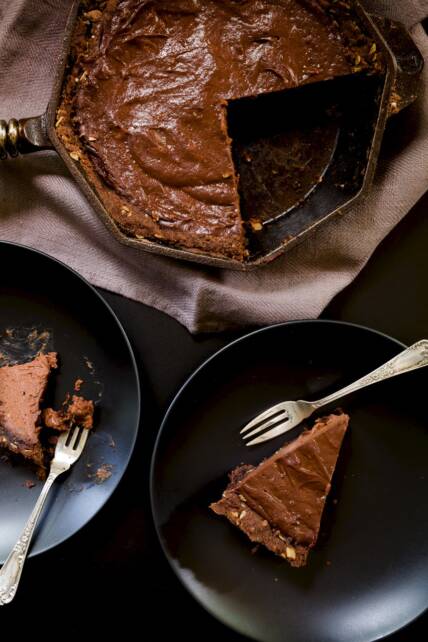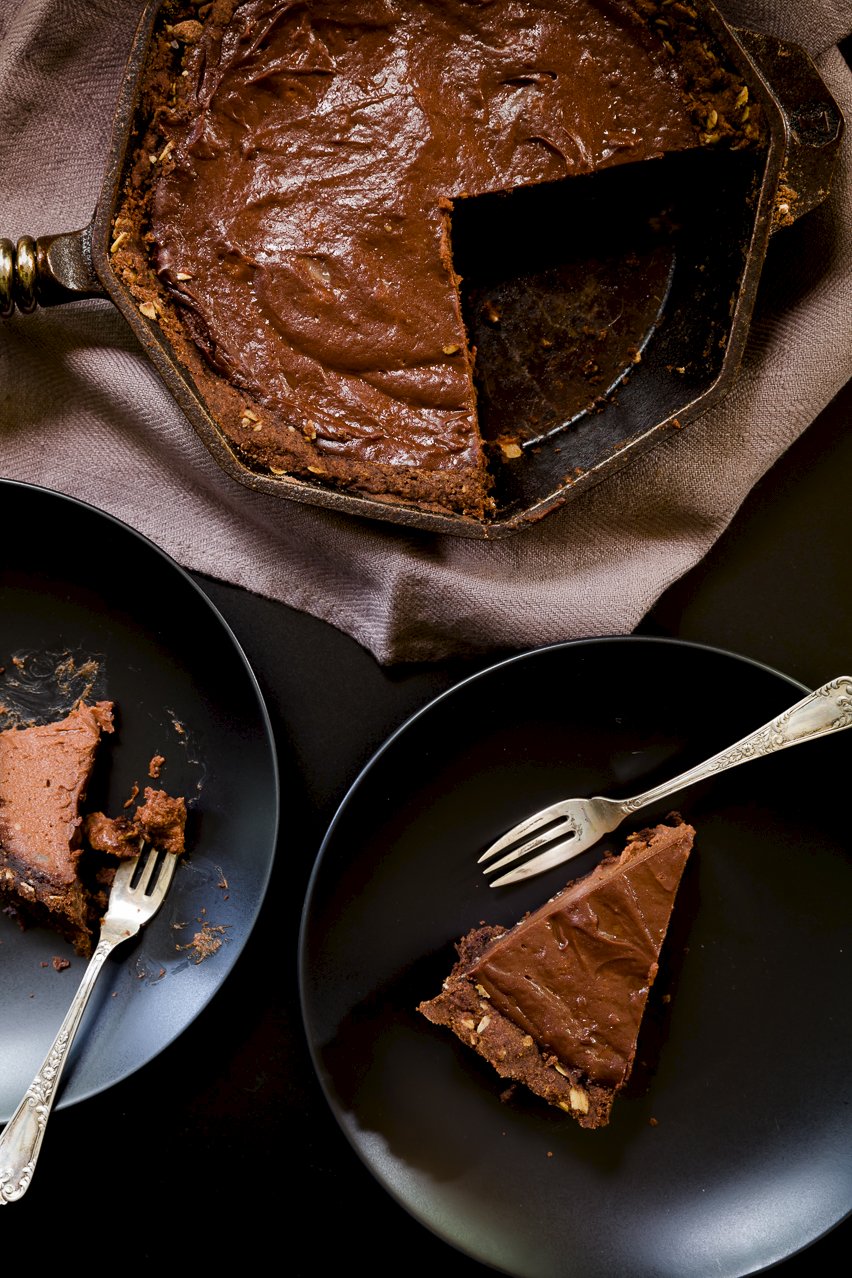 Skillet sugar pie has been a favorite around here since the first day that I shared the recipe – it tastes like crème brûlée in pie format.
Today, I want to share a variation that chocolate lovers will embrace even more than the original: sea salt and chocolate skillet sugar pie!  This chocolate sugar pie tastes like a cross between a decadent chocolate pudding and a rich chocolate mousse, with the addition of a buttery chocolate shortbread crust.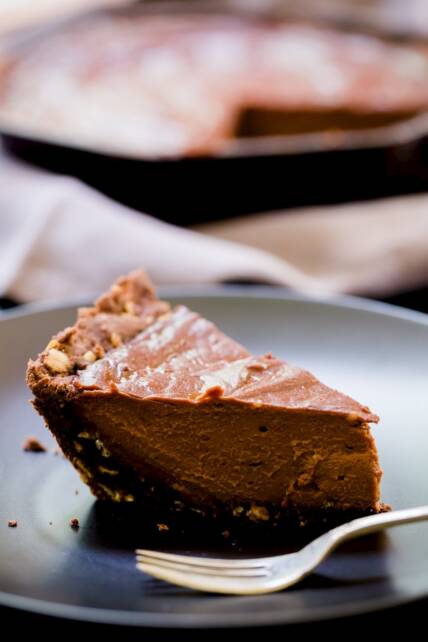 Jonathan and I fought over the crust parts when we shared the piece above this morning.  The chocolate shortbread crust is no afterthought – it's an integral part of the pie!  The yellow spots you see are oats.  I always throw some in my shortbread to give it a little texture.
Skillet chocolate sugar pie is a pie for Friday night dinners, Sunday brunches, and afternoon snacks.  This is a pie that I will make for company and myself.  It's simple and spectacular.
Sea Salt and Chocolate Skillet Sugar Pie Recipe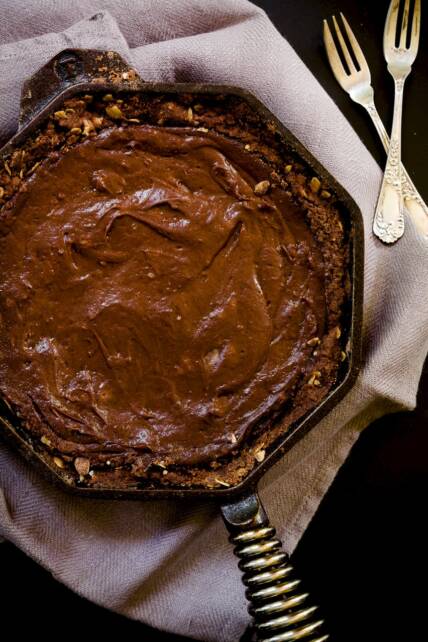 I made this chocolate sugar pie in my new Finex skillet!  I met the super nice folks behind Finex a few months back and they hooked me up with this baby.  Thanks!  Jonathan has been making breakfast in it almost every day.  I had to steal it from him to make this pie.  This skillet is not only well crafted, but it is gorgeous!  It would make a great Father's Day gift for any dad that loves cast iron cooking!
If you've tried this recipe, please RATE THE RECIPE and leave a comment below!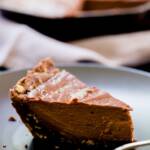 Sea Salt and Chocolate Skillet Sugar Pie
Ingredients
Chocolate Shortbread Crust Ingredients
5

tablespoons

unsalted butter

room temperature

1/4

cup

brown sugar

heaping 1/2 cup all-purpose flour

1/4

cup

rolled oats

1/2

teaspoon

baking soda

1/4

teaspoon

coarse sea salt

2

tablespoons

dutch-processed cocoa powder
Sugar Pie Filling Ingredients
4

ounces

dark chocolate

use baking discs, chocolate chips, or a chunk of dark chocolate cut into small pieces

4

tablespoons

unsalted butter

4

tablespoons

cornstarch

3/4

cup

granulated sugar

2 1/4

cups

half and half

1

teaspoon

vanilla extract

coarse sea salt

to taste
Instructions
Chocolate Shortbread Crust Instructions
Mix all shortbread crust ingredients by hand in a small mixing bowl until they just begin to stick together.

Grease an 8" skillet and press shortbread crust into the bottom and up the sides of the skillet.
Sugar Pie Filling Instructions
Preheat oven to 350 F.

Put chocolate into a large, heat-proof bowl and set aside.

In a medium-sized saucepan, melt butter on medium heat.

Once butter is melted, add cornstarch, sugar, and half and half.

Stir constantly until the mixture begins to boil and becomes thick and creamy. This should take about five minutes. You'll know it's ready as there will be a dramatic shift from a soupy liquid to something porridge-like.

Remove from heat and pour over chocolate.

Stir until chocolate is completely melted.

Mix in vanilla.

Distribute filling evenly over shortbread crust.

Sprinkle sea salt over the filling.

Bake for 40 minutes or until top is set. The filling will still be a little jiggly, but it won't move very much if you shake the skillet.

Remove from the oven and cool to room temperature.

Refrigerate overnight.

Serve cold, cut into slices.