Salty and sweet with a crunch, these chocolate pretzel cupcakes have it all.
My Chocolate Pretzel Cupcake Inspiration
Before my office moved near my new favorite clothing store, Plato's Closet (it's not just for teens, really it's not), we were located downtown directly above a Macy's (we're talking in the same building, no need to even go outside). Macy's was my second office. If I needed to make a private phone call, I'd do it while strolling around Macy's. Needless to say, I have never gotten to know a department store so well. When I was in Macy's and needed a snack, I'd head to the chocolate counter. My favorite item (basically the only item I ever got) was the dark chocolate covered pretzels.
This week I decided to recreate the experience in cupcake form (what else?).
The Chocolate Pretzel Cupcake Crust
I started with a pretzel crust. I had made a pretzel crust once before when I made a margarita ice cream pie. Mmmm that was a tasty thing, perhaps I'll make that again someday when I am once more making something other than cupcakes.
I got the chocolate pretzel cupcake crust recipe from my old standby, allrecipes. I lined 24 cupcake wrappers with it and still had a bunch leftover. Per my husband's request, I rolled the leftovers into a big ball, wrapped in foil and baked. We've been snacking on that although it never quite solidified.
I am reprinting it with my instructions on how to use it in cupcakes.
The Chocolate Pretzel Cupcake
For the chocolate cake part, I used a recipe I found on Chezpei (originally from Martha Stewart). She raved about the recipe and said one of the nice things about it was that she had all the ingredients in her house. As it turns out, so did I. Sure, not everyone has buttermilk sitting around, but when you bake cupcakes every week, you tend to have these things.
Chezpei warned that the cupcakes would rise a lot and that you should just fill them halfway if you wanted them to be tall and domed like hers. Because I already had the crust in my liners and I wanted to be sure to have a decent amount of cake, I ended up filling mine 2/3 of the way. To my surprise, they barely rose at all. I would have liked for them to be much taller. Most of them didn't even come over the top of the liner. My only guess as to why that would be is that maybe she beat her batter more. She had no direction about how much to mix. I'm always concerned about over mixing, so I didn't mix very much.
But who really cares about size? They looked and smelled great. I was getting excited.
I am reprinting her ingredients along with my instructions.
The Chocolate Ganache
For the topping, I opted for a dark chocolate ganache. Since this is the first ganache I have made and not all of you read a plethora of cupcake blogs like I do, let me take a moment and explain what a ganache is. I will also freely admit that I never heard of ganache prior to reading all these cupcake blogs.
According to wikipedia, "Ganache is a French word (literally translated as "fool") for a mixture of chocolate and heavy cream." At first I thought it would be more like a hot fudge. Actually, it's more like the topping on a hostess cupcake only a billion times better. When used as a frosting, it's like a thin layer of fudge with some bit of texture to it.
I got my recipe from allrecipes. The recipe is printed along with my slight modifications.
The Chocolate Pretzel Topping
For the piece de resistance, I topped each cupcake with a decorative chocolate covered pretzel. I also got that idea from allrecipes. What can I say, they never let me down.
Chocolate Pretzel Cupcakes – The First Ganache
Chocolate cupcakes with pretzel crust? YUM
Ingredients
Chocolate Pretzel Crust Ingredients
3/4

C

butter

room temperature

3

tbsp

brown sugar

2 1/2

C

crushed pretzels
Chocolate Pretzel Cupcake Ingredients
3/4

C

unsweetened cocoa powder

1 1/2

C

all-purpose flour

1

C

sugar

1 1/2

tsp

baking soda

3/4

tsp

baking powder

3/4

tsp

salt

2

large eggs

3/4

cup

warm water

3/4

C

buttermilk

3

T

vegetable oil

1

tsp

vanilla extract
Chocolate Ganache Ingredients
9

ounces

bittersweet chocolate

chopped

1

cup

heavy cream

1.5

tsp

vanilla extract
Chocolate Pretzel Topping Ingredients
24

circular pretzels

24

milk chocolate candy kisses

1

1.69 ounce package mini candy-coated chocolates
Instructions
Chocolate Pretzel Crust Instructions
Preheat oven to 350 F.

In a medium bowl, mix together all ingredients.

Line two cupcake tins with paper liners.

Press the mixture into the liners.

Bake for 10 minutes.
Chocolate Pretzel Cupcake Instructions
Mix in the cocoa powder, flour, sugar, baking powder, baking soda, and salt in a large bowl.

Beat in the eggs.

Beat in the warm water, buttermilk, vegetable oil, and vanilla extract until just combined.

Spoon the batter over prepared cupcake liners with pretzel crusts.

Bake at 350 F for 20 minutes or until cupcake bounce back when lightly touched.
Chocolate Ganache Instructions
Place the chocolate into a medium bowl.

Heat the cream in a small sauce pan over medium heat.

Bring just to a boil, watching very carefully because if it boils for a few seconds, it will boil out of the pot.

When the cream has come to a boil, pour over the chopped chocolate, and whisk until smooth.

Stir in the vanilla.

To frost the cupcakes, dip them into the bowl of ganache.*
Chocolate Pretzel Topping Instructions
Preheat oven to 350 F.

Place pretzels on baking sheets.

Unwrap candy kisses and place one in the center of each pretzel.

Place in preheated oven 1 to 2 minutes, until kisses melt.

Remove from oven and place one candy-coated chocolate in the center of each pretzel.

Chill in refrigerator until set.
Notes
*The problem was that since the cupcakes hadn't risen above the top of the liner, it was impossible to dip and not cover the liner in chocolate. I was very concerned that these were going to be messy and look bad. As it turned out, after sticking them in the fridge, the chocolate covered liners looked really pretty - almost as if I had done it on purpose. It was quite a happy surprise!
Nutrition
Nutrition Facts
Chocolate Pretzel Cupcakes – The First Ganache
Amount Per Serving
Calories 303
Calories from Fat 153
% Daily Value*
Fat 17g26%
Cholesterol 45mg15%
Sodium 343mg14%
Potassium 163mg5%
Carbohydrates 33g11%
Protein 4g8%
Vitamin A 360IU7%
Vitamin C 0.1mg0%
Calcium 49mg5%
Iron 2mg11%
* Percent Daily Values are based on a 2000 calorie diet.
The End Result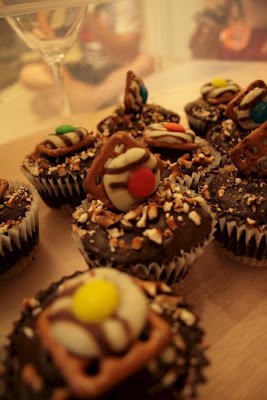 I thought these were sensational. I loved looking at them cause they seemed so festive with the nice potpourri of colors and I loved the combination of flavors in my mouth. If they had sold those at Macy's instead of the plain ordinary chocolate covered pretzels, I would have been in big trouble.
I brought these cupcakes to a friend's birthday party. There were 3 other bloggers at the party. Blogger 1 did not write about the party (although, in all fairness he has not yet blogged about the weekend so there is still time. I'll be sure to post an update if something changes), Blogger 2 (blog no longer exists) wrote about the party and mentioned the fact that there was ice cream and the ice cream bringer was her hero (I do like ice cream and after having just jumped up and down for an hour I can't quite blame her for wanting something cool and refreshing and not focusing on my little masterpieces), Blogger 3 raved about the cupcakes. She's my new best friend :).
Update 8/2/07: Blogger 1 didn't write about this specific cupcake, but he did give props to the Cupcake Project . Thanks Blogger 1!