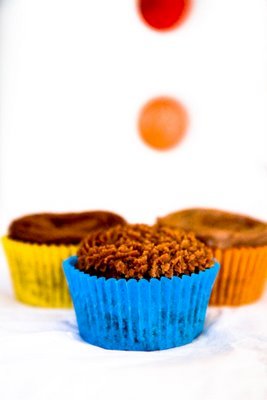 Groom 2.0 wanted chocolate cupcakes for his wedding. I thought the better than sex chocolate cupcakes would be perfect, but Bride 2.0 found them too rich. They both really liked the derby pie cupcakes. However, they had a problem and I had a problem.
What Do Chocolate Cupcakes with Bourbon and Pecan Have to Do with Prince?
The problem that Bride and Groom 2.0 had with the derby pie cupcakes was the name. They aren't big horse racing fans and their wedding isn't around Derby time – it's in 2 weeks! This was an easy problem to solve.
Much like Prince, a name change was in order. The cupcakes formally known as derby pie cupcakes are now known as chocolate cupcakes with bourbon and pecan.
Wedding Cupcake Frosting Must Be Pretty
The frosting on the derby pie cupcakes wasn't pretty enough for a wedding. I knew I could do better.
I frosted the chocolate bourbon pecan cupcakes using a pecan butter frosting with chocolate and bourbon.
Did the new frosting and new name work for the soon-to-be wed couple? All will be revealed VERY soon. The couple has chosen their wedding cupcakes and I'll be posting about their selections any day now.
Chocolate Cupcake with Bourbon and Pecan Recipe
I am reprinting the original derby pie cupcake recipe here with just a few slight changes from the original.
For the chocolate cake, I used chockylit's recipe that I featured in my Better than Sex Chocolate Cupcakes.
Chocolate Cupcakes with Bourbon and Pecan
These are similar to Derby Pie cupcakes, just toned down a bit to not be so rich.
Servings
16
regular cupcakes
Ingredients
Cupcake Ingredients
1/2

C

1 stick butter, room temperature

1 1/4

C

sugar

2

large eggs

room temperature

3/4

C

flour

1/2

t

baking powder

1/4

t

baking soda

1/4

t

salt

1/2

C

unsweetened cocoa powder

1/2

C

milk

1

t

vanilla extract
The Fun Gooey Part (Formerly Known as Derby Pie Filling) Ingredients*
1/2

C

white sugar

1/2

C

light corn syrup

1/4

C

butter

2

eggs

beaten

1/8

C

bourbon

1/2

t

vanilla extract

1/8

t

salt

1/2

C

semisweet chocolate chips

1/2

C

chopped pecans
Instructions
To begin the cupcake
Beat butter until softened.

Add sugar and beat until light and fluffy, about 3 minutes.

Add eggs, one at a time, beating until well combined.

Measure the flour, baking powder, baking soda, salt, and cocoa powder into a small bowl and whisk to combine.

In another small bowl, measure out the milk and vanilla and stir to combine.

Add about a third of the dry ingredients to the butter/sugar and beat to combine.

Add about half of the milk/vanilla and beat to combine.

Continue adding, alternating between dry and wet and finishing with the dry.

Make the fun gooey part.
To make the fun gooey part
In a small saucepan, combine sugar, corn syrup, and butter.

Cook over medium heat, stirring constantly, until the butter melts and the sugar dissolves.

Cool slightly.

In a large bowl, combine eggs, bourbon, vanilla, and salt. Mix well.

Slowly pour the sugar mixture into the egg mixture, whisking constantly.

Stir in chocolate chips and pecans.
To complete the cupcake
Fold 3/4 of the fun gooey part into the chocolate cupcake batter. You don't need to mix it well, just give it a nice stir.

Fill cupcake liners about halfway.

Use up the remaining 1/4 of the filling by putting an additional spoonful or two of the fun gooey part on top of each cupcake, being careful not to fill them more than 3/4.

Bake the cupcakes at 350 F for 20-25 minutes.
Notes
*The second part of the chocolate cupcake with bourbon and pecan recipe is a fun gooey part that I got from Allrecipes:
Nutrition
Nutrition Facts
Chocolate Cupcakes with Bourbon and Pecan
Amount Per Serving
Calories 300
Calories from Fat 126
% Daily Value*
Fat 14g22%
Cholesterol 64mg21%
Sodium 177mg7%
Potassium 134mg4%
Carbohydrates 40g13%
Protein 3g6%
Vitamin A 340IU7%
Calcium 36mg4%
Iron 1.3mg7%
* Percent Daily Values are based on a 2000 calorie diet.
Cupcake Hero
These cupcakes are my entry into this month's Cupcake Hero! Cupcake Hero is a year old now! It's so hard to believe. Happy birthday!