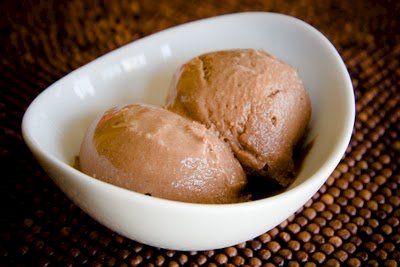 Chocolate buttermilk ice cream is not for everyone. Do you like tart frozen yogurts (Pinkberry-style)? If so, you may enjoy the same sour flavor in a rich, decadent chocolate ice cream. I find that the tartness of chocolate buttermilk ice cream is a refreshing twist on standard chocolate ice cream. But, it would be dishonest of me to not share that my father was grossed out by it: "It tastes like it's gone bad."
Continue Reading Only if You Like Sweet and Sour Combos
Hello, fans of that slight tongue-puckering sensation. Clearly, we have something in common. That being the case, you may also share my problem of having leftover buttermilk in your refrigerator from cupcakes or pancakes (bonus similarity points for you if you also have leftover egg yolks from making meringue). This easy chocolate buttermilk ice cream is a great way to keep your leftovers out of the trash and transform them into something that you and other sour-seekers will savor.
Chocolate Buttermilk Ice Cream Recipe
I got the chocolate buttermilk ice cream recipe by adding chocolate to the buttermilk ice cream recipe on Smitten Kitchen. She adapted it from Claudia Fleming's The Last Course. I am reprinting it below with my adaptation to make it chocolate ice cream.
If you've tried this recipe, please RATE THE RECIPE and leave a comment below!
Chocolate Buttermilk Ice Cream – What to Do with Leftover Buttermilk
Ingredients
2

C

heavy cream

1 1/4

C

sugar

12

large egg yolks

I only used 7 and it was plenty rich

8

oz

dark chocolate

chopped into small pieces

2

C

buttermilk

2

t

vanilla

or half a vanilla bean, scraped and simmered with the cream

Pinch

of salt
Instructions
In a large, heavy saucepan, combine the heavy cream and one cup of sugar and bring to a simmer over medium heat.

In a large bowl, whisk egg yolks and remaining 1/4 cup of sugar.

Remove the cream mixture from the heat and drizzle a small amount into the yolks, slowly, and whisking constantly to keep the eggs from curdling. Do this a few more times to warm up the yolks before pouring the yolk mixture back into the cream, whisking constantly.

Cook over low heat until the mixture is thick enough to coat the back of a spoon.

Mix in the chocolate and stir until melted.

Remove from heat.

Strain the mixture and whisk in the buttermilk, vanilla, and salt.

Cool completely and freeze in your

ice cream maker

. (I found that this ice cream was still too soft after the ice cream was done. I transferred it to another container and froze it for another few hours and it was perfect!)