My recipe for bacon jam follows the typical recipe used by cooks worldwide, except I add two extra ingredients that happen to work well with both bacon and each other in the jam: dark chocolate and bourbon.
The flavor is complex and lush and the bacon jam recipe works well on all manner of savory and sweet dishes.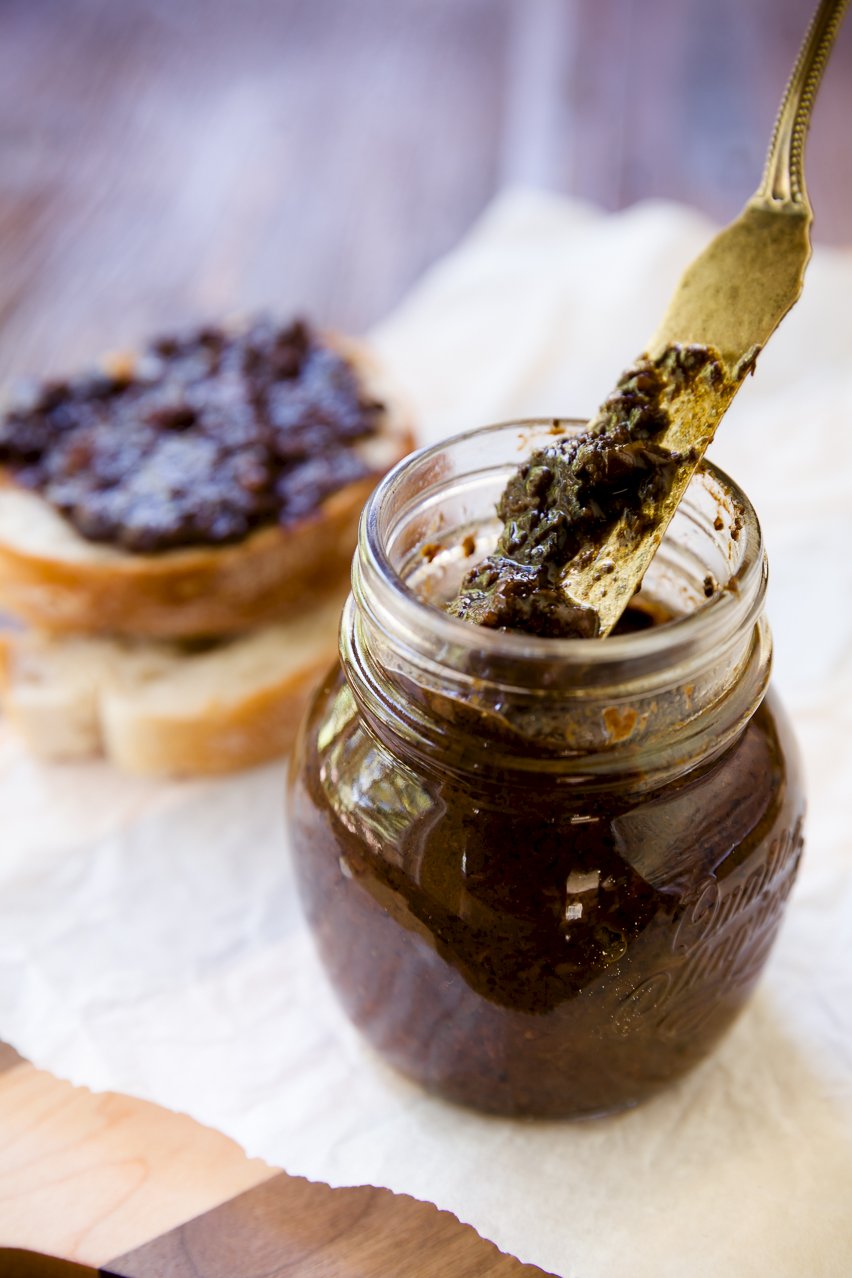 What is Bacon Jam?
Bacon jam is a slow-cooked relish made from bacon, onions, vinegar, and sugar. This collection of ingredients is used for most of the bacon jam recipes you'll find. When everything is cooked well, the ingredients are blended together.
Bacon jam was popularized by Skillet in Seattle. If bacon jam sounds amazing but not something you'd ever take the time to make, buy theirs.
My bacon jam recipe is inspired by Allison Eats' chocolate bacon jam recipe. She uses her chocolate bacon jam as a filling for macarons – I must try this sometime!
For my version, I added more chocolate (why not?), switched the maple syrup out for molasses for a heavier feel, and swapped the coffee for bourbon. If you are eating bacon jam, you may as well make it as sexy as possible. This bacon jam recipe takes about four hours to make, but most of that time is spent doing nothing but stirring the pot every 30 minutes or so.
Why Make Bacon Jam?
Bacon jam is the dark and moody cousin of bright, cheery jams like my 10-minute cranberry jam. Slather bacon jam on burgers, crackers, toast, sandwiches, or serve over maple ice cream. Yes, it is just that good.
It works well as an addition to – or as a primary ingredient in – appetizers, main courses, side dishes, and desserts.
How to Make Bacon Jam
The formula for most bacon jam recipes is the same: cook the bacon, add onions to the bacon grease, add some liquid with acidity and something sweet – typically coffee, water, vinegar, and maple syrup – and simmer on low heat for hours. When that's done, the mixture of ingredients is blended or food processed until it reaches a spreadable consistency.
My bacon jam recipe gets extra rich from the addition of molasses and dark chocolate after the onions have turned translucent. Plus, the bourbon helps to add even more complexity to what would be delicious all on its own.
Products Related to Chocolate Bourbon Bacon Jam
Any deep pot will do for making bacon jam, but I like to use cast iron. (View on Amazon)
It helps to have a hand blender. If you don't, you can take the jam out of the pot and use a regular blender or food processor to break down some of the larger chunks. (View on Amazon)
Chocolate Bourbon Bacon Jam Recipe
If you've never had bacon jam, you're in for a real treat. Chocolate and bourbon add extra complexity that you won't find in the typical recipe.
Ingredients
2 1/4

pounds

bacon

cut into 1-inch pieces

1

large yellow onion

diced

1

cup

bourbon

1/2

cup

apple cider vinegar

2

cups

water

1/2

cup

molasses

do not use blackstrap molasses

1

cup

brown sugar

4

ounces

dark chocolate

finely chopped (chips are also fine)
Instructions
Cook the bacon in a small dutch oven or heavy-bottomed stock pot over medium heat until brown, but not yet crispy. It will release lots of grease.

Remove the cooked bacon from the pot and set aside on top of paper towels to absorb excess grease.

Pour off all but approximately 1 tablespoon of the grease from the pot and discard (or save as a fat for future cooking).

Add onions to the pot with the remaining bacon grease and cook until translucent, about 6 minutes.

Add in bourbon, vinegar, water, molasses, and brown sugar, and bring to a boil, scraping down the sides to release browned bits.

Add in the chocolate and cooked bacon, and stir to combine.

Reduce heat to a low simmer. Cook for two hours, stirring every 20-30 minutes. You're halfway done!

Use a hand blender or food processor to puree the jam until you reach a smooth texture that still has some bacon bits remaining. You don't want a puree, but you do want something spreadable.

Continue to simmer on low heat for another 2 hours, stirring every 20-30 minutes, until jam has reduced to a thicker consistency. When you're done, the jam will resemble a thick, meaty pasta sauce. It will get much thicker after it cools.

When the jam cools to room temperature, refrigerate it for a few hours.

A large quantity of the grease will rise to the top of the bacon jam and congeal in the fridge. Unless you are a glutton for grease, scrape it all off and discard it.

Warm the jam in the microwave right before serving.
Notes
Bacon jam lasts for a week in the refrigerator. Freeze it if you need it to last longer than that.
Nutrition
Nutrition Facts
Chocolate Bourbon Bacon Jam Recipe
Amount Per Serving
Calories 287
Calories from Fat 171
% Daily Value*
Fat 19g29%
Cholesterol 28mg9%
Sodium 289mg12%
Potassium 243mg7%
Carbohydrates 17g6%
Protein 6g12%
Vitamin A 16IU0%
Vitamin C 1mg1%
Calcium 29mg3%
Iron 1mg6%
* Percent Daily Values are based on a 2000 calorie diet.