Take baklava (the middle Eastern dessert featuring buttery phyllo dough
, nuts, and sticky sweet honey), add a layer of brownie, mix in some banana chunks, bake in jumbo silicone cupcake liners
, and you get chocolate banana baklava cupcakes. As a baklava fan through and through, I never thought baklava could get any better than the traditional Greek baklava that I order every chance I get. I was wrong. Silly me, everything is better with chocolate! Plus, the banana adds one more surprising and delightful flavor to the mix.
Chocolate banana baklava cupcakes are more labor-intensive than most cupcake recipes that I make. However, none of the steps are difficult. If you've got time, you CAN make these and they will be worth every second!
Take a look at a couple more photos and then I'll tell you how to make them.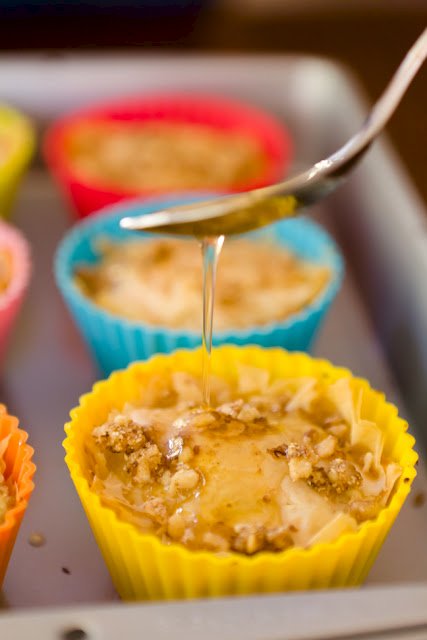 After they are removed from the oven, the cupcakes got a shower of honey syrup.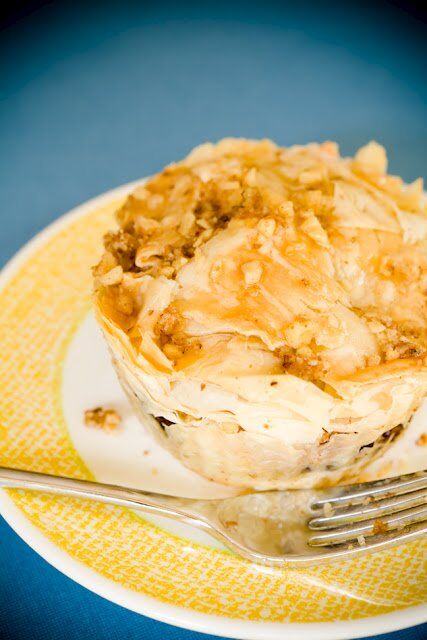 The cupcake popped easily out its liner and begged to be cut into.
How to Make Chocolate Banana Baklava
Yield: 6 jumbo cupcakes
Prep Work: Defrost phyllo dough
Phyllo dough typically comes frozen in rolls. The night before you are ready to bake, remove 8 ounces of phyllo dough (for me, that was one of the two rolls in my package) from the freezer and place it in the refrigerator to defrost. Prior to starting step 1, take the dough out of the refrigerator and place it on the counter. Leave it sealed in the package until you are ready to use it.
Step 1: Bake brownie disks
This baklava has a brownie baked inside. To achieve this effect, it is necessary to pre-bake brownie disks (shown above).
6 tablespoons all-purpose flour
1/2 cup sugar
3 tablespoons cocoa powder
1/4 teaspoon salt
1/4 cup unsalted butter, room temperature
1 large egg
1/2 teaspoon vanilla extract
Preheat oven to 350 F.
Mix all ingredients in a small mixing bowl until fully combined.
Divide evenly between 6 jumbo silicone cupcake liners. For this recipe, you must use silicone. If you use paper, it will get soggy from the baklava syrup and it won't look as good. Also note that the liners will not be filled anywhere near to the top.
Bake for 20 minutes or until a toothpick comes out dry.
Cool to room temperature, remove from liners, and set aside.
Step 2: Prepare Honey Syrup
The honey syrup will be drizzled over the baklava cupcakes once they are cool. I got the recipe for the honey syrup and the basic baklava recipe from allrecipes.
1/2 cup water
1/2 cup sugar
1/2 teaspoon vanilla extract
1/4 cup honey
In a small saucepan, bring water and sugar to a boil. Stir periodically, until sugar is completely dissolved in the water.
Add vanilla and honey and simmer on low heat for twenty minutes.
Remove from stove and cool to room temperature.
Step 3: Make the banana, nut, cinnamon mixture
This mixture of bananas, nuts, and cinnamon is used both as layers of the baklava and as a topping.
1/2 pound nuts, chopped finely (I used walnuts, but pistachios would be a nice traditional choice)
1/2 teaspoon cinnamon
1 ripe banana, chopped finely
Optionally, lightly toast the nuts on a cookie sheet in a toaster oven (I used my Breville) or in a small skillet. I prefer the taste of toasted nuts, but the nuts would be good either way.
In a small bowl, mix nuts, cinnamon, and banana.
Step 4: Build the baklava
This is the fun part! It's where you get to be an architect and put everything together. First, I'll give you the basic blueprint and then I'll go into the details. The blueprint below presents the cupcakes just as you would eat them – from top to bottom.
Baklava Blueprint
Honey syrup (added after the cupcakes are removed from the oven)
Nut mixture (added after the cupcakes are removed from the oven)
6 layers of phyllo dough (butter between every two layers)
A layer of nut mixture
2 layers of phyllo dough with butter on top
A layer of nut mixture
2 layers of phyllo dough with butter on top
A layer of nut mixture
2 layers of phyllo dough with butter on top
Brownie disk
6 layers of phyllo dough (butter between every two layers)
Now, the details…
8 oz room temperature phyllo dough (that you set out earlier)
1/2 cup unsalted butter, melted
6 brownie disks (from above)
Banana, cinnamon, nut mixture (from above)
Honey syrup (from above)
Unroll the phyllo dough and remove the top two sheets. Cover the remainder of the dough with a damp towel to keep it from drying out (as you move through the recipe, continue to remove sheets as needed but always keep the unused sheets covered.)
Rip off a small square of phyllo dough (two sheets thick) and press it into the bottom of a jumbo silicone cupcake liner.
Brush the top of the phyllo dough with melted butter.
Top with another two layer square and more butter and then a third two layer square and butter. There should be a total of six layers with butter between every two layers. (Important: You will drive yourself crazy if you try to make these squares all the exact same size or even if you try to make them all square. Just stick some phyllo dough that is about the right size in the cup and you'll be fine. Even if you end up using two or three small pieces instead of one big piece, it will not be a problem. Relax and have fun!)
Press the brownie disk on top of the phyllo layers. (Note: Don't worry about baking the brownie a second time. I feared that it would burn, but the sandwiching in butter keeps it nice and moist.)
Top with another two layer sqaure of phyllo dough and more melted butter.
Top the phyllo layer with a thin layer of banana nut mixture.
Top with a two layer square of phyllo and butter. Repeat two more times (you should have three layers of nuts, each separated with two sheets of phyllo dough). Note: There should be some nut mixture left over.
Top with four layers of phyllo dough with butter between every two layers.
Repeat all steps for the remaining five cupcakes.
Bake at 350 F for 30 minutes or until the cupcakes are golden and crispy.
Sprinkle remaining nut mixture on top of hot cupcakes.
Immediately pour honey syrup over cupcakes, evenly distributing the honey syrup between the six cupcakes.
Cool and eat!
If not eating immediately, cover loosely until ready to eat. Do not tightly cover the baklava or it will become soggy.