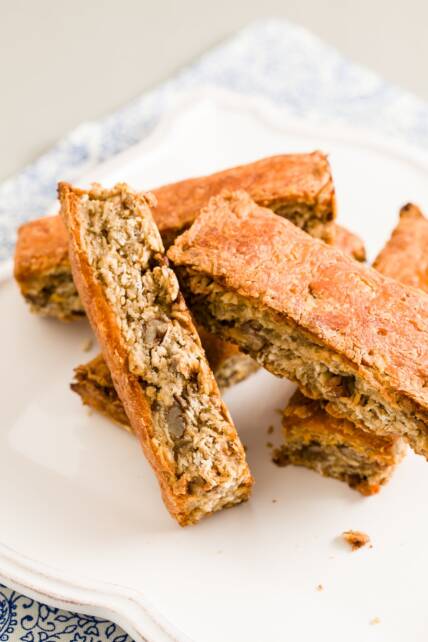 This post was sponsored by the Idaho Potato Commission.
I'm going to go out on a limb and say you've probably never had granola bars like these before.  The basic ingredients of these granola bars are pretty standard – oats, applesauce, pecans, and brown sugar.  But then, things get a little, um… different.  I put mashed Idaho potatoes in the granola bars and top them with a baked-on layer of cheddar cheese!  Lastly, unlike traditional granola bars, these bars are baked twice (like biscotti) to crisp up their edges.
I brought these bars on a road trip recently and they were the perfect snack to keep us from buying junk at rest stop vending machines.  Because of the potato content, these granola bars are more filling than other granola bars.   They were easily able to tide us over between meals.
My son, like most kids, loves anything with cheese.  The cheddar was a hit with him!  I loved the naturally sweet apple flavor and the crunchy pecans.
Have you ever made your own granola bars?  What is your favorite flavor?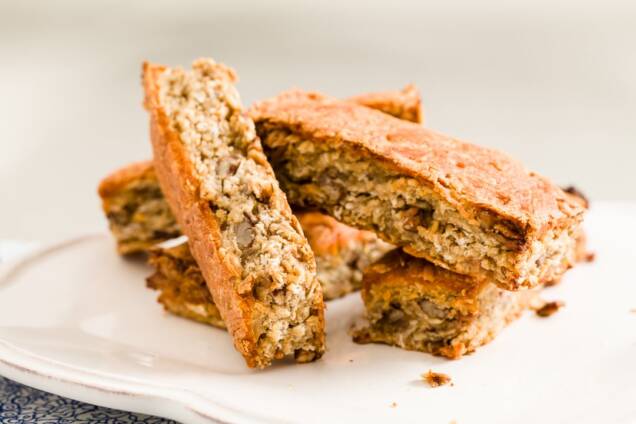 If you've tried this recipe, please RATE THE RECIPE and leave a comment below!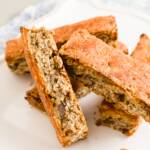 Chewy Apple Cheddar Potato Granola Bars
Ingredients
1

medium-sized Idaho® potato

3/4

cup

unsweetened applesauce

2

tablespoons

unsalted butter

melted

1/2

cup

brown sugar

3

cups

rolled oats

½

cup

roughly chopped pecans

1

cup

shredded sharp cheddar cheese
Instructions
Place the potato in a small saucepan on high heat. Add enough cold water to cover the top of the potato.

Once the water boils, reduce heat to medium low and cover. Cook the potato in lightly boiling water until tender, about 20 to 25 minutes.

Drain the water.

Once the potato is cool enough to touch, peel the skin off. It should come off easily.

Mash the potato with a potato masher or in a food processor.

Preheat oven to 375 F.

Stir together ¾ cup of the mashed potato (use the rest however you wish), applesauce, butter, brown sugar, rolled oats, and pecans in a large bowl until the ingredients are evenly distributed.

Press the mixture into an 8" square pan lined with parchment paper.

Bake for 30 minutes or until the oats on top are crispy.

Remove from the oven and evenly distribute shredded cheese over the pan. Return to the oven for another five minutes. The cheese should be evenly melted.

Cool to room temperature.

Remove the uncut bars from the pan and cut into 12 bars.

Place the bars on a parchment-lined cookie sheet and bake for another 25 minutes or until the sides of the bars crisp up.

Eat immediately or store loosely covered for up to three days.