Sometimes you have to break the rules. I know that a long blog post is not a good idea. "No one will read it," they say. Well, poo, I'm doing it anyway. This post has three sections: one about an upcoming opportunity to chat with me live about baking with chocolate, another about some recent chocolate bars that I've tried, and a third about a chance to get on the Food Network. Read all or none, as you see fit.

Section 1: Chat With Me
I was invited by Scharffen Berger to be a panelist on Tuesday night's Girls' Night Out (GNO) Twitter Party about baking with chocolate. If you've never attended a GNO before, no worries, neither have I. Together, we'll learn how it all works (here's a tutorial that hopefully will help). It should be fun to get a chance to talk to all of you and meet a bunch of new people. The chat starts at 8 PM CST.
Here is the official invite:
Join the #gno gang and
Scharffen Berger
, maker of America's finest dark chocolate, this Tuesday, February 16 from 9-11 ET (8 CT, 7 MT, and 6 PT) as we share our passion and tips for cooking with chocolate!
What: Girls' Night Out (#gno) Twitter party (Click here to learn about #gno!)

When:

Tuesday, February 16, 9-11 p.m. EST (8CT, 7 MT, & 6 PT)
Where: Party with us on our very own Custom Tweetgrid! Check back on Monday for the link. (Use hashtags #gno and #sbchocolate.)
Topic: Cooking with chocolate with Scharffen Berger
Party Favors: Click here to enter for a chance to win this week's giveaway. Deadline: 2/17
RSVP: Use Mr. Linky on the Mom It Forward Site (enter the twitter URL and your twitter ID (e.g., http://twitter.com/jyl_momIF). If you would like to include your blog, please enter it next to your name. Make sure to include your twitter URL in the URL line. Please do not enter your blog URL there.
Note: I will be a half hour late. As much as I love chocolate and Twitter, I don't want to miss my hoop class. I've gotten pretty hooked on hooping recently. I've got to exercise if I'm going to bake with chocolate!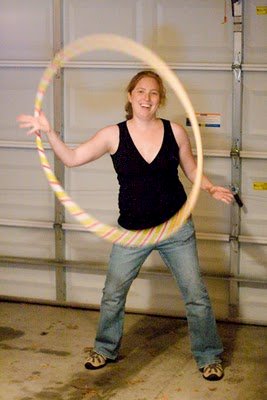 Me hooping in the garage.
It's funny that I don't hoop outside because I don't want my neighbors to watch me
and yet I will post a picture on the blog for thousands of readers to see.
Section 2: Chocolate
While I love baking with chocolate, I also enjoy the fine art of eating chocolate bars. Periodically on this site, I fill you in on some new bars that I've tried from some of my favorite companies.
Section 2A: Patric Chocolate (If you haven't heard of Patric Chocolate, I highly recommend that you read the interview that I did with the owner, Alan McClure, on my now defunct blog, Food Interviews)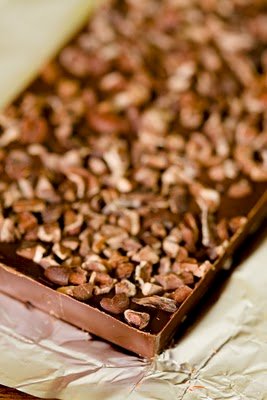 Patric Chocolate has two news bars that I've been meaning to write about for quite some time: a 70% Madagascar Bar with Nibs (shown above – isn't it gorgeous?) and a 70% Rio Caribe Superior. If you are someone that likes mix-ins in your ice cream shakes, I bet you'll love the addition of nibs to Alan's perfect-on-its-own Madagascar bar. I'm an anti mix-in person, so I found the nibs distracting, but I could see how texture fans would embrace the nut-like nibs.
The Rio Caribe bar has a completely different flavor than the Madagascar bar. It reminded me of men's cologne – floral, but in a masculine way. If you can't picture that description tasting good in chocolate – just try it!
Full disclosure: Patric Chocolate is made here in Missouri and Alan has become a personal friend of my husband and me. But, I tell it like it is. If I didn't find his chocolate to be some of the best on the market, I wouldn't recommend it to you.
Section 2B: Amano Chocolate (If you haven't heard of Amano Chocolate, I highly recommend that you read the interview that I did with the owner, Art Pollard, on my now defunct blog, Food Interviews)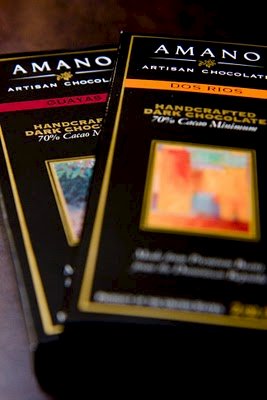 The other day, I received a surprise package in the mail from Amano Chocolate with two new bars, Guyas and Dos Rios. I hadn't even heard that Amano had new bars! I tasted the Guyas first and quickly began to plot out how many days I could make that one bar last and who, if anyone, I would be willing to share it with. Like all of the bars that I am writing about here, this bar has no added flavors. However, like the Patric Madagascar and the TCHO Fruity, it tastes like citrus and berries.
The Dos Rios is different than any chocolate bar that I have ever tasted. The smell of the bar alone is so intense and so complex that I'm not sure you would guess you were smelling chocolate if you didn't know what it was. You might think that it was a pineapple or maybe a bunch of cloves or a sachet of herbs that Grandma kept in a underwear drawer. I wouldn't pick it as the first single origin bar to try, but if you've tried a bunch and are looking for something completely new, this is it.
I admit that half of the time I don't even read the press releases that come with the free stuff I receive. Shame, shame! But, a story in the Amano press release really touched me. "Before Guayas was released to the public, I traveled to Guayaquil, Ecuador, and threw a party for the farmers who grew the beans. This may have been the first time a chocolate company had a 'launch party' with the farmers." Fantastic idea!
From now until the end of March, Cupcake Project readers will receive 10% off any Amano chocolate purchased through their site. Use the coupon code 17V01130R74.
Section 2C: TCHO Beta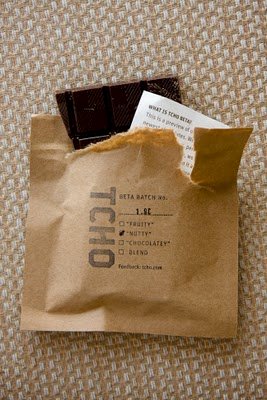 I feel incredibly fortunate to be part of the TCHO Chocolate beta program. I've been getting to try and provide feedback on TCHO chocolate before it hits the market. But, since you can't try it yet (sorry to taunt you), I recommend that you check out the TCHO-A-Day. You can get a 30 day supply of quality chocolate for $20. It's hard to beat that price. It's one of my new favorite gift ideas!
Section 3: Your Chance to be on the Food Network
Last week, I received a Facebook message from someone at the Food Network saying that they wanted to talk to me about the show Cupcake Wars. I tried not to get too excited, but I couldn't help but think that maybe they wanted to cast me on the show. After all, fellow cupcake blogger Natalie of Bake and Destroy got to be a judge. I responded to the message and waited on pins and needles to hear back.
It turns out that while the response wasn't great news for me, it IS great news for you! The Food Network simply wanted me to help spread the word that they are looking for amazing bakers to compete on Cupcake Wars.
If I can't be on the show, I'd love it if one of my readers could! To apply,
email your name, phone number (photos and website if available) and what makes you the perfect candidate for "Cupcake Wars" to supercupcakecasting@gmail.com.
All Done