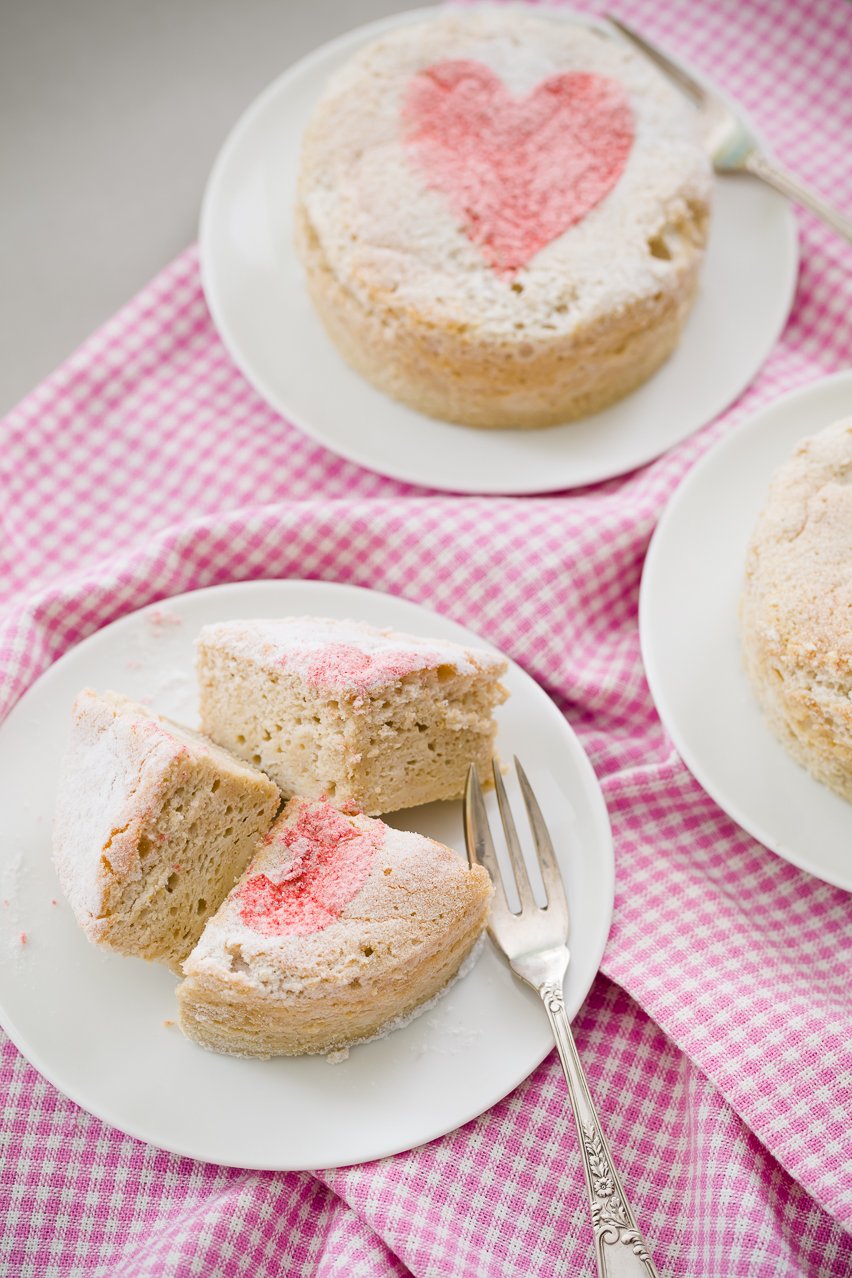 A year ago, I was at a dinner at Oak & Char in Chicago hosted by Meyer. The whole meal was memorable, but (of course) I paid the most attention to dessert. I had never heard of a cotton cake before that night. It's a Japanese cake that's a cross between cheesecake and sponge cake. It has the taste of a New York cheesecake, but none of the density and less of the sugar. Cotton cake weighs almost nothing and softly melts away in your mouth. I made a friend that night from AllRecipes Magazine (psst… I'm going to have articles in a couple upcoming issues!) and for almost a year we traded emails with the subject line of "cotton cake". It was a constant reminder (that I constantly ignored) to try to bake that cake.
Let's fast forward to last week when I attended an ALIVE Magazine event at Thaxton Speakeasy.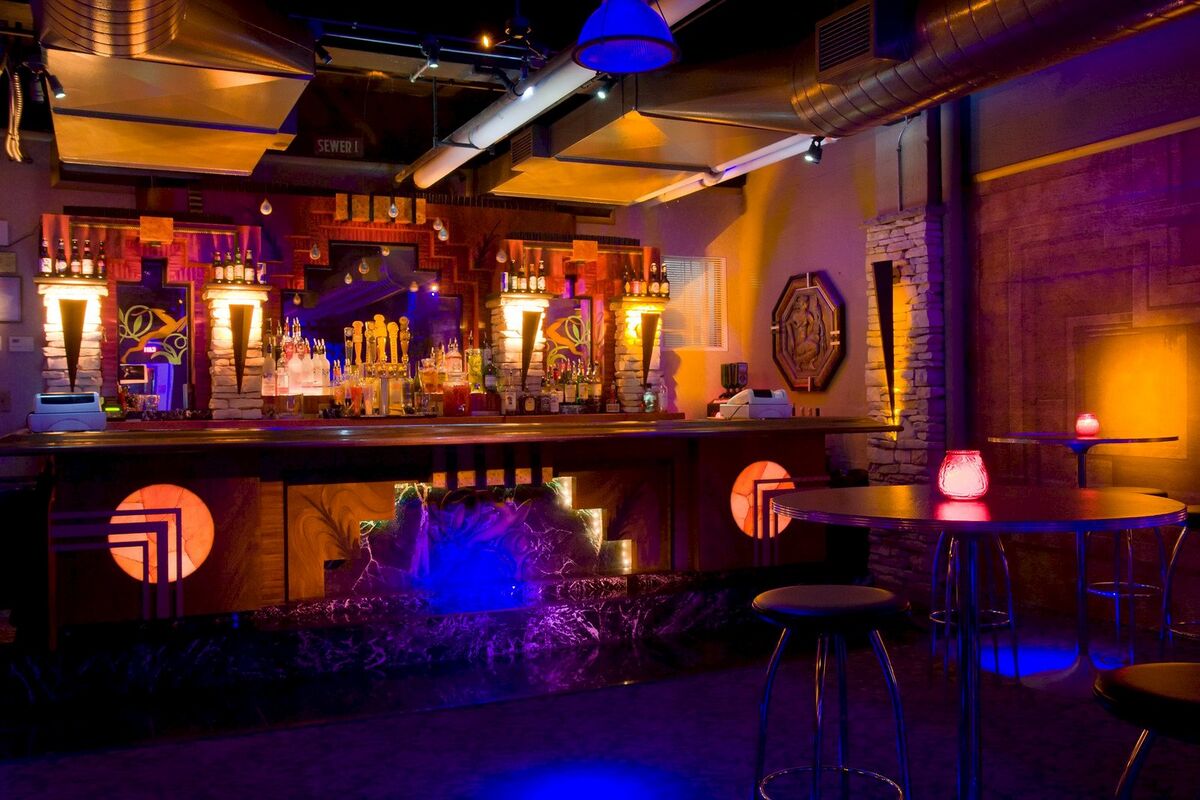 Cool, huh? You'd think I would leave there itching to make classic cocktails – especially since I won a bottle of moonshine! However, at one point in the evening, I had a conversation with an event organizer, Alicia, and she randomly started telling me that Japanese cheesecake (cotton cake) is one of her favorite desserts and how she had never made it. That was the final straw. What was I waiting for? I had to bake cotton cake!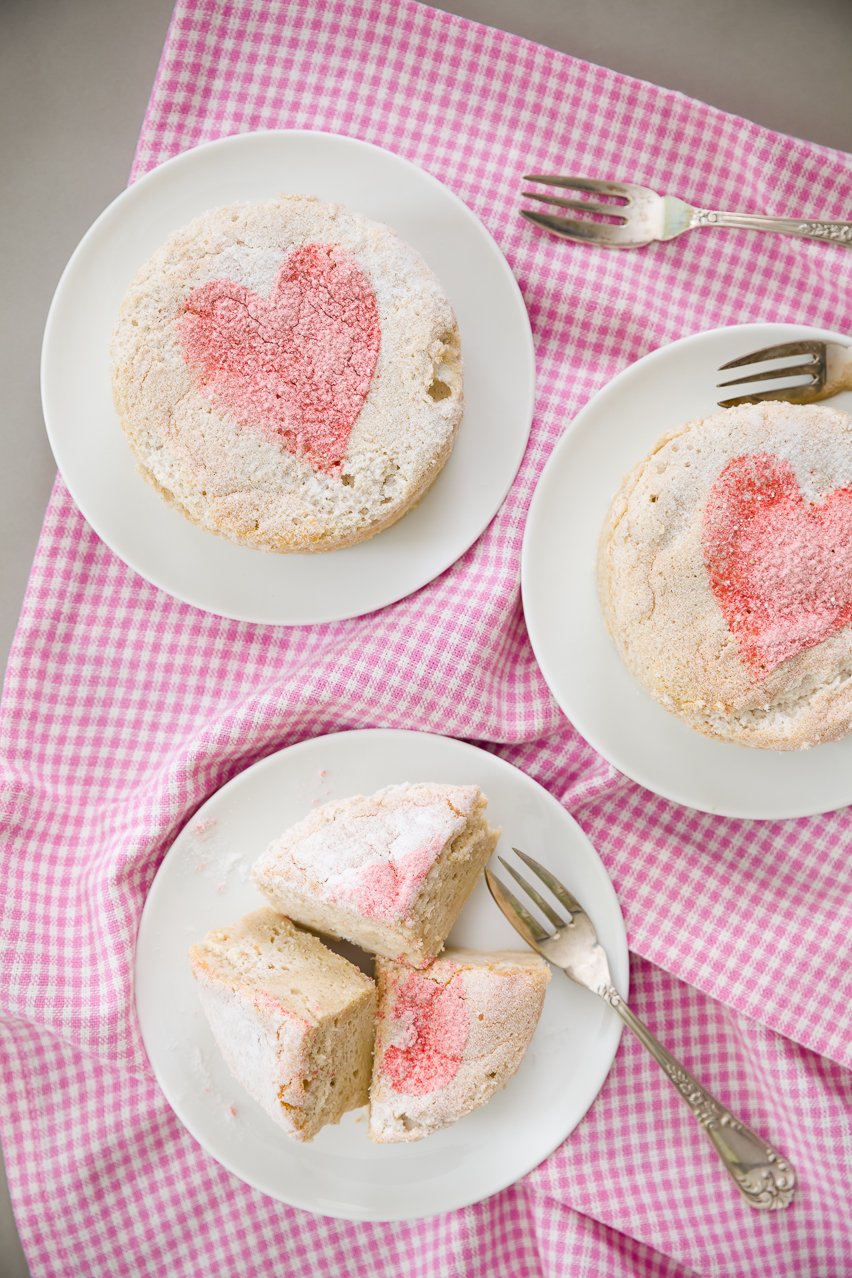 There was a reason that Alicia had decided not to bake cotton cake herself: it's not an easy recipe. To make cotton cake, you'll need to separate eggs, whip whites to perfect soft peaks, strain the lumps out of an egg yolk and cream cheese mixture (I hate breaking out the strainer), set up a water bath, and seal the bottoms of the your springform pans tightly with foil so that no water leaks through. You'll also, as you would with any cheesecakes, have to leave the cakes in the oven with the heat turned off to keep them from cracking (which may happen anyway). Oh, and if you want the strawberry flavor and the little heart on top, you'll need to grind some freeze-dried strawberries in a coffee grinder. So, yeah, as my Jewish grandma would say, this recipe is a potchky (which technically means to tinker, but Grandma says it to mean that it takes a lot of fussing).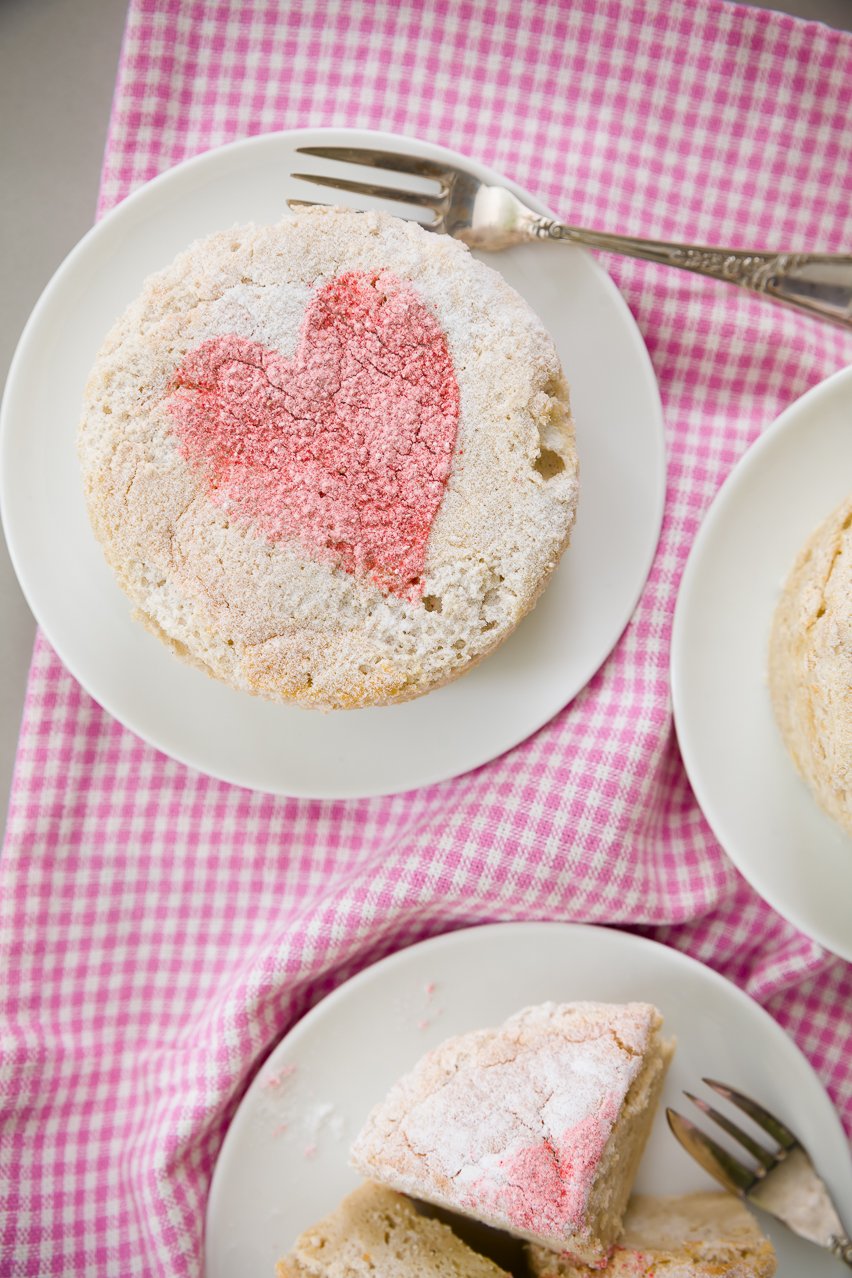 Cotton cake isn't something that I would bake every day or even every month, but it's a type of cake that every cheesecake lover should try at least once. Trying cotton cake is like the first time you experience a pillow top mattress with layers of down comforters (I'm picturing the "W" hotel bed here).
I made my cotton cake using Cake Boss Baking mini springform pans because you know how much I like smaller desserts. However, there is no reason that you couldn't make this recipe full-sized. (View on Amazon)
The Cotton Cake Recipe
I used a cotton cake recipe from RunAwayRice, shown in the video below, with some slight changes. My changes and notes are as follows:
Instead of using lemon juice, I used champagne vinegar.
I added two tablespoons of ground freeze-dried strawberries to the batter along with the flour and cornstarch. The strawberry flavor this produced was really mild. I would suggest doubling this to 1/4 cup for more of a strawberry taste. I would make it again and tell you how it is, but I already made the recipe two times in two days to get it right and I told you that this wasn't a recipe that I would make even every month. So, you're on your own here.
The straining process took much longer for me than it did in the video – my strainer is a finer mesh than hers. If your strainer is like mine, don't give up. Just keep pushing it through. Even though the batter seems too thick, it will eventually pass through the strainer.
I skipped the parchment lining and didn't miss it.
I double-wrapped my springforms in foil. Do you remember how I said that I made the recipe twice? The first time I single-wrapped the springforms and water seeped into the bottom of them and made the cakes wet. Boo!
When using mini springforms, this recipe yields four mini cakes and the bake time is about 45 minutes.
Finally, I made the heart on top of the cake using a blend of ground freeze-dried strawberries and powdered sugar. Oh, and if you aren't serving them right away, the powdered sugar will melt into the cakes unless you use non-melting topping sugar.
I'll end with a very very little known fact about me. "Cotton" is my favorite word. Back in high school, my AOL screen name was "CottonRose". Who was on AOL in the 90's? Are you willing to share your screen name?