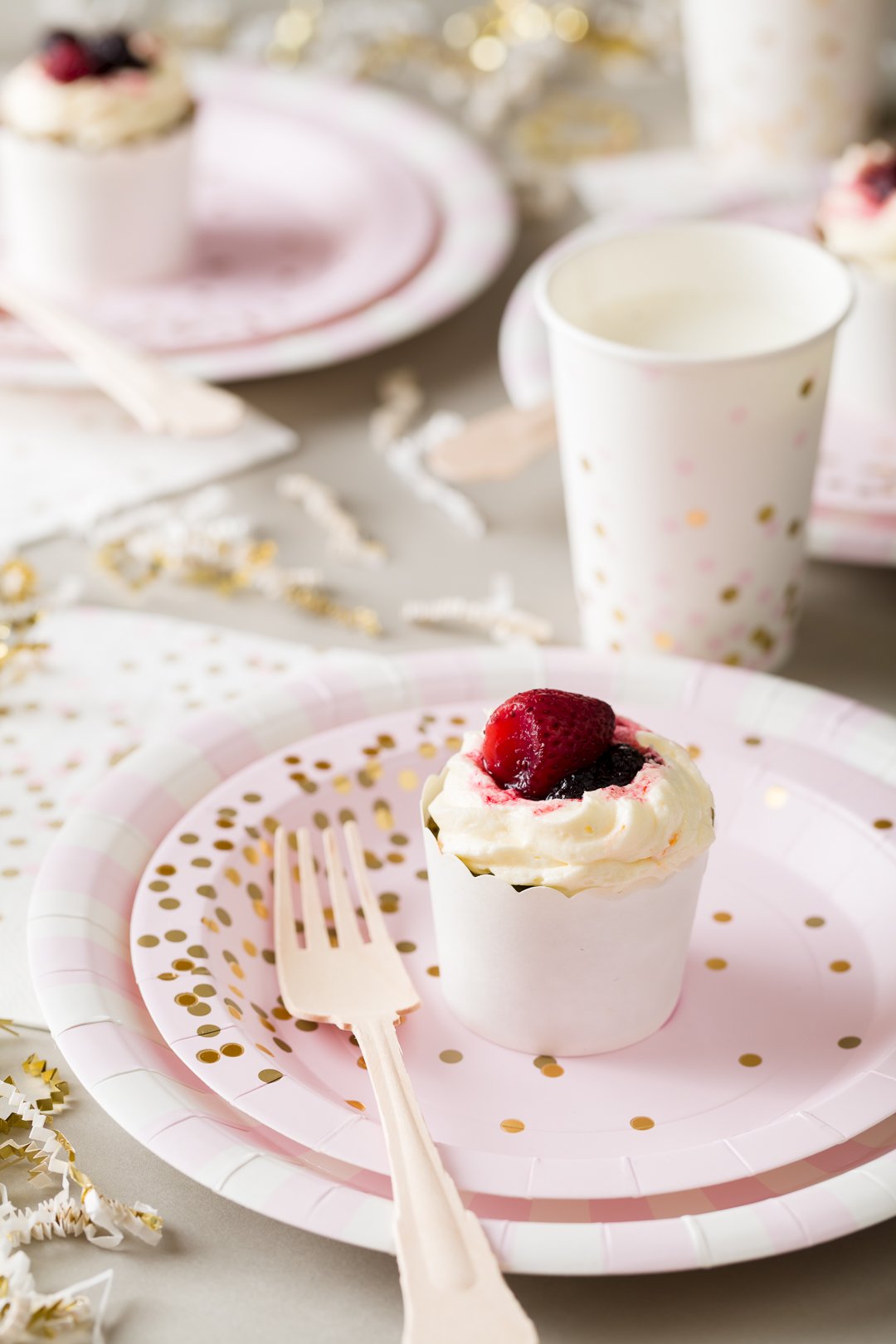 This post was sponsored by Paper Eskimo. I adore their products and I'm thrilled to be working with them. You'll see another post featuring their party goods soon.
I searched my blog archives no fewer than five times before believing that I had never posted sangria cupcakes here. It didn't seem possible. Sangria is one of my favorite drinks (especially for summer). Its combination of wine, sugar, and fruit just begs to be created in cupcake form.
My sangria cupcakes have red wine macerated berries right in the batter, orange buttercream frosting, and more red wine-soaked fruit on top. The cupcakes burst with the complex flavors of sangria and were a tremendous hit with tasters across the country (I served them both in St. Louis and when I traveled to my family in New York this past week).
An Interesting Lesson About Packaging
When I offer people cupcakes, I typically do it in a plastic container – nothing fancy. This time, I gave away sangria cupcakes in these GORGEOUS cupcake boxes from Paper Eskimo. The difference in the way the cupcakes were received was staggering. Normally, people are appreciative. However, when I gave the cupcakes in the Paper Eskimo boxes, people acted as though they were receiving a very special gift. Their eyes lit up. Each person talked about how beautiful the box was before opening it to reveal the cupcake inside. I received emailed and hand-written thank you notes. I give people cupcakes all of the time and no one ever writes me thank you notes. I knew that presentation mattered, but I didn't realize just how much it mattered.
Do you put your desserts in pretty boxes to gift? If not, the next time you give someone a homemade baked good, try putting it in a fancy container. You'll see what I'm talking about.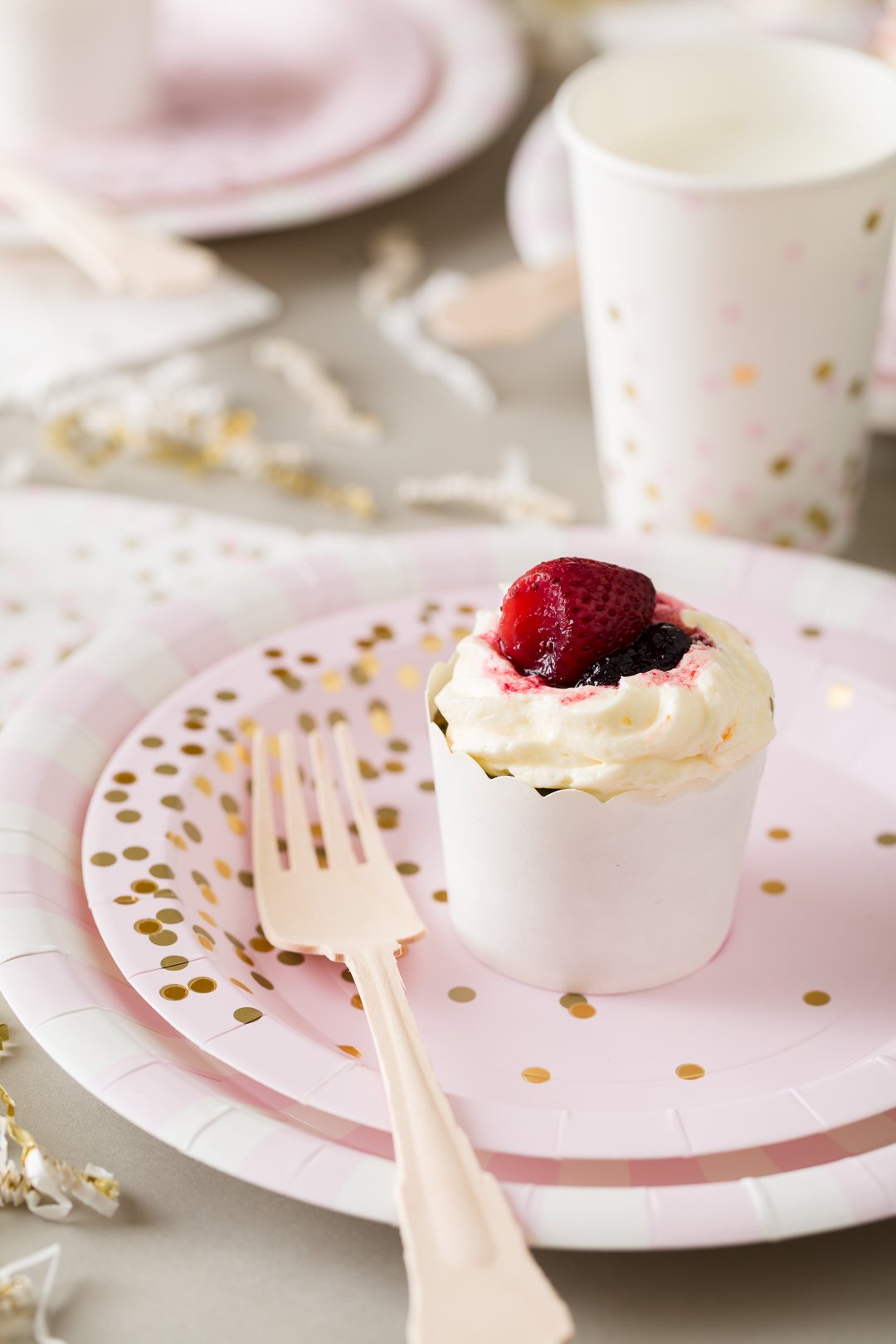 Speaking of presentation, setting a pretty table is something that I have always seen the value of; using pretty plates makes an occasion a celebration. I adore using all of Paper Eskimo's on-trend paper goods. Even though I like my table to look attractive, I don't always want to mess with dishes after a gathering. The plates, cups, and boxes shown here are all from Paper Eskimo's Pink Confetti line. The wooden fork and the scalloped baking cups are also theirs.
I love Paper Eskimo's baking cups because they are thick enough to hold their color (the white cups stay white even with chocolate cupcakes inside). Also, the baking cups stand up on their own so you can use them on a baking sheet.
Sangria Cupcake Recipe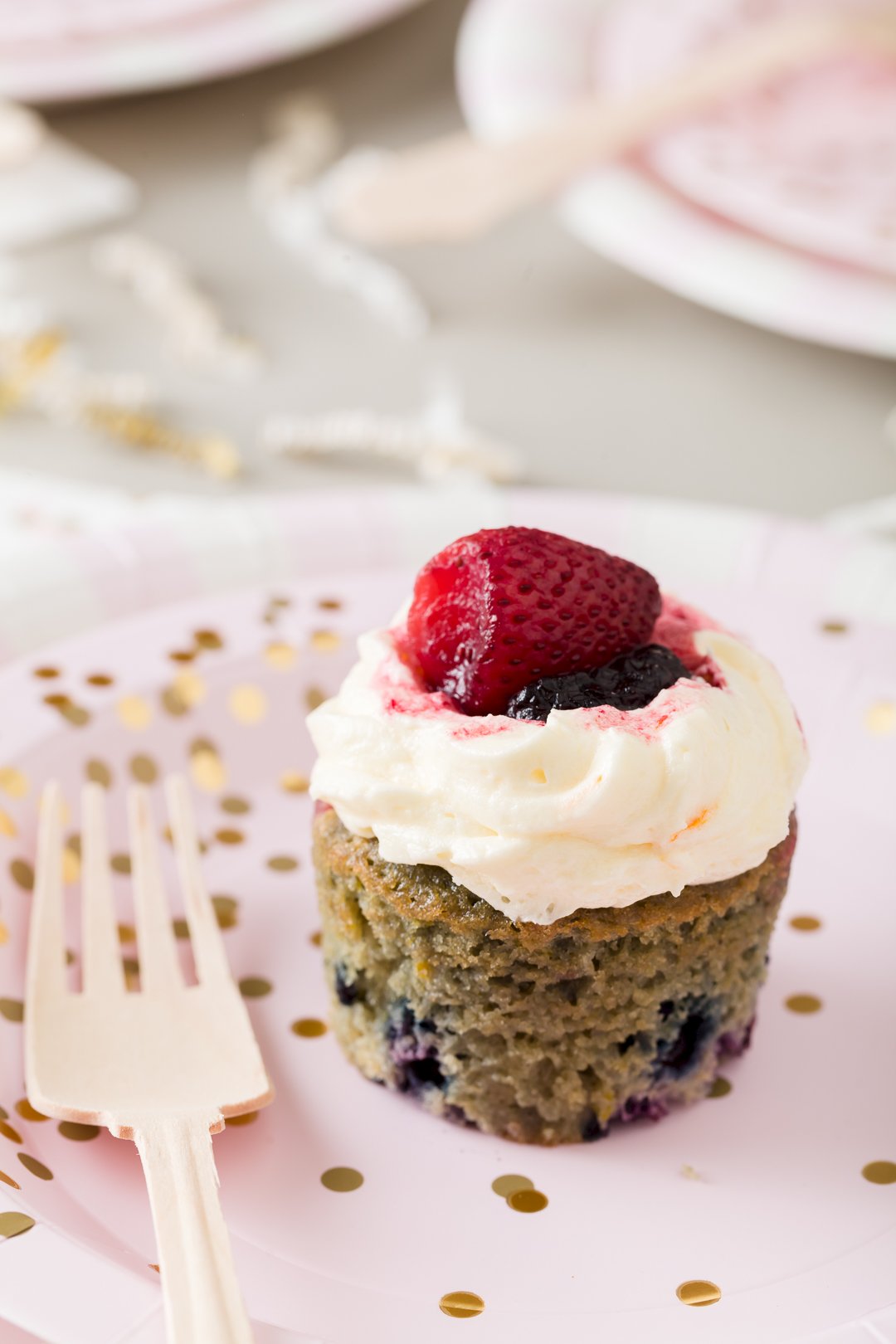 Sangria Cupcakes
My sangria cupcakes have red wine macerated berries right in the batter, orange buttercream frosting, and more red wine-soaked fruit on top.
Ingredients
Macerated Berries Ingredients
10

ounces

mixed berries

1

tablespoon

sugar

1/4

cup

red wine
Cupcake Ingredients
2/3

cup

granulated sugar

1 3/4

cups

cake flour

not self-rising

1 1/2

teaspoons

baking powder

1/2

teaspoon

baking soda

1/2

teaspoon

salt

1

tablespoon

orange zest

from about 1 large orange

1/4

cup

unsalted butter

room temperature

2

large eggs

room temperature

1/3

cup

full-fat sour cream

1/4

cup

canola oil or vegetable oil

1

tablespoon

pure

not imitation vanilla extract

1/3

cup

lemon juice

2/3

cup

macerated berries

scoop up a good mixture of both berries and liquid
Frosting Ingredients
1

cup

unsalted butter

room temperature

4 1/2

cups

powdered sugar

3

tablespoons

orange juice

1/2

teaspoon

lemon juice

1 1/2

teaspoons

orange zest

1/4

teaspoon

salt

remaining macerated berries
Instructions
Macerated Berries Instructions
Gently mix all ingredients in a small bowl and let sit on the counter for two hours, stirring occasionally.
Cupcake Instructions
Preheat oven to 350 F.

In a medium-sized mixing bowl or bowl of a stand mixer, mix together sugar, cake flour, baking powder, baking soda, salt, and orange zest.

Add butter and mix on medium-low speed for three minutes. Because there is so little butter, you'll end up with a very fine crumb texture.

In a small mixing bowl, whisk together eggs, sour cream, oil, and vanilla extract until smooth.

Add the egg mixture to the flour mixture and beat on medium speed until just combined.

Slowly add lemon juice and mix on low speed until just combined.

Fold in macerated berries.

Fill baking cups just over 1/2 full.

Bake for 14 minutes and then test to see if they are done. They are done when a toothpick comes out without wet batter stuck to it. If they are not done, test again in two minutes. If they are still not done, test again in another two minutes.
Frosting Instructions
Beat butter on high speed for three minutes in the bowl of a stand mixer. It should be light and fluffy.

Mix in powdered sugar a little bit at a time until fully combined.

Mix in juice, zest, and salt.

Pipe onto cooled cupcakes.

Use a small spoon to scoop out a small alcove in the center of the frosting swirl. Add a few macerated berries to the alcove and drizzle some of the berry liquid over the rest of the frosting.
Notes
To keep the baking cups from getting berry stains on them, you can wrap foil or parchment paper around the cups while you are drizzling the macerated berry liquid onto the frosting. That way, if the liquid drips down the side of the cup, it will go on the wrapping instead of the cup itself.
Nutrition
Nutrition Facts
Sangria Cupcakes
Amount Per Serving
Calories 547
Calories from Fat 234
% Daily Value*
Fat 26g40%
Cholesterol 81mg27%
Sodium 211mg9%
Potassium 131mg4%
Carbohydrates 76g25%
Protein 3g6%
Vitamin A 690IU14%
Vitamin C 6.7mg8%
Calcium 43mg4%
Iron 0.5mg3%
* Percent Daily Values are based on a 2000 calorie diet.