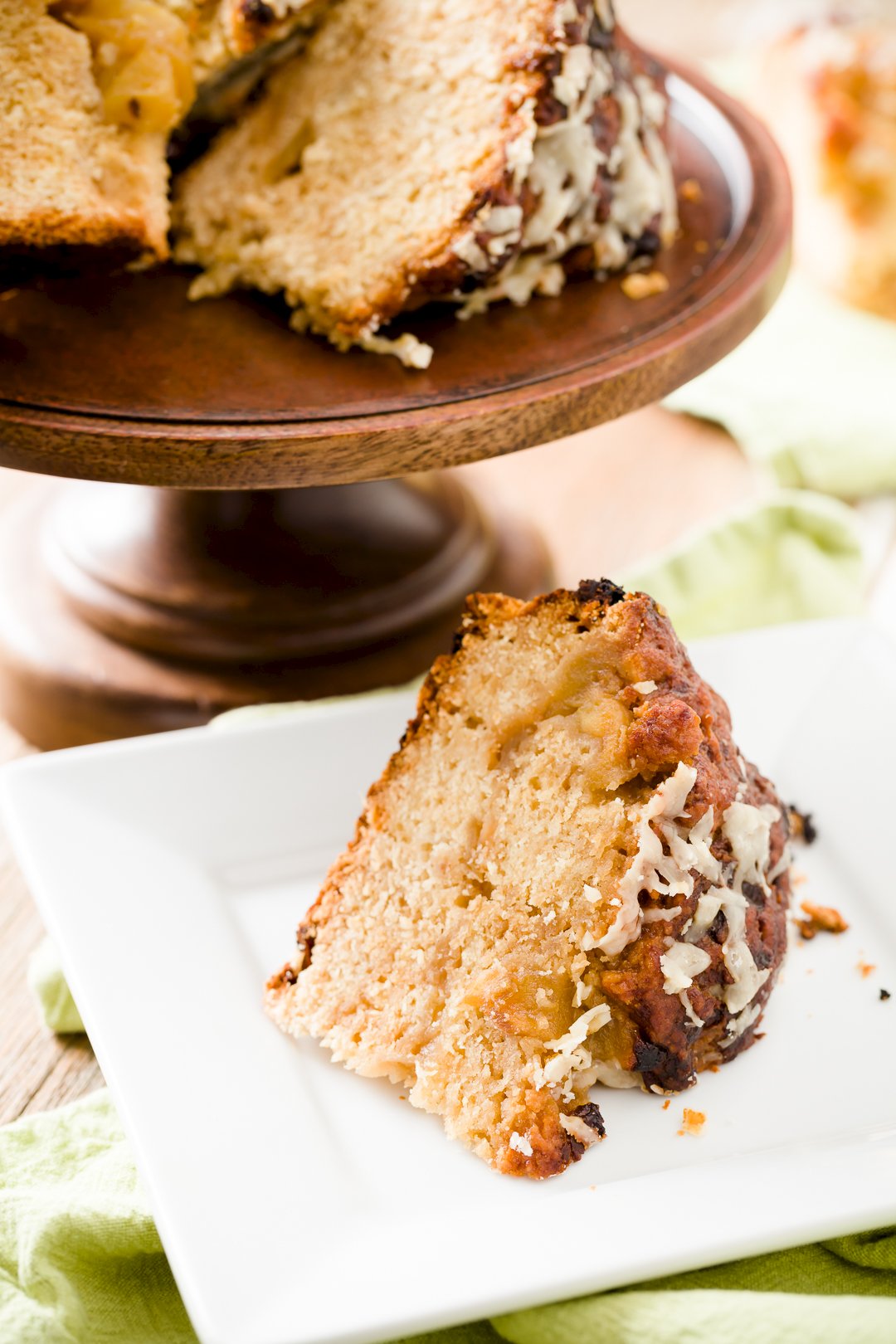 Hours after making this soda bread, I walked in the door from picking my son up from school and my house still smelled like caramel apples and cheese. I wanted to make the bread again just to breathe in that smell. As it turns out, I did make the bread again – three times in total – to get the recipe absolutely perfect before sharing it with you.
Soda bread is one of my favorite kinds of bread to make. There is no yeast, which means there is no waiting, and the whole thing is prepared in a single bowl. Due to the caramel apples, this particular soda bread takes a little bit more effort than a typical soda bread (the extra effort is SO worth it!). Also, my brown sugar caramel recipe is fast and no fuss; you won't even have to mess with a candy thermometer.
In making the bread, I fold the caramel apples in throughout the dough and brush apple-flavored caramel on top of the bread to give it a crunchy, baked-on caramel topping.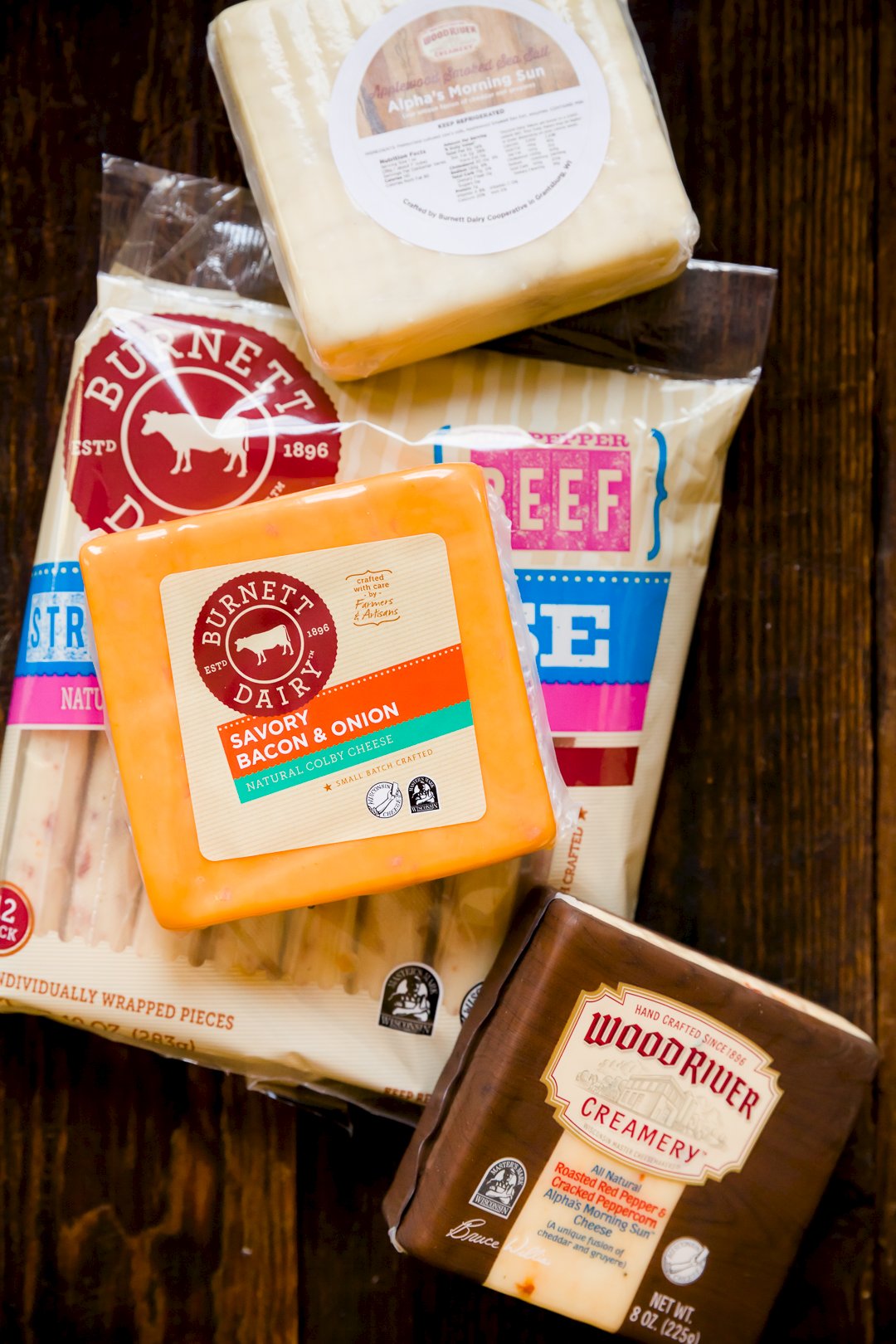 Although soda bread is typically thought of as Irish, I did not look to Ireland for my cheese. Here's the story: Wisconsin's Burnett Dairy approached me about sponsoring this post. I was hesitant at first because I'm a bit of a cheese snob (see my post on chocolate chip cookie grilled cheese sandwiches for more on that). I hadn't tried Burnett Dairy's cheese and I was not about to endorse a so-so product. They sent a sample along and I was immediately sold! I used eight ounces of Burnett Dairy's Alpha's Morning Sun Applewood Smoked Sea Salt cheese (the top cheese in the photo above) for this soda bread. This cheese is a unique fusion of Cheddar and Gruyere that's punchy and ever-so-slightly smokey. I had trouble not eating all the cheese before using it in the bread. In fact, when you read the recipe, you'll see that there is a step that permits you to eat some of the cheese by itself because I know you won't be able to resist the temptation!
By the way, those cheese sticks in the background of the above photo are pretty fabulous, too. Our family has been chowing down on their hot pepper beef flavor. I also really want to try their smoked string cheese.
Caramel Apple and Cheddar Soda Bread Recipe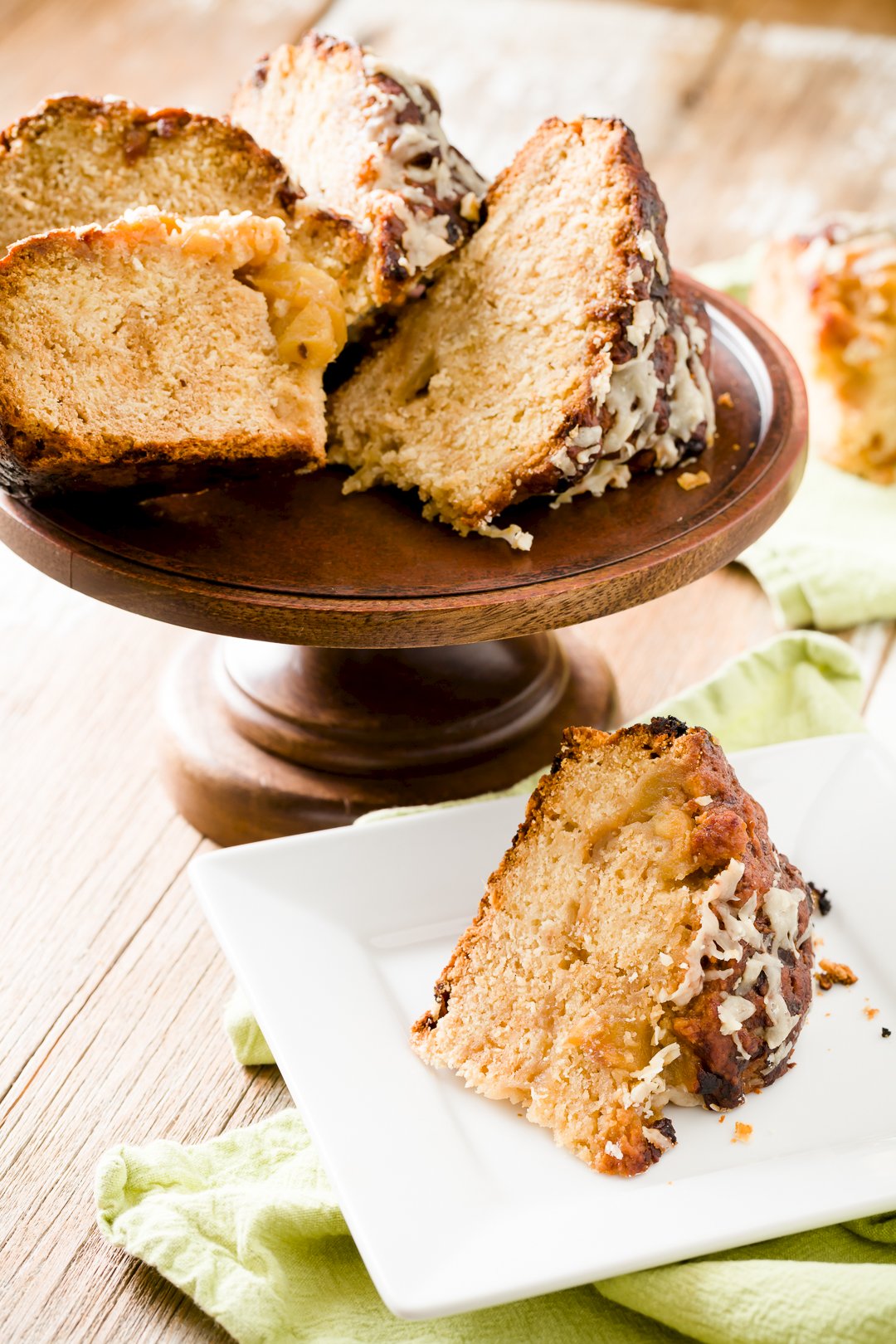 I adapted my soda bread recipe from the five star Irish Soda Bread recipe by MP Welty on AllRecipes.
Caramel Apple + Cheddar Soda Bread
Soda bread is enhanced with caramel apples and sharp cheddar.
Cook Time
1
hour
45
minutes
Total Time
2
hours
5
minutes
Ingredients
Caramel Apple Ingredients
1/4

cup

unsalted butter

2/3

cup

brown sugar

3

small apples

peeled, cored, and cut into thin wedges

2

tablespoons

whiskey

optional
Soda Bread Ingredients
4

cups

all-purpose flour

1/4

cup

sugar

1

teaspoon

baking soda

1

tablespoon

baking powder

1

teaspoon

salt

6

tablespoons

unsalted butter

room temperature

1

cup

buttermilk

1

large egg

8

ounces

Alpha's Morning Sun Applewood Smoked Sea Salt cheese

or any cheddar cheese, shredded
Instructions
Caramel Apple Instructions
Place butter and brown sugar in a small pot on medium heat. Stir periodically until butter and sugar are melted.

Add apple wedges. Continue to stir periodically until apples are soft (about 7 minutes).

Remove from heat and optionally stir in whiskey. Caramel will be very liquidy.
Soda Bread Instructions
Preheat oven to 375 F.

In a medium-sized mixing bowl, mix flour, sugar, baking soda, baking powder, salt, and butter.

Mix in buttermilk and egg.

Mix in two cups of the cheese.

Turn out onto a board, form dough into a ball, knead it a couple of times, and press the ball flat.

Use a slotted spoon to remove the apples from the caramel and place them on top of the dough circle (you'll use the caramel later).

Fold the dough up and around the apples and form it back into a circle. You'll notice that the dough will get wetter (that's OK).

Place dough into a greased 8" skillet or pan.

Cover and bake for 60 minutes.

Brush 1/3 of the caramel that you scooped the apples out of over the top of the bread.

Cover again and bake for 30 minutes.

Brush the next 1/3 of the caramel over the top of the bread.

Cover again and bake for 15 minutes.

Brush the remaining caramel over the bread.

Uncover and bake for five minutes to let the top brown.

Remove from the oven and turn out onto a cooling rack.

While the bread is still piping hot, sprinkle shredded cheese over the bread. You can use as much or as little of the remaining cheese as you like. Keep in mind that you get to eat whatever is left over!

When cool, slice and eat!
Nutrition
Nutrition Facts
Caramel Apple + Cheddar Soda Bread
Amount Per Serving
Calories 423
Calories from Fat 153
% Daily Value*
Fat 17g26%
Cholesterol 60mg20%
Sodium 435mg18%
Potassium 261mg7%
Carbohydrates 55g18%
Protein 10g20%
Vitamin A 560IU11%
Vitamin C 2.1mg3%
Calcium 227mg23%
Iron 2.4mg13%
* Percent Daily Values are based on a 2000 calorie diet.