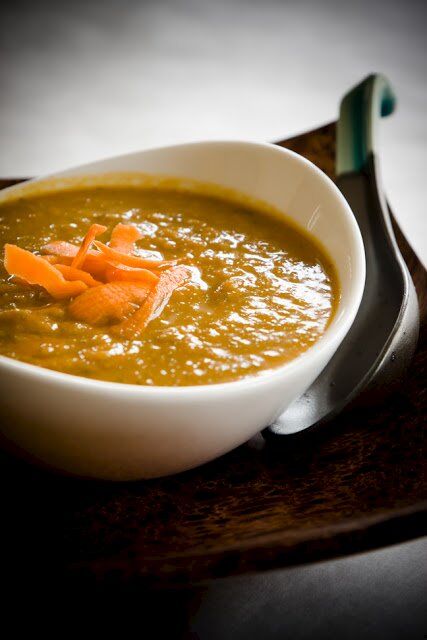 When I think miso, I think of a thin broth – a perfunctory salty soup served pre-sushi with a few tofu cubes (little rafts) and a couple of button mushrooms (small people trying to get to the rafts).  I never think of miso as a seasoning.  Completely inspired by an apple cobbler in this month's Bon Appetit that has a miso streusel topping, I decided to try out some unconventional uses of miso.  In this post, I'll tell you about a broccoli soup seasoned with miso (it's soup with miso, but not miso soup).  Then, in a future post, I'll tell you about a miso ice cream. I'll round out the series with ginger pear cupcakes with miso salted caramel.
Brocolli Miso Soup

The broccoli miso soup is well-salted (with no added salt) and creamy (with no milk or cream) – all from the miso.  The miso also provides the soup with an unexpected depth of flavor.  Brocolli, carrots, onions, and olive oil make a stir fry, but the same ingredients with some miso can make a hearty winter soup.
I found the recipe for brocolli miso soup on Well Fed. Here's the recipe as I made it (I adjusted it just a bit from the original):
If you've tried this recipe, please RATE THE RECIPE and leave a comment below!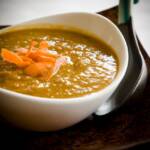 Broccoli Miso Soup – It's Not Just Miso Soup with Broccoli
Ingredients
2-3

tbsp

extra virgin olive oil

1

medium onion

finely chopped

2

carrots

finely chopped

a bunch of broccoli

about 8 oz, florets removed from the stems, the stems peeled with a vegetable peeler and diced (I used brocollette because I had it in the house. It's one of those crazy hybrid vegetables - a cross between broccoli and kale)

4

tbsp

white miso dissolved in 1 cup of water

I used red miso

2

bay leaves

1

tsp

freshly grated nutmeg
Instructions
Heat a large stock pot over medium-high heat.

Add enough olive oil to coat the bottom.

When the oil is hot, add the onions and carrots and cook until the onions are translucent and the carrots are beginning to get soft, about 5 minutes.

Add the diced broccoli stems and cook for about 5 more minutes, until the stems begin to soften.

Add the broccoli florets, the dissolved miso paste, and the bay leaves.

Add enough water to cover the florets.

Bring the water to a boil.

Lower heat and simmer for about 35 minutes or until the carrots, broccoli stems, and florets are very tender.

Remove the bay leaves.

Use an

immersion blender

to puree the contents of the pot. (You could dump the contents of the pot into a standard blender, but treat yourself to an immersion blender. It's a great item and not too expensive.)

Add the nutmeg and any other seasonings that you like (I didn't see the need to add anything - not even salt or pepper).

Eat!