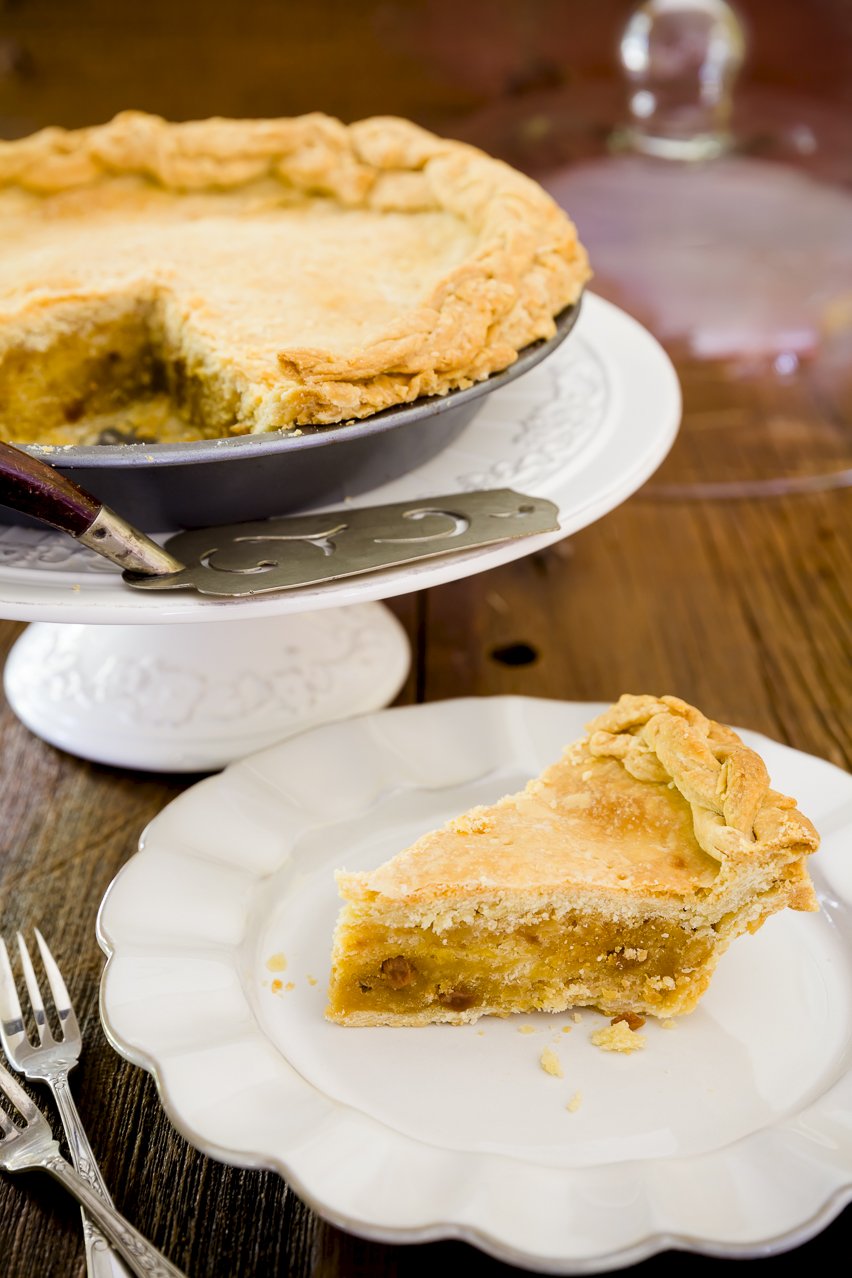 I baked bread pudding into a pie because that's the crazy kind of thing I love to do. The bread pudding pie experience is intense, ultra-carby goodness! Pocketed in the flaky crust, the bread pudding stays super moist. The only thing that could make bread pudding pie better would be to drizzle it with cream or to serve it à la mode.
Here's Where I Randomly Share A Poem
As I sat down to write about this pie, I couldn't get this childhood nursery rhyme out of my head:
Georgie Porgie, Puddin' and Pie,
Kissed the girls and made them cry,
When the boys came out to play
Georgie Porgie ran away.
I then re-wrote it to be more relevant:
Stefani Pollack put puddin' in pie.
Her family ate it and said, "Oh My!"
When the neighbors all came over to play,
Stefani hid the pie away!
Please excuse the creative liberty I took here. In truth, I really am a sharer. Seriously, call me almost any day, and I will give you baked goods – my house is loaded with them.
A Little History
My bread pudding pie is based on a recipe from Liverpool called a Wet Nelly. (Aren't you glad that I called it bread pudding pie instead?) The BBC prepares a Wet Nelly as I did, like pie. More typically, Wet Nelly is a simple bread pudding (a way to use up stale bread).
I heard about Wet Nelly from reader Debbie Cahill who said, "Tis rather awesome stuff, it's an old scouse (ie Liverpool – where I'm from) recipe that goes back to Victorian times I think when people didn't have a lot of money (otherwise known as being skint). It's dead cheap to make, dead easy to do, plus it's vegan as well…My mum in law taught me this as she used to work in a bakery and people used to queue round the block for it." Debbie was kind enough to share her non-pie Wet Nelly recipe and I'll post that after my recipe at the end of this post.
My New Favorite Pie Product
I've long struggled with covering the edges of my pies with foil so that the crust doesn't burn. The foil has a nasty habit of falling off. This pie guard works quite well and it adjusts to all different sizes to work on all of my pie pans. Love it! (View on Amazon)
Bread Pudding Pie Recipe
Please use my bread pudding pie recipe as a loose guide. If you have a favorite bread pudding recipe, you can experiment with baking it inside of your favorite pie crust. The recipe below is ever so slightly altered from BBC's Wet Nelly.
Bread Pudding Pie
I baked bread pudding into a pie because that's the crazy kind of thing I love to do. The bread pudding pie experience is intense, ultra-carby goodness!
Total Time
1
hour
5
minutes
Ingredients
3/4

cup

golden raisins

1/2

cup

rum

2 3/4

cups

leftover cake - ideally a spongy vanilla cake

but any white cake will do

2 1/4

cups

day-old bread

crumbled into crumbs

1

lemon

zest and juice

1/4

cup

+ 2 tablespoons heavy whipping cream

2 1/2

tablespoons

golden syrup

alternatively, use honey

3

large

large egg yolks

Enough pie dough for a double crust

I doubled my vegan pie crust recipe - not because this is a vegan pie, but because it's easy and I love it!
Instructions
In a small bowl, soak raisins in rum. Let sit for 20 minutes.

Preheat oven to 450 F.

In a large bowl, mix cake, bread crumbs, lemon zest and juice, heavy whipping cream, golden syrup, and egg yolks.

Drain the rum from the raisins and mix the raisins in with the other ingredients.

Split the pie dough in half and roll out the first half to fit a 9" pie pan.

Press rolled dough into the bottom of the pan.

Place prepared filling into the pie pan.

Roll out top crust, place over filling, and press together with the bottom crust around the edges to seal. I made a fancy braid on mine with a little of the excess dough, but that is not at all required.

Bake 15 minutes.

Reduce heat to 350.

Bake 20 minutes. Check the crust; if the edges are browning too much, cover with foil or a pie guard.

Bake for another 20 minutes or until the whole crust is lightly browned.

Serve warm, ideally with cream or ice cream.
Nutrition
Nutrition Facts
Bread Pudding Pie
Amount Per Serving
Calories 401
Calories from Fat 144
% Daily Value*
Fat 16g25%
Cholesterol 92mg31%
Sodium 292mg12%
Potassium 201mg6%
Carbohydrates 50g17%
Protein 5g10%
Vitamin A 220IU4%
Vitamin C 7.6mg9%
Calcium 52mg5%
Iron 2.2mg12%
* Percent Daily Values are based on a 2000 calorie diet.
As Promised, Debbie's Simple Vegan Wet Nelly Recipe
You will need:

1 loaf of fresh bread left to go stale overnight
Water
Dried fruit (usually raisins / sultanas)
Spices (anything you want – I use cinnamon, nutmeg and allspice)
Sugar

And that's all you need! To make it…

Heat your oven to about 160c (325 F).
Rip up the bread into random size chunks and dunk in the water for a few seconds.
Squeeze the water out and dump in a baking tin.
Add dried fruit, sugar and spice in any quantity you feel like.
Squidge around by hand until mixed and flatten down.
Sprinkle the top with more sugar.
Bake in the lower part of the oven until it goes crisp on top.

And that's it! Nice warm, just as nice cold. It's dense, filling and just downright lovely.