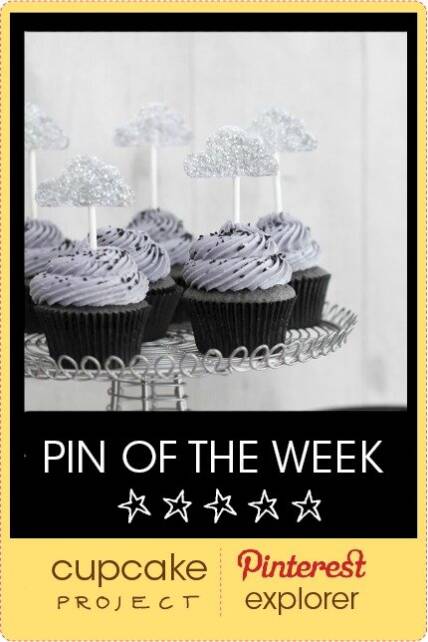 This week's Pin of the Week chosen by Pinterest Explorer Karen Scully is black sesame cupcakes with lemon curd from Sprinkle Bakes.  Julie says of these cupcakes, "These are my absolute favorite. I have made them a few times. The contrast between cake and filling is dramatic – and, they taste so good!"  Although I haven't tried the cupcakes myself, Karen's review doesn't surprise me at all.  Heather of Sprinkle Bakes does amazing work!  Check out her baklava cheesecake and her mini oreo sprinkle cake.
The Pin of the Week is on our National Cupcake Day Pinterest Board where each Explorer pinned her favorite cupcake recipe.  (I would say his or her, but I don't think we have any dudes in the group – there must be a cupcake- and Pinterest-loving guy out there somewhere!)  Check out the pin and repin it!
This Week's Outstanding Explorer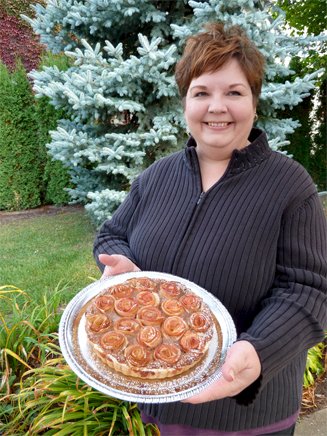 This week's Outstanding Explorer is Karen Scully.  Karen has been a huge asset to the Pinterest Explorers.  One of my favorite things that she has done for the group is to almost single-handedly curate our painted cupcakes Pinterst board.  She's found some beautiful cupcakes!
Karen is from Terra Nova, Ontario, Canada.  In Karen's photo above, she is posing with the apple pie that won her first prize in the Creemore Apple Pie Contest against nineteen other pies.  She got the idea for the apple roses from Diane, A Broad, but the pie filling and crust were Karen's own recipes. The pie took two hours to make and she was so excited to take home the red ribbon (red is first place in Canada).
While Karen hasn't yet started writing a blog (it's in the works), she does have a Facebook page that you can follow to see her latest creations like angel food cupcakes in phyllo pastry cups.
Karen loves funny colored socks.  She writes, "They are like having a secret that no one knows unless I pull up my pants to show them off (which sometimes I do LOL) or take off my shoes."  I wish that I lived closer to her so that I could see them all!
Congrats, Karen, and thanks for all of your hard work!