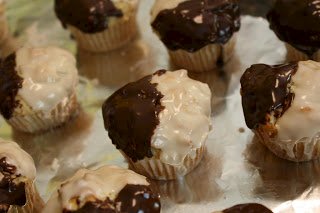 Being from NY, I love Black and White cookies. I wanted to recreate the essence of the black and white cookie in a black and white cupcake. Most people in St. Louis haven't heard of black and white cookies except for maybe a reference to black and white cookies on Seinfeld. What better way to introduce them to this NY treat than a black and white cupcake!
Black and White Cupcake Recipe
For the yellow cake, I opted for the yellow cake recipe on The Longbored Surfer's site. [Note: The recipe is no longer found on that site. I have reprinted it below.] I liked that it had sour cream in it. I traditionally like sour cream cakes. Remember that even though it's for someone else's wedding, it's really all about me.
Black and White Frosting Recipe
After doing some extensive web research, I came across a recipe for mini black and white cookies on Epicurious. My main concern about these cupcakes was that the black and white frosting needed to be authentic. It should be hard so that you can peel it off if you want to, not poofy. The icing on the Epicurious recipe had enough good reviews that I decided to give it a go.
Black and White Cupcakes: A Taste of NY
These look like the iconic black and white cookie and have the same amazing taste.
Ingredients
Cupcake Ingredients
1.5

C

flour

3/4

C

Sugar

1.5

t

baking powder

1/2

t

salt

1

stick

1/2 C butter

1/2

C

sour cream

1

large egg

2

large egg yolks

2

t

vanilla extract
Black and White Frosting Ingredients
2 3/4

cups

confectioners sugar

2

tablespoons

light corn syrup

2

teaspoons

fresh lemon juice

You may consider leaving this out if you don't want a lemon flavor.

1/2

teaspoon

vanilla

4 to 6

tablespoons

water

1/4

cup

unsweetened cocoa powder
Instructions
Cupcake Instructions
Preheat oven to 350 degrees with the oven rack in the middle position. Line a 12-cup muffin tin with cupcake wrappers.

Combine the flour, baking powder and salt in a medium bowl and set aside.

Cream together the butter and sugar until light colored and fluffy, about 3 minutes.

Add the egg, egg yolks, and vanilla and beat at medium speed until thoroughly incorporated. Add the sour cream and beat until incorporated.

Add the flour mixture and beat until just incorporated.

Spoon the mixture into the muffin cups and bake until a toothpick inserted in the center of a cupcake comes out clean, about 20 minutes.

Remove and cool to room temperature on a rack, about 45 minutes.
Black and White Frosting Instructions
Stir together confectioners sugar, corn syrup, lemon juice, vanilla, and 2 tablespoons water in a small bowl until smooth. If icing is not easily spreadable, add more water, 1/2 teaspoon at a time. Transfer half of icing to another bowl and stir in cocoa, adding more water, 1/2 teaspoon at a time, to thin to same consistency as vanilla icing. Cover surface with a dampened paper towel, then cover bowl with plastic wrap.

With offset spatula, spread white icing over half of each cupcake. Starting with cupcakes you iced first, spread chocolate icing over other half.
Nutrition
Nutrition Facts
Black and White Cupcakes: A Taste of NY
Amount Per Serving
Calories 263
Calories from Fat 27
% Daily Value*
Fat 3g5%
Cholesterol 51mg17%
Sodium 115mg5%
Potassium 128mg4%
Carbohydrates 56g19%
Protein 3g6%
Vitamin A 125IU3%
Vitamin C 0.4mg0%
Calcium 48mg5%
Iron 1.2mg7%
* Percent Daily Values are based on a 2000 calorie diet.
Use Corn Syrup that is not High Fructose Corn Syrup
I am typically an anti corn syrup in baking person. However, that mainly stems from my dislike for pies that use corn syrup to thicken their filling. I think that alters the flavor and makes it taste less natural. I decided though, that I should give corn syrup a chance since it was an important ingredient in this icing.
I stopped at Schnucks to pick some up since I questioned whether Whole Foods would even stock it. To my chagrin, the main ingredient in the bottle of corn syrup at Schnucks was high fructose corn syrup. If I used that, my husband wouldn't eat my cupcakes. Essentially there is no high fructose corn syrup allowed in our home.
So.. I headed to Whole Foods with my fingers crossed. They had it it right next to the maple syrup and it was just plain organic corn syrup. Perfect!
Black and White Cupcake Reviews
I loved these cupcakes. I thought they tasted just like black and white cookies. The icing was perfect. It was however, really messy. When you put the icing on the cupcakes it is still wet and then it hardens. While it's wet, it's hard to keep it from dripping down the side of the cupcake wrapper. I'd have to work on that if I made them again.
The bride and groom to be thought the cake was too heavy and the white portion of the icing was too lemony.
I may try to make a fluffier version with no hint of lemon in the white icing for them at some point, or I may just keep this one as my own private indulgence to share with New Yorkers when they visit.