Biko is a new dessert to me, and unless you are Filipino, it's probably new to you as well.  Biko is a coconut sticky rice cake.  When I say rice cake, please, please don't picture those flavorless Styrofoam-like "desserts" enjoyed by dieters all over America. Biko cupcakes are like eating a bowl of brown sugar-topped coconut-flavored oatmeal in cupcake form. Enjoy them warm out of the oven for breakfast or top them with mango sorbet and latik (read my post about latik if that word means nothing to you) as a sweet end to a home-cooked meal.

Biko Cupcake Recipe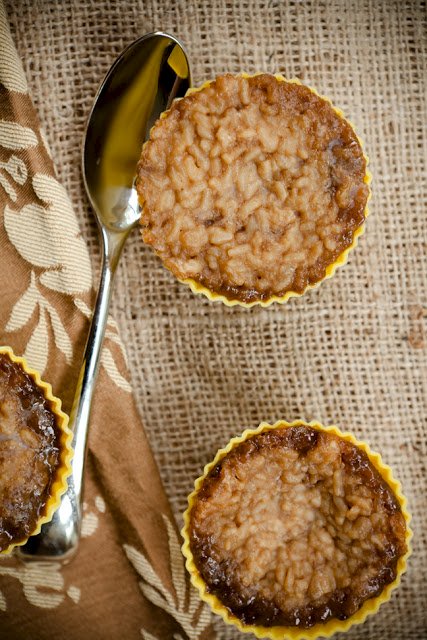 This biko recipe comes from Ivory Hut.  I've reprinted that recipe with my transformation to cupcakes below.
If you've tried this recipe, please RATE THE RECIPE and leave a comment below!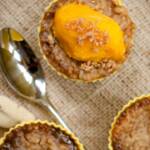 Biko Cupcakes with Mango Sorbet – Gluten-Free Filipino Dessert
Ingredients
3

cans

14 oz each full-fat coconut milk (do not shake them to mix)

2

cups

water

4

cups

sweet rice

otherwise known as sticky rice or glutinous rice

2

cups

brown sugar

divided
Instructions
Skim one cup of coconut cream off the top of the cans of coconut milk. Depending on the brand, this may take one or more of the cans. Set the cream aside.

Pour the rest of the coconut milk, any cream from the cans, and the water into a large pot on medium heat. Whisk to combine.

Bring to a simmer.

Add the rice and stir until rice is fully cooked (approximately 15 minutes). It should be similar in texture to a sticky risotto. If the rice starts to get sticky but isn't cooked yet (you'll have to taste it - cooking is such a rough job), then add a little bit more water and continue to stir and test until cooked. The stirring is a good arm workout (just like when you make

polenta

) - especially as the water evaporates and the rice becomes heavier.

Stir in 1 cup brown sugar and remove from heat.

Divide evenly between cupcake wrappers. Note: This is STICKY rice. It will stick to your typical cupcake wrappers. I highly recommend baking these cupcakes in

silicone liners

or in cupcake liners that are non-stick, such as the

If You Care

brand. Thanks to

my friends on Facebook

(especially Adrienne Gauthier) for the tips about the non-stick liners.

In a small bowl, mix the remaining cup of brown sugar and the coconut cream.

Spread on top of unbaked cupcakes.

Bake at 350 F for 40 minutes until topping is dark brown around the edges and the cupcakes have thickened.

Serve warm. Optionally, top with ice cream or sorbet with

latik

sprinkled on top.