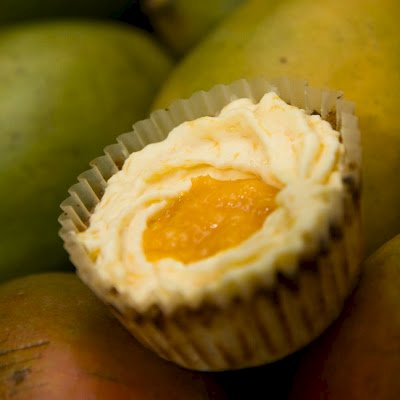 One year ago today, I posted the first cupcake on this blog. It was an Indian-inspired chai cupcake. By total coincidence, one year later, I am posting another Indian cupcake.
I wanted to make Indian cupcakes to go with my
Taste & Create
naan recipe
('cause you know, you need a starch to go with a starch). The problem was that I couldn't find any good Indian cake recipes. I didn't want to simply bake an Indian-influenced cupcake like the chai cupcakes – I wanted to use an actual Indian cake recipe.
How Did I End Up Making Bhapa Sandesh?
To come up with an Indian cupcake recipe, I emailed my friend Nupur of One Hot Stove. I asked her what she would recommend. I expected maybe a suggestion or two. Nupur went above and beyond to make sure that I had the information that I needed.
First, she explained why I couldn't find many Indian cake recipes online: "Well, cakes in India are a Western import really. Typically, Indian kitchens don't even have an oven so desserts are made on the stove-top rather than oven-baked." She then went on to give me a slew of ideas for a variety of cakeish Indian desserts. Thanks so much, Nupur!!
The recipe that stuck out for me was bhapa sandesh from
Bong Mom's Cookbook
. It couldn't have been more perfect.
Sandeepa of Bong Mom's Cookbook made the recipe for
her
one year blog anniversary! She said on her blog, and I repeat to you, "
All joyous occasions in India are celebrated with something sweet and so here is 'Bhapa Sandesh' or Steamed Sandesh for all of you on the Blog turning One.
"
What is Sandesh?
I had to turn to
Wikipedia
to answer the question, "What is sandesh?" Sandesh is "a sweet that is made in West Bengal state of India and in Bangladesh… It is created with coconut and sugar. Some recipes of Sandesh call for the use of chhana (curdled milk) or paneer instead of coconut. Some people in the region of Dhaka call it pranahara (literally, heart 'stealer') which is a softer kind of sandesh, made with mawa and the essence of curd."
The bhapa sandesh that I made did not have coconut, nor did it use chhana or paneer. Instead, it used ricotta cheese. It did have mawa (dried milk powder), but I'm not sure if that made it a heart stealer variety or not.
Did the Bhapa Sandesh Indian Cupcakes Steal My Heart
The bhapa sandesh Indian cupcakes didn't quite steal my heart. I liked them, but they were by no means my favorite cupcakes. I found them to be a bit too rich. They seemed like an Indian version of a ricotta cheesecake.
The bhapa sandesh Indian cupcakes did, however, steal the hearts of some of my other tasters. People seemed to enjoy the moistness and the mango flavor. In fact, my friend Ran just left this cupcake-related comment on my mango frosting recipe post: "These were some of my favorite Stef cupcakes in some time. Fantastic flavor and moisture levels. A perfect summer cupcake!"
The Bhapa Sandesh Indian Cupcake Recipe
As noted above, I got the recipe from Bong Mom's Cookbook. I am reprinting it with my notes and modifications below.
Tea masala extract
Bhapa Sandesh Indian Cupcake
The bhapa sandesh Indian cupcakes have a similar feel to ricotta cake.
Ingredients
Cupcake Ingredients
2

C

whole milk ricotta cheese

If you've got a little time, make your own ricotta.

1/2

C

sweetened condensed milk

1/2

C

milk-mawa powder

You should be able to find mawa at any store that sells Indian groceries.

10

drops tea masala extract

My tea masala extract was a gift from Nupur so it seemed fitting that I would use it in a recipe she recommended. If you don't have any on hand, you could easily use some of Chockylit's chai spice mix that I used in my first [chai cupcake post|https://www.cupcakeproject.com/chocolate-chai-spice-first-cupcakes/.
Chai Spice Mix Recipe (if needed)
Spice Mix Ingredients
2

t

whole fennel

2 t whole cloves, 1 T ground cardamom, 2 t ground cinnamon, 2 t ground ginger
Spice Mix Instructions
With a small food processor

grind up the whole fennel and cloves.

Transfer to a small bowl and add remaining spices.

Mix to combine.
Instructions
Cupcake Instructions
Preheat oven to 400 degrees.

Mix ricotta, sweetened condensed milk, and mawa in a bowl to a smooth consistency.

Add chai extract or chai spice mix.

Spray cupcake liners with non-stick cooking spray. I've never had to do this before, but it really helped in this recipe. When I didn't spray, the cupcakes completely stuck to the wrappers.

Fill an oven proof dish with 2-3 C water and place in the bottom rack of the oven.

Fill cupcake wrappers about 3/4 full. The cupcakes don't rise much, so just fill a little bit lower that you want them to end up.

Make sure the water has come to a boil and then put the cupcakes on the top rack of the oven.

Bake for 20 - 25 minutes.

Let them cool and then place in the fridge to chill.
Notes
Top the cupcakes with my mango whipped cream frosting. Many of the cupcakes sunk in the middle during baking. No need to worry if this happens to you on this or any other cupcakes. You can always fill in the sinkhole with something yummy. In this case, I filled the hole with some extra mango pulp.
Nutrition
Nutrition Facts
Bhapa Sandesh Indian Cupcake
Amount Per Serving
Calories 138
Calories from Fat 63
% Daily Value*
Fat 7g11%
Cholesterol 30mg10%
Sodium 70mg3%
Potassium 164mg5%
Carbohydrates 10g3%
Protein 7g14%
Vitamin A 265IU5%
Vitamin C 0.9mg1%
Calcium 170mg17%
Iron 0.2mg1%
* Percent Daily Values are based on a 2000 calorie diet.
My Gratitude
I've loved my first year of blogging. I actually can't believe that it has only been a year. Thanks to everyone who has read and left such kind comments over the year. If you are just starting a blog, I encourage you to keep going with it. I hope you'll find it to be just as rewarding as I have.