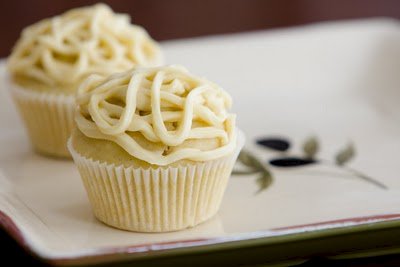 Sometimes I get tired of my star tip (the one I use to pipe big cupcake swirls).
Note: If you click the link to my tip set above, you'll see that it doesn't have 352 in it. I have no idea how I got 352, but it must have gotten mixed in with the others.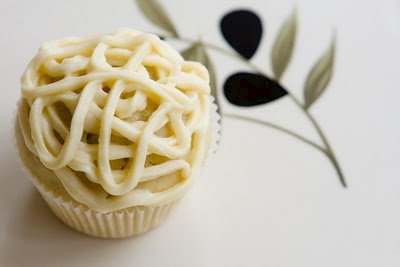 Let's Talk About the Cupcake
These cupcakes are not my first ones made using olive oil and I wouldn't even say that they are the best (my olive oil cupcakes with lemon, thyme, and balsamic whipped cream are some of my favorite cupcakes ever). However, this is the first time that I used olive oil in the frosting. I made a basic buttercream frosting and used olive oil instead of milk. The olive oil makes you pucker just a little bit (especially if you use a bold, fruity olive oil). If you like the taste of olive oil, you'll enjoy the effect, although you may wish that it were even stronger (remedy this by drizzling some olive oil over the frosted cupcakes).
I Thought You Said We Were Going to Talk About the Cupcake, Not the Frosting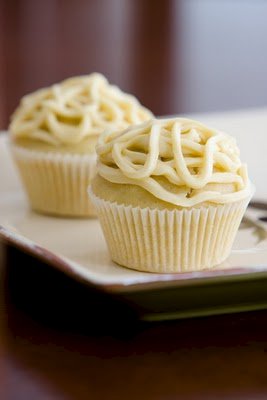 Ah, yes. The cupcakes. These cupcakes are also not my first cupcakes made with basil (I made vegan chocolate basil cupcakes). However, without the chocolate flavor to serve as a distraction, the basil flavor truly shines here. The basil makes the cupcakes feel light and Springy (as opposed to all the snow we've been getting here in St. Louis), but I will warn you that the cake is quite dense.
My neighbor tasted tasted these for me. She said that she didn't like the first bite because it was too unexpected, but that she enjoyed each subsequent bite more and more and was in love with the cupcake by the last bite.
Olive Oil Cupcake Recipe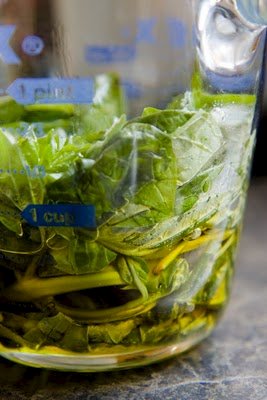 If you've tried this recipe, please RATE THE RECIPE and leave a comment below!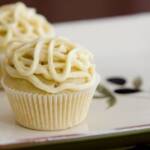 Basil Infused Olive Oil Cupcakes with White Wine
Ingredients
Cupcake Ingredients
1 C extra virgin olive oil
2 oz fresh sweet basil leaves
2 C all-purpose flour
1 1/2 t baking powder
Pinch of salt
1 C granulated sugar
3 large eggs
1/2 C sweet white wine
Olive Oil Buttercream Ingredients
1 1/2 C confectioners' sugar add more until it reaches your preferred consistency
1/2 C unsalted butter room temperature
2 T olive oil
Instructions
Cupcake Instructions
Soak basil leaves in the olive oil for at least an hour. You can also muddle them to help release the basil's natural oils.

Pour oil through a sieve to remove the basil. Squeeze out as much oil as you can. No matter how hard you try, some will remain on the leaves. It's OK. You only need to end up with 2/3 cup of oil.

Sift together flour, baking powder, and salt into a large bowl.

In a mixing bowl, combine sugar and olive oil and mix on high speed until completely combined.

Beat in eggs, one at a time.

Add 1/3 of the flour mixture and mix on slow speed.

Add half of the wine and continue mixing.

Add another 1/3 of the flour mixture, followed by the rest of the wine and the remaining flour mixture and beat until combined between each addition.

Fill cupcake liners 3/4 full.

Bake at 350 F for 25 minutes or until they bounce back when touched.
Olive Oil Buttercream Instructions
Mix together sugar and butter until they are blended and creamy.

Add olive oil and continue to beat for another minute.

Add more confectioners' sugar to make the frosting stiffer, if desired.
Cupcake Hero
I made these cupcakes for February's Cupcake Hero! I'm looking forward to seeing all of the other olive oil entries!