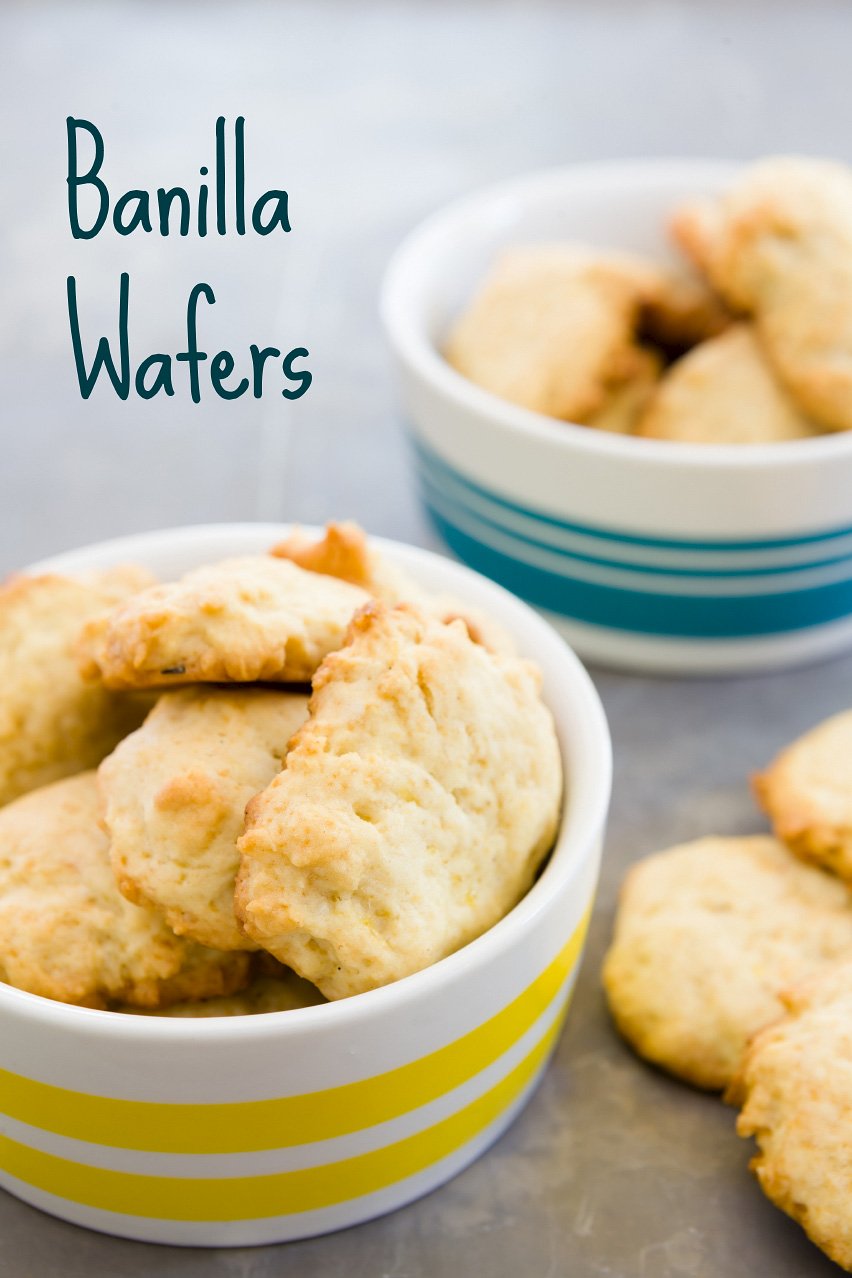 Classic banana pudding would not be complete without vanilla wafers. If you know me, you know that vanilla wafers from a box wouldn't do. I decided to make homemade vanilla wafers and use banana in the batter. That way, the cookies themselves would have a slight banana flavor, kicking up the banana experience of the resulting banana pudding. Banilla wafers were born. Use banilla wafers in your next banana pudding (I'll have a recipe to share soon) or snack on them on their own.
Banilla wafers aren't as crispy as standard store-bought vanilla wafers, but what they lack in crisp they more than make up for in flavor.
Products Related to Banilla Wafers
The key to making these vanilla wafers so intensely vanilla is using vanilla sugar. (View on Amazon)
Although you can purchase vanilla sugar, you can also easily make your own by placing granulated sugar and a few vanilla beans in a sealed container for a few weeks. Vanilla beans can be expensive. In the Whole Foods near my house, one bean costs six dollars. I recommend purchasing vanilla beans online – you'll save a ton of money. These beans are incredibly fresh and my mailbox has never smelled as good as the day the beans arrived. (View on Amazon)
This is the little scoop I used for these cookies. Having a scoop with a release makes cookie making go so much quicker! (View on Amazon)
You can make these cookies on parchment paper, but once you own a Silpat, you'll never go back. (View on Amazon)
Banilla Wafer Recipe
My banilla wafer recipe is a slight adaptation of Alton Brown's vanilla wafer recipe.
Banilla Wafers for Banana Pudding
I added banana to classic vanilla wafers. That way, the cookies themselves would have a slight banana flavor, kicking up the banana experience of the resulting banana pudding.

Ingredients
1 1/2

cups

all-purpose flour

3/4

teaspoon

baking powder

1/2

teaspoon

kosher salt

I found the wafers to be slightly too salty and will use table salt the next time I make this recipe.

1/4

cup

unsalted butter

room temperature

1/4

cup

mashed ripe banana

about half of a banana

1/2

cup

vanilla sugar

1

large egg

4

teaspoons

vanilla extract

1

tablespoon

whole milk
Instructions
Preheat oven to 350 F.

Sift together the flour, baking powder, and salt in a small bowl and set aside.

In a medium-sized mixing bowl, mix the butter, banana, and vanilla sugar.

Mix in the egg.

Mix in the vanilla extract and milk.

Mix in the the flour mixture until just combined.

Chill the batter in the refrigerator for at least 10 minutes.

Scoop the batter in small balls and arrange them on parchment or Silpat-lined cookie sheets.

Use the heel of your hand to slightly flatten each ball.

Bake 2 pans at a time, rotating the pans halfway through baking, until golden brown (about 15 to 20 minutes).

Remove the pans to a cooling rack to cool completely before removing the cookies from the pan.
Nutrition
Nutrition Facts
Banilla Wafers for Banana Pudding
Amount Per Serving
Calories 23
% Daily Value*
Cholesterol 4mg1%
Sodium 17mg1%
Potassium 10mg0%
Carbohydrates 3g1%
Vitamin A 25IU1%
Vitamin C 0.1mg0%
Calcium 3mg0%
Iron 0.1mg1%
* Percent Daily Values are based on a 2000 calorie diet.
Special Thanks
Special thanks to Sharon LaScola, Tara Mitchell, and Sarah Kneser who answered my Facebook question about what to call these cookies and came up with the fun name! Be sure to join the Facebook community so you don't miss special sneak peaks, tips, and updates.
Don't Miss…
Don't miss my new favorite banana pudding recipe with a secret ingredient.